| | |
| --- | --- |
| | WIFI USB Dongle (Wireless Network USB Stick) |
WIFI (Wireless Network) USB Dongle is the most compact solution to your wireless networking needs. Supporting Windows 98/98SE, ME, 2K and XP. It 's compatiable with IEEE 802.11b/g standard using 2.4GHz spread spectrum technology.

It sends and receives WI-FI signals and is secure by using 64/128 WEP data Encryption with support for WPA and AES advanced WLAN security. It is so advanced it supports peer to peer communication among any wireless users, no access point required.

All these features and yet simple to install and use and is no bigger that your finger. It connects to your computer with USB, like your USB memory stick (flash drive) or USB mouse. Being wireless, you don't have to deal with messy wires, cords or cables needed. The device comes with a easy step by step manual and software.

Once configured you can start sharing data and infromation with anything that can communicate with a wireless computer. Like some models of phones, laptops, portable gaming devices.

Please note this is a wireless device, so it will only communicate with other wireless networking devices, hubs, routers, etc.

If you do not have any other wireless network devices you will need to buy 2 of these units and plug one each computer to connect the wireless network.

| | | | |
| --- | --- | --- | --- |
| Unit Dimensions: | 3.0 x 7.3 x 0.7 cm | Shipping Weight: | 0.50 kg |
| Location: | NSW, Australia | Item Type: | |
| Condition: | New | Warranty : | 12 Months |
| Certificates : | CE | | |
Specifications:
Host interface: USB1.1 / USB2.0
Full Implementation of the MAC Protocol specified in IEEE Standards 802.11-1999 and 802.11g and 802.11g-2003
Supported Operating System: Windows XP,Windows2000, Windows ME, 98SE
Security:64/128 WEP, WPA, AES
Mitigates Multipath Delay Spread up to 100ns at 54Mbps
Plug and Play installation
Support peer to peer communication among any wireless users, no Access Point required.
External antenna
Protocol : Compatible with IEEE 802.11b /g Standard
Modulation Technique :802.11b�G DSSS (Direct Sequence Spread Spectrum) with BPSK (1Mbps), QPSK(2Mbps), and CCK (5.5 and 11Mbps)802.11g�G OFDM
Transfer data rate : 802.11g : 54, 48,36,24, 18,12,9,6Mbps, auto-fallback 802.11b : 11, 5.5, 2,1Mbps, auto-fallback
Media access protocol : CSMA/CA with ACK
Antenna: Dipole antenna (external).
Output Power : 15~18dBm(CCK), 10~14dBm(OFDM)
RF sensitivity : @PER <0.08 ,11Mbps < -84dBm(typical) @ PER <0.08 ,54Mbps < -70dBm
Security : 64/128-bit WEP Encryption
64/128-bit TKIP Data Encryption
64/128-bit AES Data Encryption
Channels Support :
US/Canada: 11 (1 ~ 11)
Major European country: 13 (1~13)
France: 4 (10 ~ 13)
Japan: 14 (1~13 or 14th)
Certification: FCC, CE class B,
Environmental Operating Ranges
Operating Temperature : 0 ~70�X C , Humidity 10 ~ 90%
Storage Temperature : -20 ~90�X C, Humidity 10 ~ 90%
Green Certification: RoHS-2002/95/EC
Power Consumption
Maximum: Transmit : 265mA MAX
Receive : 237mA MAX
Idle: 80 mA MAX
Link state: 211mA MAX
Drivers support: Windows XP,Windows2000, Windows ME, 98SE
LED Indication: Green1: Active Green2: Link
Connects From :
Connects To :

USB (PC) Type A Device Ports
| Converts From : | Converts To : |
| --- | --- |
| | |
1 x USB Dongle 802110 54MB Ralink W/Ext Antenna
1 x Driver Disc and Software
1 x User Manual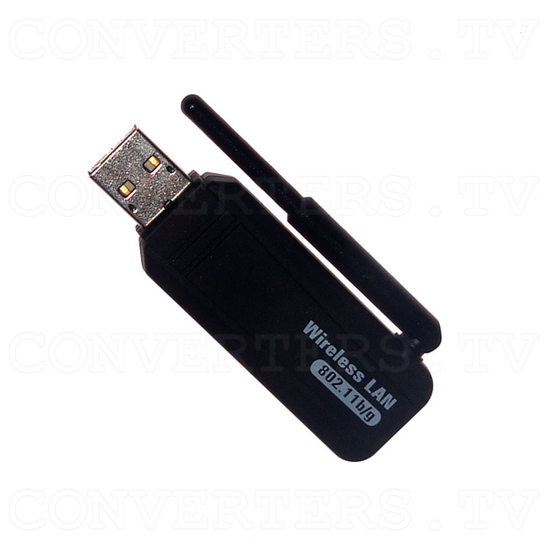 WIFI USB Dongle (Wireless Network USB Stick) - Full View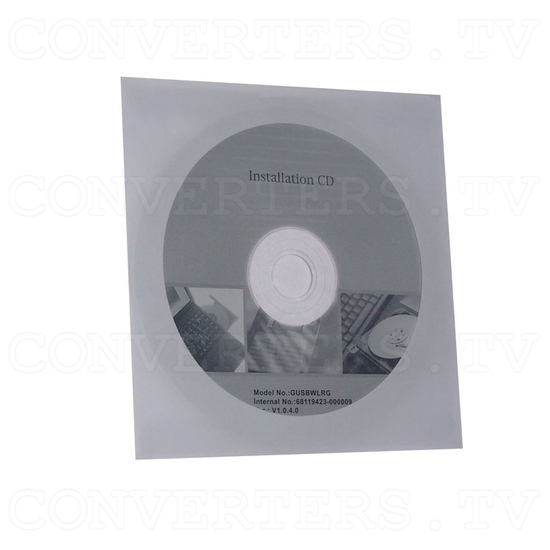 WIFI USB Dongle (Wireless Network USB Stick) - Software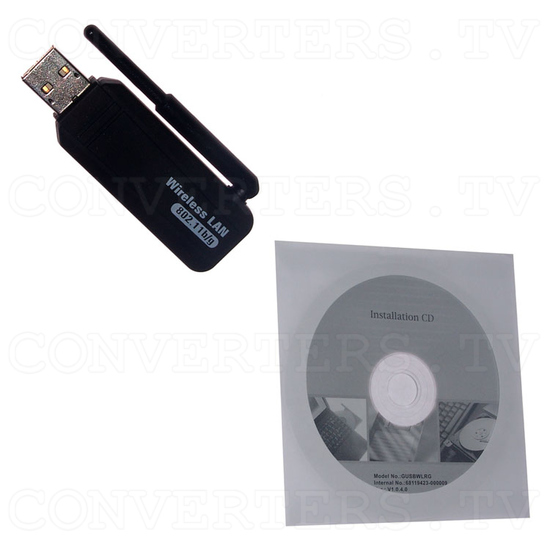 WIFI USB Dongle (Wireless Network USB Stick) - Full Kit