| | |
| --- | --- |
| | Relay & Infrared Control System |
The Relay & Infrared Control System is ideal for any User who has a number of devices that need to be controlled. It has 8 external (4 x relay, 4 x IR) and 8 internal (WebGUI/TelNET) trigger connections which activate 16 User defined macro events stored within the unit.

Comprehensive User control interfaces are available including WebGUI, Telnet and console (RS-232 in). All 16 macros are available to be activated by these interfaces and send commands to remote devices via an Ethernet link, IR (×4), relay trigger (×4) or RS-232/422/485 (×1), allowing for the control of a large array of devices, all at the push of a button.

Integrated IR code learning is also available, allowing the User to store and re-transmit the IR codes sent by most standard IR remotes. A robust scheduling function, with adjustable daylight saving time support, provides the unit with the ability to activate any programmed macro at any set time, or even according to a weekly schedule.

Last but not least, the Relay & Infrared Control System supports Power over Ethernet (PoE), allowing it to be powered directly from a standard PoE network switch. Without the need for an external power adapter, this gives incredible flexibility for remote site installations.

| | | | |
| --- | --- | --- | --- |
| Unit Dimensions: | 12.8 x 11.8 x 2.5 cm | Shipping Weight: | 0.65 kg |
| Location: | NSW, Australia | Item Type: | |
| Condition: | New | Warranty : | 12 Months |
| Certificates : | CE, CTick, UL | | |
Features:
8 trigger inputs linked directly to 8 user macros, allowing for instant control activation
4 x relay trigger outputs to control devices such as projector screens, lighting, etc.
4 x IR Out to control devices such as TVs, media players, etc.
Integrated IR code learning functionality
Multiple User control interfaces including WebGUI, Telnet and RS-232
Simple configuration of macros, scheduling, triggers and relay settings via the control interfaces
PoE (Power over Ethernet) supported
Firmware can easily be updated in the field via USB
SPECIFICATIONS:
Inputs: 8 × Trigger (0-15vDC) with 4 events triggering; 1 × IR Extender (with IR Learner support)
Outputs: 4 × Relay (2-pin Terminal Block), 4 × IR Blaster (3.5mm), 1 × RS-232/RS-422/RS-485 (5-pin Terminal Block)
Control: 1 × Control (RJ45 with PoE); 1 x Service (USB)
IR Frequency: 30 ~ 50Hz
Baud Rate: Up to 115200 bps
Power Supply: 100-240vAC to +5V 2.6A (US/EU standards; CE/FCC/UL certified)
Power Consumption (watts): 5w
Dimensions (cm's): 12.8 (w)×11.8 (d)×2.5 (h) (jack included)
Weight (grams): 400g
Chassis: Black Metal
Operating Temperature: 0c ~ 40c / 32f ~ 104f
Relative Humidity: 20% ~ 90% RH (non-codensing)
ESD Protection: Human Body Model: +/-8kV (air-gap discharge); 4+/-kV (contact discharge)
| Converts From : | Converts To : |
| --- | --- |
| | |
1 x Relay & Infrared Control System
1 x User Manual
Relay & Infrared Control System - Full View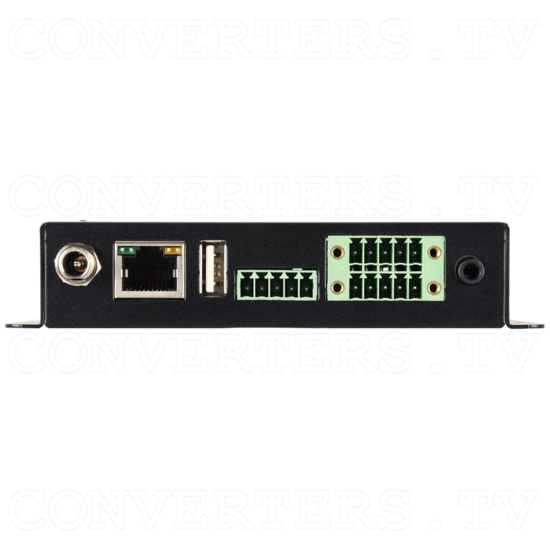 Relay & Infrared Control System - Front View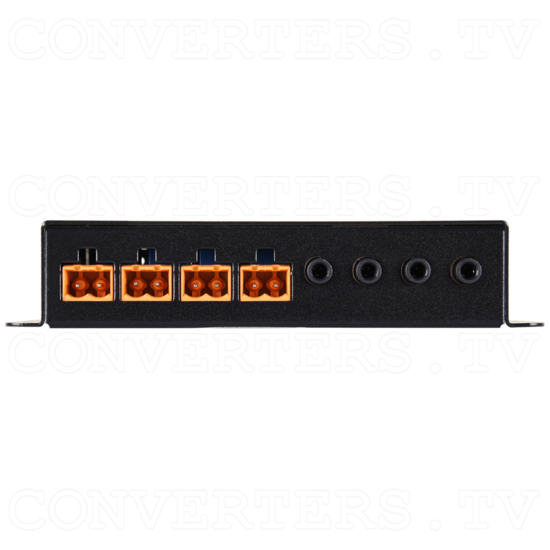 Relay & Infrared Control System - Back View