Digital Satellite Receiver

save 66%




This digital satellite receiver contains a decode CMOS chip and provides the user with a sharp and clear picture. The unit can store 2000 channels and comes with a full-function remote control.

The interface setup enables the user to adjust the transparency level, picture ratio, language or to select a game function. The broadcasting TV picture ratio can be changed from 4:3 to 16:9, while the transparency level can be adjusted from dark to light background colour.

| | | | |
| --- | --- | --- | --- |
| Unit Dimensions: | 30.0 x 20.0 x 5.0 cm | Shipping Weight: | 1.13 kg |
| Location: | NSW, Australia | Item Type: | |
| Condition: | New | Warranty : | 12 Months |
| Certificates : | CE | | |
Features:
Picture in graphic function.
game and calendar function.
SCPC.MCPC compatible, reception of domestic and foreign digital programs.
Reception of DVB-S satellite digital TV/digital audio program.
22KHz and DisEqc1.0 control signal.
Power off memory and signal intensity, quality indication.
High reliable switch power- AC90-270V.
Picture and text function, reception of picture and text message.
Left and right sound, stereo audio options.
S-Video, double way AV output.
LNB double polarized control.
Store 2000 channels.
English and Chinese menu display.
C/ku band compatible.
PID value setup.
Specifications:
Input:
Frequency range: 950~2150MHz.
Input level: -79~11dbm.
Input resistance: 75.
IF band width: 27~36MHz.
Threshold value: ≤2.2db.
Input interface: F-type.
Audio:
Audio input: L/R.
Frequency nature: ≤ ± 0.5dB(20Hz~20KHz).
Audio noise ratio: >=70Db.
Left and right sound level: ≤ ± 0.3dB (60Hz~18KHz).
Output type: RCA connector.
Video:
Decode pattern: MPEGII
Bid rate: ≤ 15MBPS.
Output pattern: NTSC/PAL.
Video output: 1V ± 20 (MV) P-P.
Image resolution: 720x480.
Frequency nature: ≤ 0.5dB (5MHz).
Differential gain: ≤ 5%.
Differential phase: ≤ 5.
Light colour delay: ≤ 30ns.
Channel Decode:
Decode pattern: QPSK.
Symbol code speed: 2~45 Mbps.
LNB power supply: 13/18V.
Working voltage: 90~270VAC.
Power: 20W (max).
Please Note:
Power supply available in 110V or 220V (please mention the type you require when ordering).
Power plug adapter available for most countries (please mention the type you require when ordering).
| Connects From : | Connects To : |
| --- | --- |
| | Composite - RCA / AV (TV) |
| Converts From : | Converts To : |
| --- | --- |
| | |
1 x Digital Satellite Receiver
1 x Video and Stereo AV Cable
1 x Remote
Digital TV Tuner
Remote Control
Digital Satellite Receiver - Full View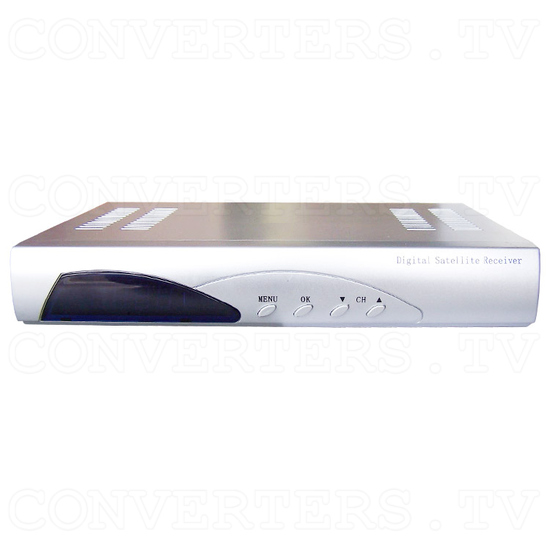 Digital Satellite Receiver - Front View
Digital Satellite Receiver - Back View
Digital Satellite Receiver - Side View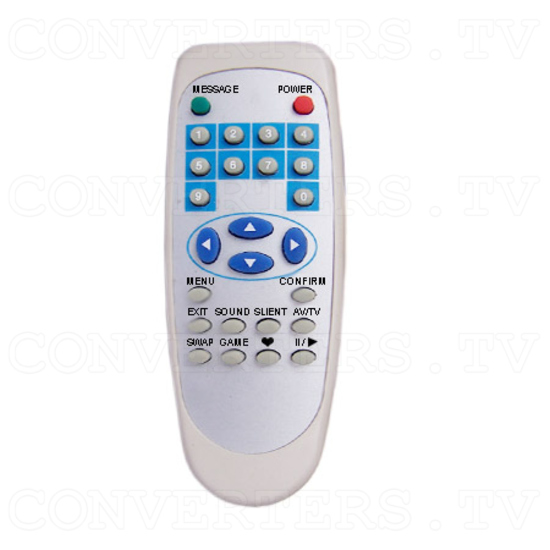 Digital Satellite Receiver - Remote
Digital Satellite Receiver - Video and Stereo AV Cable
Digital Satellite Receiver - Full Kit