3G-SDI 4 In 4 Out Switcher and Splitter

save 42%





The 3G-SDI 4 In 4 Out Switcher and Splitter allows you to input up to four SDI, HD-SDI and 3G-SDI signal sources, such as SDI video cameras/recorders, to be shown on up to four SDI displays, such as a SDI computer monitor. This device performs both functions of splitting the signals without loss of quality to multiple screens as well as allowing the user the freedom of being able to switch between up to four separate input sources.

The switcher/splitter has a high bit rate of 2.970 Gbit/s which ensures to give you a fast signal transmission without loss of quality. For professionals this means that it is now easier to switch four 3G-SDI signals and split it up to four SDI signal outputs.

This device has a number applications for both professional and amateur camera work and display, including video broadcasting on single or multi-display, professional video program on single or multi-display, film studios program monitoring, and video program switching on single or multi-display, etc.

Installation and operation of the 3G-SDI 4 In 4 Out Switcher and Splitter is very easy and simple. All input/output ports are clearly labelled. LED lamps identify the selected SDI input and the power on/off status. Input selection is made by front panel push button, or hand-held remote control. RS-232 interface allows for easy PC control of the devices functions. Power requirements supplied by 100-240vAC to 5vDC 2.6A Universal power adapter.

To use simply connect four separate 3G-SDI signal sources to each individual input of the device and from each 3G-SDI output connect to an individual SDI display. The selected input is now displayed on each SDI monitor. Extension of the SDI signal path via the device can be achieved by connecting any of the SDI outputs with an SDI extender or converter.

| | | | |
| --- | --- | --- | --- |
| Unit Dimensions: | 20.0 x 14.0 x 3.0 cm | Shipping Weight: | 1.03 kg |
| Location: | NSW, Australia | Item Type: | |
| Condition: | New | Warranty : | 12 Months |
| Certificates : | CE, CTick, UL | Manual : | User Manual (451.87 KB) |
Features:
Four 3G-SDI input sources can selected as the source and split to four 3G-SDI displays simultaneously
Operation at 2.970Gb/s, 2.970/1.001Gb/s, 1.485Gb/s, 1.485/1.001Gb/s and 270Mb/s
Supports SMPTE 425M (Level A and Level B), SMPTE 424M, SMPTE 292M, SMPTE 259M-C
Equalized and re-clocked
Supports signal input and output distance of up to 300M for SD signals, 200M for HD signals and 100M for 3G signals.
Note: Cable tested with Belden 1694A. Operating distances may vary if used with another type of cable.
Specifications:
SMPTE Standard: 425M Level A & B, 424M, 292M, 259M-C
SDI Transmission Rates: 2.970 Gbit/s and 2.970/1.001 Gbit/s
Input Port: 4x BNC (SD-SDI/HD-SDI/3G-SDI)
Power Supply: 5V DC/ 2.6A (US/EU standards, CE/FCC/UL certified)
ESD Protection: Human body model:± 8kV (air-gap discharge)± 4kV (contact discharge)
SDI Cable Distance: 3G-SDI up to 100M (BELDEN 1694A), HD-SDI up to 200M (BELDEN 1694A), SD-SDI up to 300M (BELDEN 1694A)
Dimension (mm): 200 (W) x 138 (D) x 30 (H)
Weight (g): 900
Chassis Material: Metal
Silkscreen Color: Black
Operating Temperature: 0˚C ~ 40˚C / 32˚F ~ 104˚F
Storage Temperature: -20˚C ~ 60˚C / -4˚F ~ 140˚F
Relative Humidity: 20 ~ 90% RH (Non-condensing)
Power Consumption: 5W
| Converts From : | Converts To : |
| --- | --- |
| | |
1 x 3G-SDI 4x4 Switcher & Splitter
1 x Product Manual
1 x 100-240vAC to 5vDC Power Supply
1 x 100-240VAC to 5V DC 2.6A Switch Mode Power Supply (Center Positive)
3G-SDI 4 In 4 Out Switcher and Splitter - Full View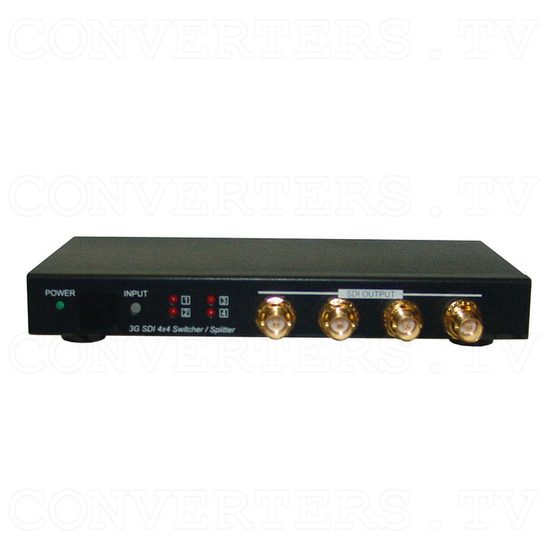 3G-SDI 4 In 4 Out Switcher and Splitter - Front View
3G-SDI 4 In 4 Out Switcher and Splitter - Back View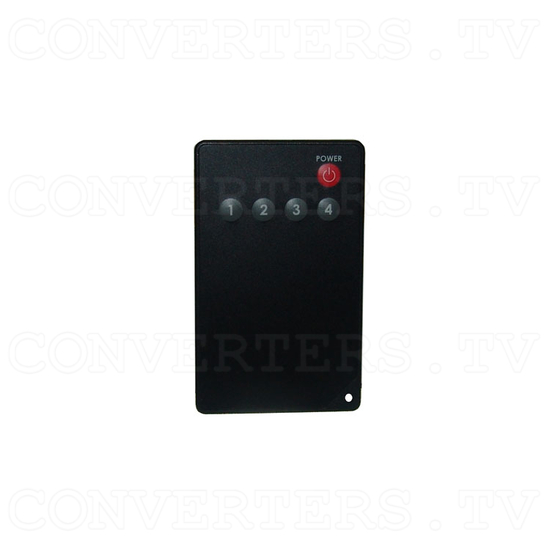 3G-SDI 4 In 4 Out Switcher and Splitter - Remote
3G-SDI 4 In 4 Out Switcher and Splitter - Power Supply 110v OR 240v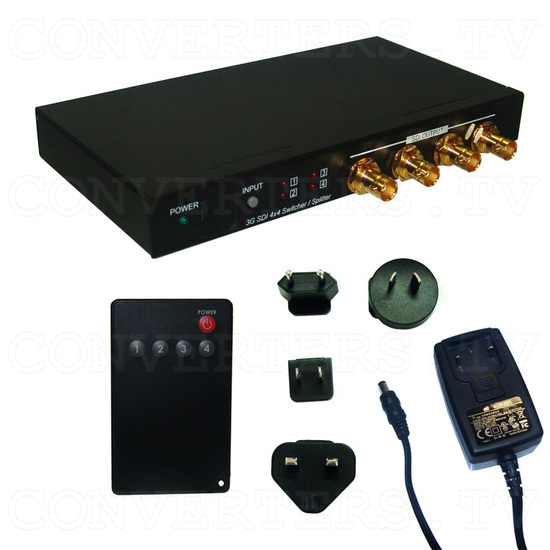 3G-SDI 4 In 4 Out Switcher and Splitter - Full Kit