SDI to PC/HD Scaler with Audio

save 37%




The SDI to PC/HD Scaler with Audio allows SDI, HD and 3G-SDI signals to be displayed on HD/PC displays. Ideal for professionals who work with HD/PC displays, this scaler automatically detects your SDI source while giving you high bit rates of 2.970Gb/s, 2.970/1.001Gb/s, 1.485Gb/s, 1.485/1.001Gb/s and 270Mb/s without signal loss, while also distributing and extending SDI signals over long ranges (3G-100m, HD-200m, SD-300m).

Designed to display SDI sources on HD/PC displays, this device has an integrated audio de-embedder for up to 8 channels of 48 kHz audio, coaxial (S/PDIF) and L/R audio output while also allowing users to output both digital and analog formats (including coaxial and 2CH analog). With 3G-SDI loop-through, advanced users can simultaneously display content on both SDI and HDMI displays, this scaler also supports SMPTE 425M (level A and B), SMPTE 424M, SMPTE 292M, SMPTE 259M (level C) as well as conversion from SMPTE 425M level B to Level A for 1080p 50/59.94/60Hz, 4:2:2 at 10 bits.

The SDI to PC/HD scaler with audio also has equalized and re-clocked loop output for easy display of SDI content on HDMI displays over long ranges with superb audio.

| | | | |
| --- | --- | --- | --- |
| Unit Dimensions: | 18.0 x 14.2 x 2.5 cm | Shipping Weight: | 1.00 kg |
| Location: | NSW, Australia | Item Type: | |
| Condition: | New | Warranty : | 12 Months |
| Certificates : | CE, CTick, UL | Manual : | User Manual (1.15 MB) |
Specifications:
SMPTE standard : 425M level A and B, 424M, 292M, 259M-C
SDI transmition rates : 2.970Gb/s and 2.970/1.001Gb/s
Input port: 1 x BNC
Output port: 1 x BNC, 1 x D-sub 15pin, 1 x coaxial, 2 x RCA jacks
Video output supports: PC: VGA~WUXGA@60RB, HD: 480p~1080p
Video input supports: SDI: 480i, 576i, 720p @ 50/60 / 1080i @ 50/60, 1080p @ 24/25/30 1080p @50/60
ESD Protection: human body model: ± 8kV (air Gap Discharge), 4± kV (contact Discharge)
SDI cable distance: 3G up to 100m, HD up to 200m, SD up to 300m
Power consumption : 100W
Converts From :
Converts To :

VGA (640 x 480 @ 4:3)
SVGA (800 x 600 @ 4:3)
XGA (1024 x 768 @ 4:3)
SXGA (1280 x 1024 @ 5:4)
UXGA (1600 x 1200 @ 4:3)
WXGA HD (1280 x 720 @ 16:9)
WSXGA (1680x1050 @ 16:10)
HDTV 480p
HDTV 576p
HDTV 720p
HDTV 1080p
HDTV 1080i
WUXGA (1920 x 1080 @ 16:10)
HDTV 480i
HDTV 576i
1 x SDI to HDMI Scaler with Audio
1 x Product Manual
1 x 100-240VAC to 5V DC 2.6A Switch Mode Power Supply (Center Positive)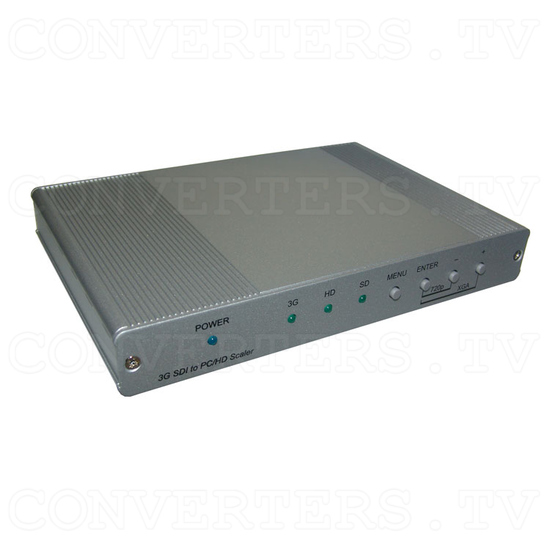 SDI to PC/HD Scaler with Audio - Full View
SDI to PC/HD Scaler with Audio - Front View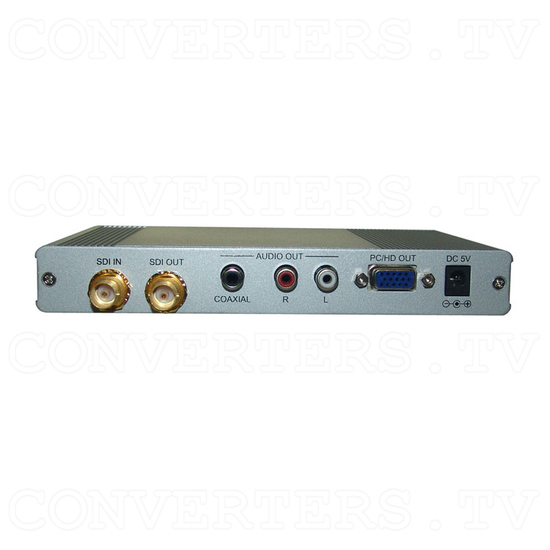 SDI to PC/HD Scaler with Audio - Back View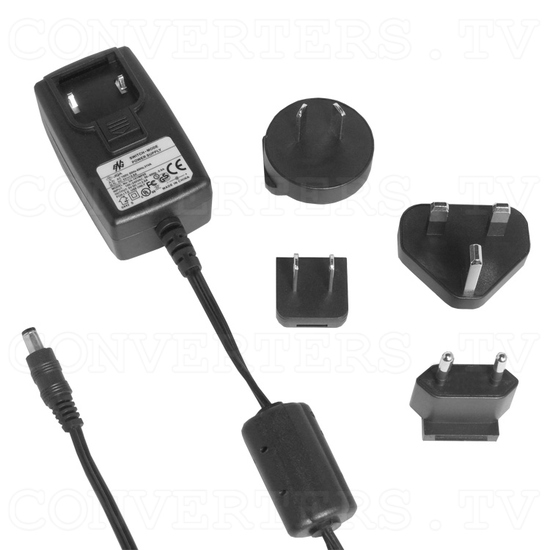 SDI to PC/HD Scaler with Audio - Power Supply 110v OR 240v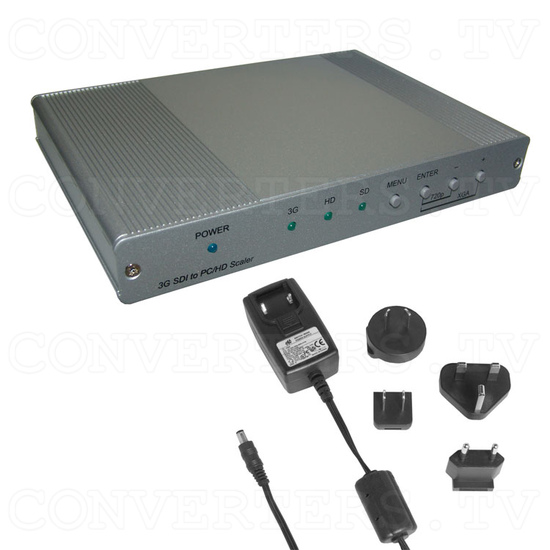 SDI to PC/HD Scaler with Audio - Full Kit