Component to RGB Converter

save 60%




This Component to RGB Converter enables you to view your HDTV programs or high res video games on your PC Monitor. Since the output signal timing is exactly the same as the input singal timing, no pixel re-scaling needs to occur.

Please Note:


Power supply available in 110V or 220V (please mention the type you require when ordering)
Power plug adapter available for most countries (please mention the type you require when ordering)
| | | | |
| --- | --- | --- | --- |
| Unit Dimensions: | 7.5 x 3.0 x 10.5 cm | Shipping Weight: | 0.40 kg |
| Location: | NSW, Australia | Item Type: | |
| Condition: | New | Warranty : | 12 Months |
| Manual : | User Manual (251.67 KB) | | |
Features:
Simple to operate, plug and play.
To view component HDTV and other sources on your PC monitor with a RGBHV connector.
Compatible with both interlaced and progressive RGB input.
Specifications:
Inputs: YPbPr/YCbCr via 3 RCA(AV) connectors
Output: RGBHV on a 15 pin D-sub(VGA) connector
Input Resolutions:
480i, 576i, 480p, 576p@50Hz, 720p@50/60Hz, 1080i@50/60Hz
Output:
PC RGB HD progressive input, or 15K video RGB for SD interlaced input
Most PC monitors accept multi-sync input therefore can lock onto signal timing of the CP-265s RGB output. In the rare case, no picture shows, try a different resolution on your HDTV device or monitor.
Power Supplies:
Multi-Voltage Power Supply : 100 - 240VAC to 5V DC 2.6A Switch Mode Power Supply - Center Positive
| Connects From : | Connects To : |
| --- | --- |
| Component - RGB & YCrCb/YPrPb (HDTV) | RGB Separate Sync - RGBHV |
Converts From :
Converts To :

HDTV 480p
HDTV 576p
HDTV 720p
HDTV 1080i
HDTV 480i
HDTV 576i
RGB 31K

VGA (640 x 480 @ 4:3)
HDTV 480p
HDTV 576p
HDTV 720p
HDTV 1080i
HDTV 480i
HDTV 576i
RGB Separate Sync - RGBHV
1 x Component to RGB Converter
1 x Product Manual
1 x 100-240VAC to 5V DC 2.6A Switch Mode Power Supply (Center Positive)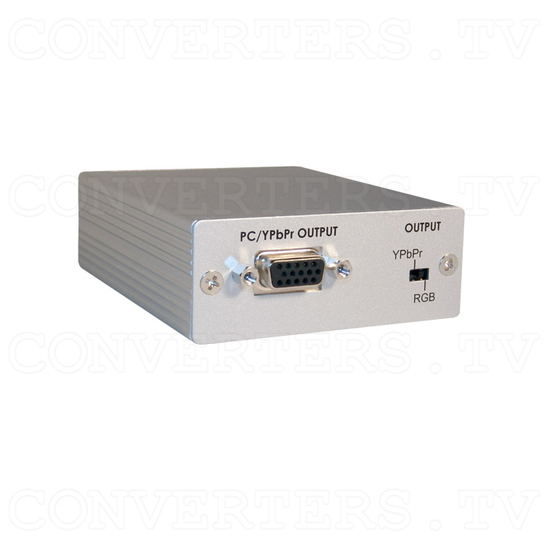 Component to RGB Converter - Full View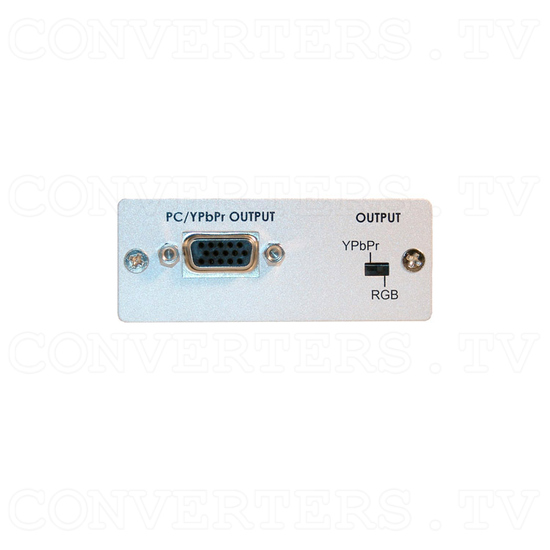 Component to RGB Converter - Front View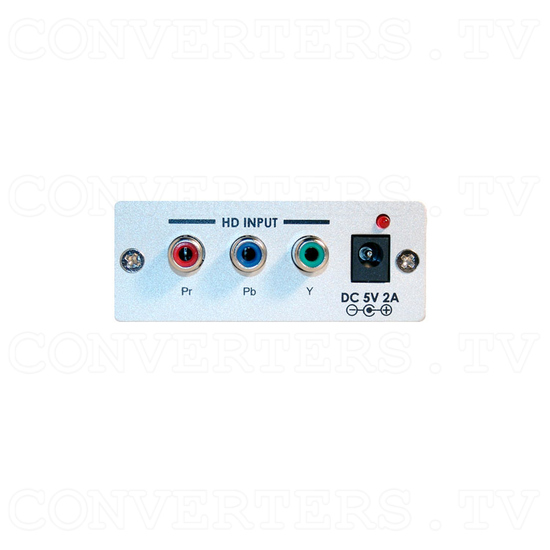 Component to RGB Converter - Back View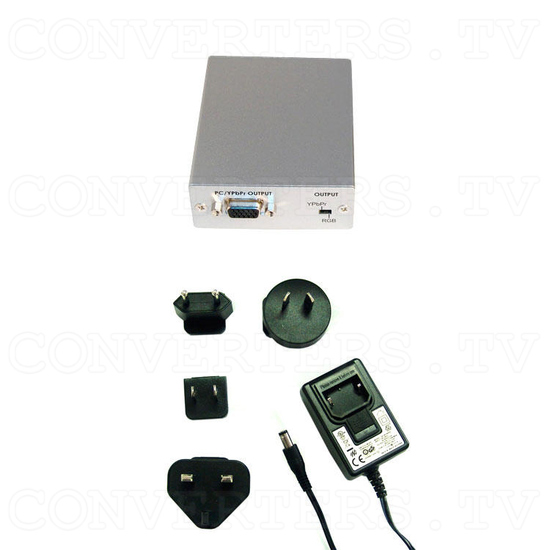 Component to RGB Converter - Full Kit