HDMI/VGA to HDMI 6G Scaler

save 26%




The compact yet versatile HDMI/VGA to HDMI 6G Scaler accepts a wide range of resolutions from 480i up to 1080p/WUXGA for PC/HD and up to 4K@60Hz (4:4:4) for HDMI, with the ability to scale the output to a selectable resolution up to 4K@60Hz (4:4:4) and with simultaneous de-embedded, digital and analog audio output.

Supports 3-D motion adaptive de-interlacing and frame rate conversion support as well.

Integrated EDID management options allow for control over the way connected sources detect the unit. Also included is an auto source detection and switching feature allowing the unit to switch automatically to the most recently connected source, or to switch to the alternate source if the current one becomes disconnected.

The HDMI/VGA to HDMI 6G Scaler has a comprehensive OSD menu that provides the user with easy access to all settings. An integrated hot-key design makes for rapid access to common functions such as input selection and audio volume.

This is an ideal device to integrate previously incompatible sources and displays or to provide a flexible auto-detecting input point for your boardroom meeting presenter's devices.

| | | | |
| --- | --- | --- | --- |
| Unit Dimensions: | 20.5 x 14.5 x 3.0 cm | Shipping Weight: | 1.09 kg |
| Location: | NSW, Australia | Item Type: | |
| Condition: | New | Warranty : | 12 Months |
| Certificates : | CE, CTick, UL | Manual : | User Manual (242.04 KB) |
Features:
HDMI 2.0 with 4K@60Hz (4:2:0 and 4:4:4) support, DVI 1.0 compliant
HDCP 2.2 compliant
Supports PC input resolutions from VGA~WUXGA and HDMI input resolutions from 480i~1080p@60Hz
Supports HDMI input resolutions from 480i~4K@60Hz (4:4:4, 8-bit)
Supports HDMI output resolutions from 640×480@60Hz up to 4096×2160@60Hz (4:4:4, 8-bit)
Analog YUV input is supported with the use of a 15-pin to 3-RCA adapter
50/60Hz frame rate conversion
3-D motion adaptive de-interlacing and 3:2/2:2 pull-down detection and recovery
Can automatically detect and output the preferred resolution and refresh rate reported by the EDID of the connected display (NATIVE output mode)
EDID management options including multiple pre-defined EDIDs and EDID pass-through
Comprehensive output picture adjustments (contrast, brightness, hue, saturation, sharpness, RGB (color tone) level and aspect ratio size)
Supports LPCM 2.0 digital/analog audio input and LPCM 2.0 digital/analog output. The audio source is selected via the OSD and output simultaneously over the HDMI, optical and phone jack connections
Supports firmware updates via USB
Specifications:
Video Bandwidth: 600MHz / 18Gbps
Input Ports: 1 x HDMI; 1 x VGA (15pin D-sub); 1 x Optical Audio; 1 x Analog 3.5mm Audio
Output Ports: 1 x HDMI; 1 x Optical Audio; 1 x Analog 3.5mm Audio
Supported Resolutions: HDMI HD: 480i@60Hz ~ 4K@60Hz (4:4:4, 8-bit); VGA@60Hz ~ WUXGA@60Hz (RB)
Cable Length: 10m (1080p@60Hz, 12-bit); 5m (4K@60Hz, 4:4:4, 8-bit)
Power Supply: 100-240vAC to +5vDC 2.6A (US/EU standards, CE/FCC/UL certified)
Power Consumption (watts): 8.47w
Dimensions (cm's): 20.5 (w) x 14.5 (d) x 3.0 (h)
Weight (grams): 324g
Chassis: Black Aluminium
Operating Temperature: 0c ~ 40c / 32f ~ 104f
Relative Humidity: 20% ~ 90% RH (non-condensing)
ESD Protection: Human Body Model: +/-8kV (air discharge); +/-4kV (contact discharge)
Connects From :
Connects To :

VGA 15pin D-Sub (31K+)
HDMI (HDTV)
Optical TOSlink S/PDIF
3.5mm Headphone Jack
USB (Service)

HDMI (HDTV)
Optical TOSlink S/PDIF
3.5mm Headphone Jack
Converts From :
Converts To :

HDTV 480p
HDTV 576p
HDTV 720p
HDTV 1080p
HDTV 1080i
HDTV 480i
HDTV 576i
4K x 2K

HDTV 480p
HDTV 576p
HDTV 720p
HDTV 1080p
HDTV 1080i
HDTV 480i
HDTV 576i
4K x 2K
1 x HDMI/VGA to HDMI 6G Scaler
1 x User Manual
1 x Product Manual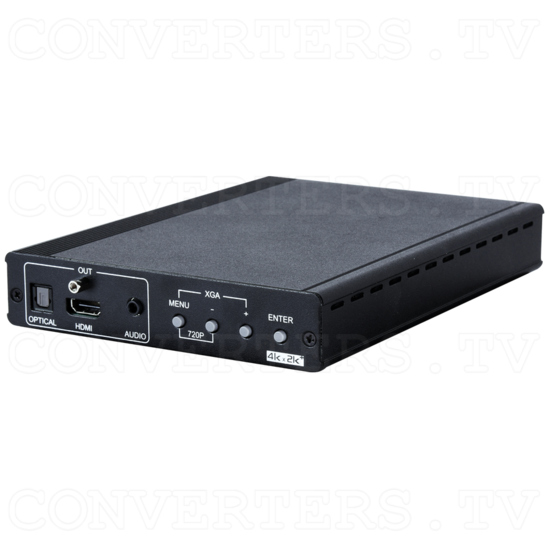 HDMI/VGA to HDMI 6G Scaler - Full View
HDMI/VGA to HDMI 6G Scaler - Front View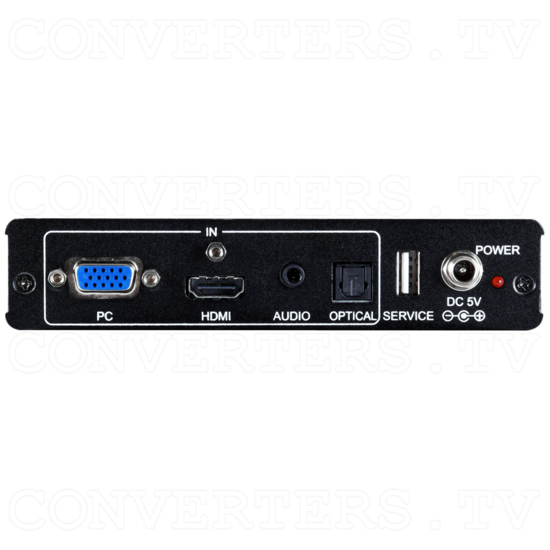 HDMI/VGA to HDMI 6G Scaler - Back View