RGB, MDA, CGA, EGA to VGA Converter

save 51%




The RGB, MDA, CGA, EGA to VGA Converter is a new multi-frequency scan converter, up-scaling to PC VGA and SVGA resolutions. The converter will auto-scan and accept horizontal scan frequencies from 12kHz ~ 40kHz with the vertical scan frequency unconstrained.

The output horizontal resolution is unconstrained and the output vertical resolution is from 200 ~ 600 lines. The device supports synchronization types of Separate, Combined (Composite) and Sync on Green, as well as full support for Monochrome, Greyscale and Colour analog and digital video formats.

With different styles of Industrial machinery, using various combinations of horizontal/vertical frequencies and synchronizations in formats ranging from MDA (single colour) to VGA (multi-colour), the RGB, MDA, CGA, EGA to VGA converter is ideally suited for helping to replace defunct CRT monitors with newer model CRT and LCD screens. This means that it is no longer so costly to have to repair or replace old screens. Simply use the converter with any standard CRT or LCD panel that can be purchased in any store.

Industrial machines interfacing with the RGB, MDA, CGA, EGA to VGA converter can be connected via 5 BNC input connectors or via a CGA/EGA/VGA Dsub-9 pin input connector. These connectors will allow video signals from RGBHV, RGBH+V, RGsB and YPbPr video sources to be accepted by the converter and then all output via a standard VGA Dsub-15 pin connector to your monitor. The Auto Scan feature allows for inter-working with Progressive or Interlaced video signals.

To assist with defining the video signal for optimum display, an easy to use yet comprehensive OSD menu allows all facets of the input signal and the resultant output video image to be adjusted to suit the end users needs. Adjustments for width, height, position, phase, synchronization, impedence matching and scanning style give the user total control over the conversion and resultant image.

Compact, lightweight and robust, the RGB, MDA, CGA, EGA to VGA converter is a very simple solution to many seemingly expensive monitor replacement scenarios. Equipped with special cables for easy connection to source equipment.



| | | | |
| --- | --- | --- | --- |
| Unit Dimensions: | 14.6 x 12.0 x 3.0 cm | Shipping Weight: | 0.57 kg |
| Location: | NSW, Australia | Item Type: | CGA Converters |
| Condition: | New | Warranty : | 24 Months |
| Certificates : | CE | Manual : | User Manual (643.3 KB) |
Features and Specifications:
Wide ranging application for use with Industrial machinery
Input / output connectors and OSD control buttons clearly labeled and accessible.
Power on LED and 12vDC input plug and socket arrangement
Input connection by 5 BNC or VGA D-sub 9 pin connectors (interface with 3,6,7,9,14,20,24 and 25 pin)
Supports input RGB video signals using Separate Sync (RGBHV), Combined/Composite Sync (RGBH+V), Sync on Green (SoG/RGsB/RGBs) and YUV (YPbPr)
Output connection via VGA D-sub 15 pin connector
VGA (640*480) and SVGA (800*600) output
Supports horizontal frequencies from 12kHz thru to 40kHz (MDA/CGA/EGA/VGA/YUV)
Unconstrained vertical frequency support
Auto scanning of frequencies makes signal detection easy
Input Impedance selection (75ohm, 750ohm)
Operates with 12vDC 1A power supply
Supports digital and analog video signals (0.5-1.0v analog; TTL 3.5v digital)
Supports Progressive and Interlaced scanning
Operating Temperature -10C ~ +50C
Easy to use OSD menu
OSD menu does not require input signal to display on screen
Last settings saved at switch off/on
Input RGB DB9 Pin and Wire Colour Allocation:
Pin No: -Wire Colour: -Function:
Pin 1 - Black - Signal Earth
Pin 2 - Connected to Pin 1
Pin 3 - Light Red - Red Colour line
Pin 4 - Light Green - Green Colour line
Pin 5 - Light Blue - Blue Colour line
Pin 6 - Brown - Signal Earth
Pin 7 - Connected to Pin 6
Pin 8 - Yellow - Horizontal Sync line
Pin 9 - White - Vertical Sync line
Blue -N/C
Green -N/C
Multi-strand Wire Inner and Outer Earth sheaths - Connect source end to earth only
Connects From :
Connects To :

VGA 9 pin D-sub
BNC Male 75ohm
Converts From :
Converts To :

CGA (15k)
EGA (24K)
RGB (15K Video)
RGB Sync on Green RGsB
CGA Compatible 15K Video Source
RGB Combined Sync - RGBH+V
RGB Separate Sync - RGBHV
RGB 31K
CGA Combined Sync (15khz)
CGA Separate Sync (15khz)
CGA Sync on Green (15khz)

VGA (640 x 480 @ 4:3)
SVGA (800 x 600 @ 4:3)
1 x RGB, MDA, CGA, EGA to VGA converter
1 x Product Manual
1 x Power Supply 100-240V 50-60hz 0.3A - 12v 1A
RGB, MDA, CGA, EGA to VGA Converter - Full View - Blue Casing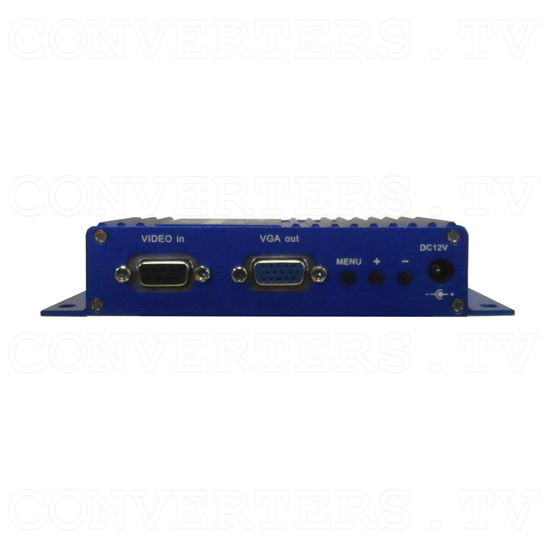 RGB, MDA, CGA, EGA to VGA Converter - Front View - Blue Casing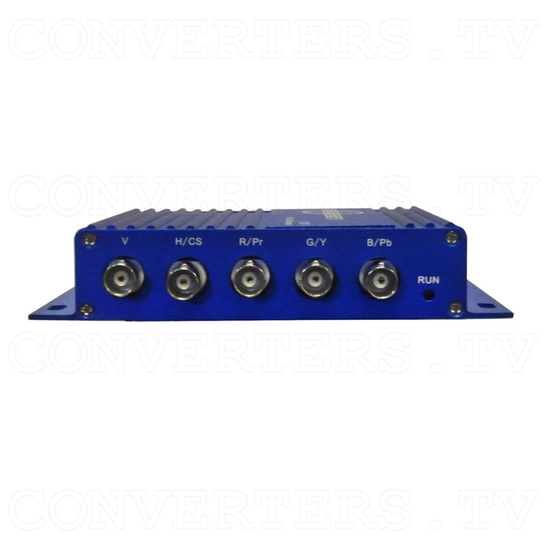 RGB, MDA, CGA, EGA to VGA Converter - Back View - Blue Casing
RGB, MDA, CGA, EGA to VGA Converter - Adapter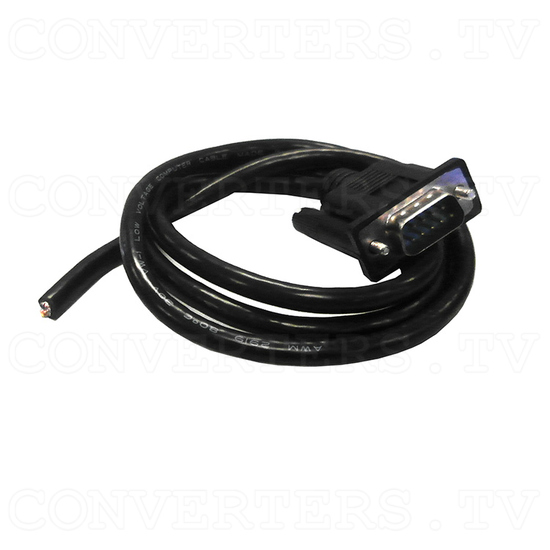 RGB, MDA, CGA, EGA to VGA Converter - VGA to 6 open wire cable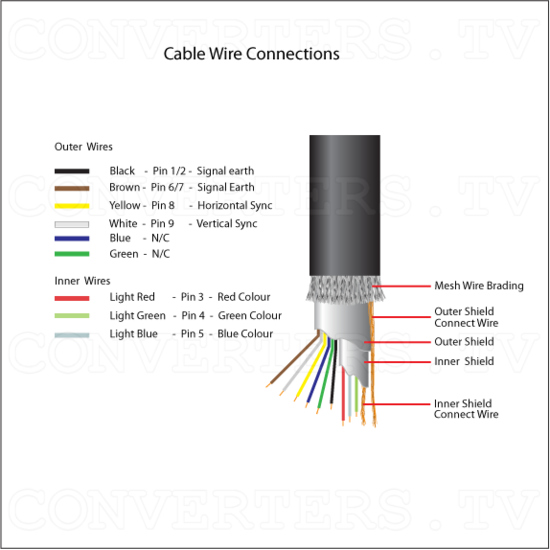 RGB, MDA, CGA, EGA to VGA Converter - Wire Diagram
RGB, MDA, CGA, EGA to VGA Converter - Power Supply 110v OR 240v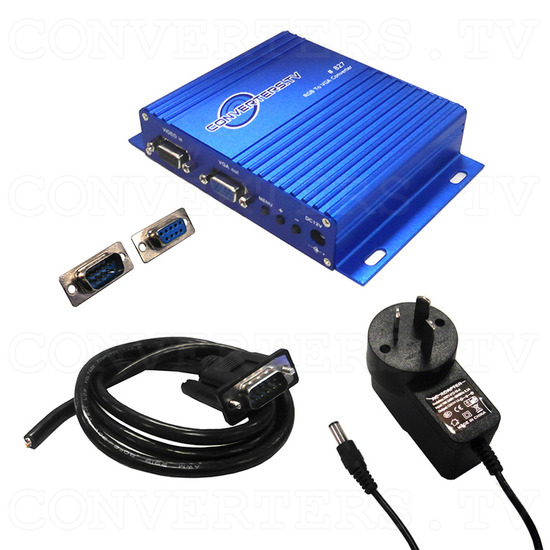 RGB, MDA, CGA, EGA to VGA Converter - Full Kit