Video to PC/HD Scaler Converter

save 10%





| | |
| --- | --- |
| This product has been replaced by : | View other products in this category |
The Video to PC/HD Scaler is designed to convert and upscale Composite and S-Video signals to a variety of computer and HDTV resolutions, including 1080p and WUXGA. It handles video input from TV systems of PAL and NTSC standards, and includes automatic signal detection and switching.

The Scaler is an ideal way to connect devices such as DVD Players, VCR's, Set-top Boxes, and Game consoles to your PC or HDTV display. For example, you could connect your VCR player via S-Video to the scaler box, and output via 15pin VGA to your PC display. A wide range of selectable resolutions are available - PC resolutions VGA, SVGA, XGA, WXGA, SXGA, UXGA and WUXGA; and HDTV resolutions 480p, 576p, 720p, 1080i, and 1080p. The unit will upscale content based on the selected resolution (dependent on the supported resolution of the display).

The unit has both PC and HD output via the VGA output port. This output port is shared by PC/RGBHV output and HDTV/YPbPr (Component) output. When the PC/RGBHV output resolution (VGA to WUXGA) is selected, use a 15pin VGA cable to connect this output to the PC input of your display monitor. When the HDTV output (480p, 576p, 720p, 1080i, 1080p) is selected, use a 15pin VGA to Component cable to connect this output to the component (YPbPr) input of your HDTV display.

As the unit has both Composite and S-Video Inputs available, you can connect up to 2 devices simultaneously and select the desired input source for display. Input selection is quick and easy - either press the Input Select button on the front of the unit, or use the included remote control. The device also has a comprehensive On-Screen Display which allows you to adjust and fine tune picture settings.

| | | | |
| --- | --- | --- | --- |
| Unit Dimensions: | 12.5 x 12.5 x 3.0 cm | Shipping Weight: | 1.15 kg |
| Location: | NSW, Australia | Item Type: | Analog Video System Converters |
| Condition: | New | Warranty : | 12 Months |
| Certificates : | CE, CTick, UL | Manual : | User Manual (663.8 KB) |
Features:
Motion adaptive 3D Y/C separation comb filter (for composite video input)
3D (frame based) motion adaptive YNR/CNR noise reduction (for Y/C video input)
Advanced 3D motion adaptive deinterlace
Automatic 2: 2/3 : 2 film mode detection
Supports 50Hz to 60Hz frame rate conversion
Video quality improvement: DCTI (Digital chroma transient improvement), DLTI (Digital luminance transient improvement), Black level extension
Average picture level (APL), automatic contrast limiter (ACL) function supported
OSD menu for picture quality adjustment
Built-in 8-bit DAC for RGB or YPbPr output
Front panel and IR remote control
Automatic NTSC/PAL video format detection and switching
Specifications:
Input Signal Levels: Video@1Vp-p 75ohm, Y@1Vp-p 75ohm, Colour@0.7Vp-p 75ohm
Output Format: Analog YPbPr / HDTV, or RGB/PC
Output Connector: HD 15 Female
Output Signal: RGB @ 0.7 Vp-p, H&V Sync @ 3 Vp-p, Y @ 1 Vp-p, PbPr 0.7 Vp-p 75 ohm
Weight (g): 400
Dimensions (mm): 125 (W) x 123 (D) x 30 (H)
Operating Temperature: 0°C ~ 40°C
Chassis Colour: Blue
Output Signal Specifications - PC Resolutions:
VGA 640x480 60 Hz RGBHV Progressive
SVGA 800x600 60 Hz RGBHV Progressive
XGA 1024x768 60 Hz RGBHV Progressive
WXGA 1280x768 60 Hz RGBHV Progressive
SXGA 1280x1024 60 Hz RGBHV Progressive
UXGA 1600x1200 60 Hz RGBHV Progressive
WUXGA 1920x1200 60 Hz RGBHV Progressive
Output Signal Specifications - HDTV Resolutions:
480p 720x480 60 Hz YPbPr Progressive
576p 720x576 50 Hz YPbPr Progressive
720p 1280x720 50/60 Hz YPbPr Progressive
Psuedo 1080i* 960x540p 50/60 Hz YPbPr Interlaced
1080p 1920x1080 50/60 Hz YPbPr Progressive
The standard 1080i resolution is 1920x1080i with sampling rate at 74 MHz. The 1080i output of this unit is 960x540p which is half the standard resolution and therefore may not be accepted by some HDTV's.
Power Supplies:
Multi-Voltage Power Supply : 100 - 240VAC to 5V DC 2.6A Switch Mode Power Supply - Center Positive
Connects From :
Connects To :

Composite - RCA / AV (TV)
S-Video (TV)
Converts From :
Converts To :

VGA (640 x 480 @ 4:3)
PAL B
NTSC M - NTSC 3.58
NTSC N - NTSC 4.43
PAL D
PAL N
PAL G
PAL H
PAL I
PAL K
PAL M
SVGA (800 x 600 @ 4:3)
XGA (1024 x 768 @ 4:3)
SXGA (1280 x 1024 @ 5:4)
UXGA (1600 x 1200 @ 4:3)
WXGA HD (1280 x 720 @ 16:9)
HDTV 480p
HDTV 576p
HDTV 720p
HDTV 1080p
HDTV 1080i
WUXGA (1920 x 1080 @ 16:10)
HDTV 480i
HDTV 576i

VGA (640 x 480 @ 4:3)
PAL B
NTSC M - NTSC 3.58
NTSC N - NTSC 4.43
PAL D
PAL N
PAL G
PAL H
PAL I
PAL K
PAL M
SVGA (800 x 600 @ 4:3)
XGA (1024 x 768 @ 4:3)
SXGA (1280 x 1024 @ 5:4)
UXGA (1600 x 1200 @ 4:3)
WXGA HD (1280 x 720 @ 16:9)
HDTV 480p
HDTV 576p
HDTV 720p
HDTV 1080p
HDTV 1080i
WUXGA (1920 x 1080 @ 16:10)
HDTV 480i
HDTV 576i
1 x Video to PC/HD Scaler Converter
1 x VGA Cable
1 x VGA to 3 RCA
1 x Product Manual
1 x 100-240VAC to 5V DC 2.6A Switch Mode Power Supply (Center Positive)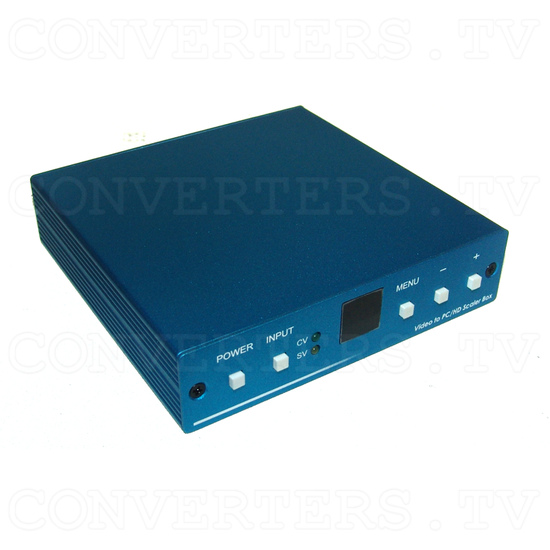 Video to PC/HD Scaler Converter - Full View
Video to PC/HD Scaler Converter - Front View
Video to PC/HD Scaler Converter - Back View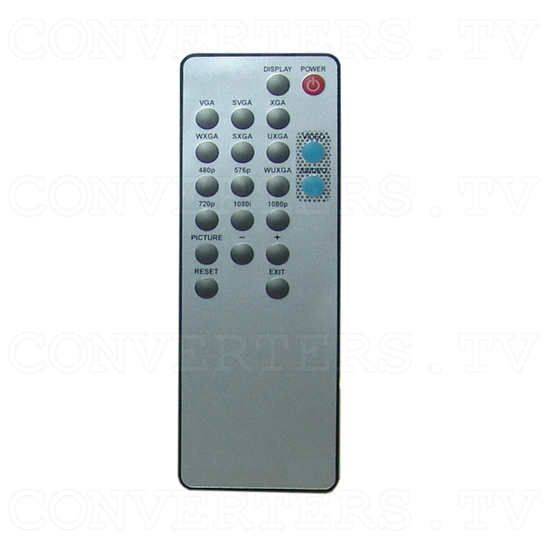 Video to PC/HD Scaler Converter - Remote
Video to PC/HD Scaler Converter - VGA Cable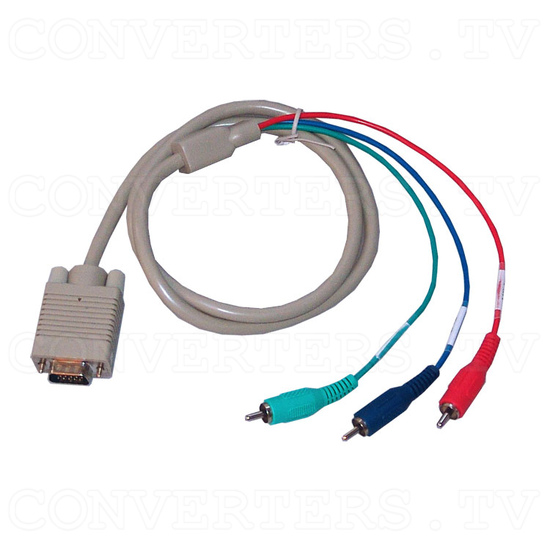 Video to PC/HD Scaler Converter - VGA to 3 RCA
Video to PC/HD Scaler Converter - Power Supply 110v OR 240v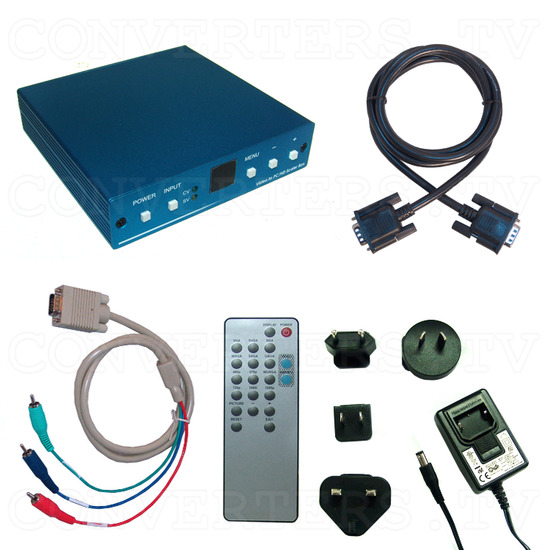 Video to PC/HD Scaler Converter - Full Kit