Multi Video to HDMI and VGA Scaler Format Converter

save 36%





The Multi Video to HDMI and VGA Scaler Converter connects video and audio signals from sources such as Composite Video, Super Video, Component HD Video, HDMI, DVI and SDI Video and VGA signals from a PC, all into one compact device. The video signals from any of these sources are then processed, converted and scaled up to a digital HDMI or analog Component or VGA output signals, depending on type of connected monitor. Convert HDMI PAL or NTSC format to HDMI NTSC or PAL format to display on any HDTV.

This allows video sources with the different output formats and connections to be controlled at the same time by the Multi Video to HDMI and VGA Scaler Converter and then simply select your input source to be displayed on a High Definition LCD TV Screen via HDMI cable, a Component HDTV using the Red, Blue and Green cable, or to a PC Computer monitor via VGA cable. No more changing video cables or TV settings to be able to watch what you want with minimal fuss.

For example, the Multi Video to HDMI and VGA Scaler Converter allows you to connect one SDI source (such as an SDI camera or camcorder), one VGA source such as a personal computer (PC) hard drive, one S-Video with stereo audio source (VCR player), one Composite Video with stereo audio source (such as DVD Player or WII game console), one Component HD plus stereo audio source (such as a DVD Player or Playstation game console) and/or up to two HDMI sources (such as a Blu-ray player or Xbox game console). Once the various devices are connected via their respective inputs, you can then display any one of them on a HDMI or Component display like an LCD or LED HDTV, or on a VGA PC monitor.

The high performance Multi Video to HDMI and VGA Scaler Processor supports all the functions of HDMI v1.3 (inc 3D) and VGA PC with supported resolutions up to 1080p and WUXGA. With in-built Analog Digital Conversion (ADC) & Digital Analog Conversion (DAC) allowing for a wide range of Video signal formats to be connected to one device for control and display on HD TV's and VGA monitors. Also, a hand held remote control and front-panel button controls make the Multi Video to HDMI and VGA Scaler Processor very user friendly.


Supports multi SD and HD AV inputs to HDMI, Component or PC VGA output
Supports PAL to NTSC or NTSC to PAL HDMI format framerate conversion
Supports EDID and HDCP
Supports 3D de-interlace, noise reduction and Comb filter
Supports SDI loop out
| | | | |
| --- | --- | --- | --- |
| Unit Dimensions: | 32.0 x 18.0 x 4.5 cm | Shipping Weight: | 2.52 kg |
| Location: | NSW, Australia | Item Type: | |
| Condition: | New | Warranty : | 12 Months |
| Certificates : | CE, CTick, UL | Manual : | User Manual (390.07 KB) |
Features:
Support PAL/NTSC to NTSC/PAL format conversion
Input Support High Definition 480i/p ~ 1080i/p@50/60Hz
Input Support VGA PC VGA ~ WUXGA@60Hz
Output Support HD 480p, 576p, 1080i and 1080p@50/60Hz
Output Support PC VGA, SVGA, XGA, WXGA, HD/WXGA, SXGA, WXGA+, SXGA+, WSXGA+, UXGA, FHD, WUXGA@60hZ
Output Aspect Ratios: Panscan/Letterbox/Undersacn 1/Underscan 2/Overscan/Full/Best Fit
Support RS232 control protocol
Support IR for remote control
Support CV, SV, Component, PC, DVI, HDMI and SDI input
Support PC, Component HD and HDMI output
Slim, compact flat-black metal casing
LED light indication for power on/off and currently selected input
Front panel push button controls for power and input selection, OSD menu access and control
All power and video inputs and outputs located on back panel
All buttons, LED's, inputs and outputs clearly designated and accessible
SDI operation at 2.970Gb/s, 2.970/1.001Gb/s, 1.485Gb/s, 1.485/1.001Gb/s and 270 Mb/s
Supports SMPTE 425M (Level A and Level B), SMPTE 424M, SMPTE 292M, SMPTE 259 M-C
Supports signal input and output distances of up to 300m for SDI signals, 200m for HD signals and 100m for 3G signals.
NOTE: SDI cable distance tested with belden 1694A. Operating distances may vary if used with cables of a different specification.
Specifications:
Inputs:
1 x Composite Video RCA + Analog L/R
1 x S-Video Din 4 Pin + Analog L/R
1 x VGA and Component 15 Pin D-sub + Analog L/R
2 x HDMI Male A Type + Optical TosLink
1 x SDI RCA BNC + Optical TosLink
1 x USB (Service Only)
1 x HP Jack (Service Only)
1 x RS-232 (Control Only)
Outputs:
1 x HDMI Male A Type
1 x VGA and Component 15 Pin D-sub (YPbPr)
1 x SDI RCA BNC (loop out)
1 x Analog L/R
1 x Optical TosLink
Supported Resolutions:
Input: 480i to 1080p@60, 576i to 1080p@50 and PC VGA to WUXGA@60Hz
Output: 480p/720p/1080i/1080p@60, 576p/720p/1080i/1080p@50Hz, PC VGA to WUXGA@60Hz
Power Supply: 100-240vAC to +5vDC 3A (US/EU standards, CE/FCC/UL certified)
Power Consumption: 10.5W
Chassis Material and Silkscreen Color: Metal; Black
Dimensions (cm): 32.0(l) x 18.0(d) x 4.5(h)
Weight (kg): 1.656kg
Operating Temperature: 0C ~ 40C / 32F ~ 104F
Storage Temperature: -20C ~ 60C/ -4F ~ 140F
Relative Humidity: 20 ~ 90% RH (non-condensing)
Accepted HDMI/DVI PC Input Resolutions:
640*480@60/72/75Hz
800*600@56/60/72/75Hz
1024*768@60/70/75Hz
1280*720@60Hz
1200*800@60Hz
1280*960@60Hz
1280*1024@60/75Hz
1366*768@60Hz
1440*900@60Hz
1400*1050@60Hz
1680*1050@60Hz
1600*1200@60Hz
1920*1080@60Hz
1920*1200@60Hz
Accepted HDMI/DVI/Component HD Input Resolutions:
720*480i@59/60Hz
720*480p@59/60Hz
720*576i@50Hz
720*576p@50Hz
1280*720p@50/59/60Hz
1920*1080i@50/59/60Hz
1920*1080p@23/24/50/59/60Hz
Selectable HDMI PC Output Resolutions:
640*480@60Hz
800*600@60Hz
1024*768@60Hz
1280*768@60Hz
1360*768@60Hz
1280*720@60Hz
1280*800@60Hz
1280*1024@60Hz
1440*900@60Hz
1400*1050@60Hz
1680*1050@60Hz
1600*1200@60Hz
1920*1080@60Hz
1920*1200@60Hz
Selectable HDMI and Component HD Output Resolutions:
720*480p@50/60Hz
720*576p@50/60Hz
1280*720p@50/60Hz
1920*1080i@50/60Hz
1920*1080p@50/60Hz
Converts From :
Converts To :

VGA (640 x 480 @ 4:3)
PAL B
NTSC M - NTSC 3.58
NTSC N - NTSC 4.43
SECAM B
PAL D
PAL N
PAL G
PAL H
PAL I
PAL K
PAL M
SVGA (800 x 600 @ 4:3)
XGA (1024 x 768 @ 4:3)
SXGA (1280 x 1024 @ 5:4)
UXGA (1600 x 1200 @ 4:3)
WXGA HD (1280 x 720 @ 16:9)
WSXGA (1680x1050 @ 16:10)
SECAM D
SECAM G
SECAM H
SECAM K
SECAM K1
SECAM L
MESECAM
HDTV 480p
HDTV 576p
HDTV 720p
HDTV 1080p
HDTV 1080i
WUXGA (1920 x 1080 @ 16:10)
HDTV 480i
HDTV 576i
SDI

VGA (640 x 480 @ 4:3)
SVGA (800 x 600 @ 4:3)
XGA (1024 x 768 @ 4:3)
SXGA (1280 x 1024 @ 5:4)
UXGA (1600 x 1200 @ 4:3)
WXGA HD (1280 x 720 @ 16:9)
WSXGA (1680x1050 @ 16:10)
HDTV 480p
HDTV 576p
HDTV 720p
HDTV 1080p
HDTV 1080i
WUXGA (1920 x 1080 @ 16:10)
HDTV 480i
HDTV 576i
1 x Multi Video to HDMI and VGA Scaler Format Converter
1 x Product Manual
1 x Switch mode Power Supply 100-240v 50-60Hz 0.6A, DC 5V - 3.0A center positive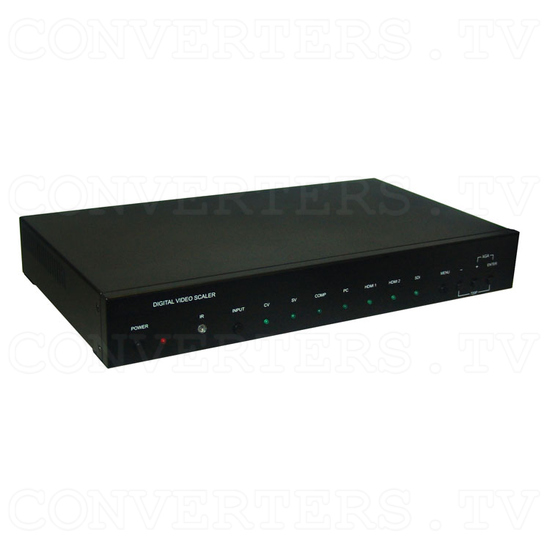 Multi Video to HDMI and VGA Scaler Format Converter - Full View
Multi Video to HDMI and VGA Scaler Format Converter - Front View
Multi Video to HDMI and VGA Scaler Format Converter - Back View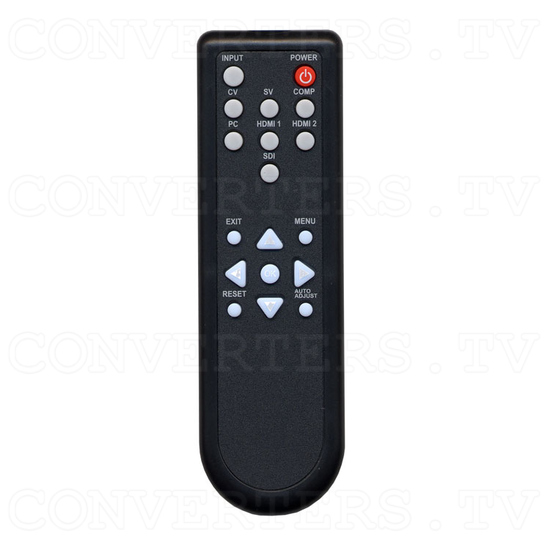 Multi Video to HDMI and VGA Scaler Format Converter - Remote
Multi Video to HDMI and VGA Scaler Format Converter - Power Supply 110v OR 240v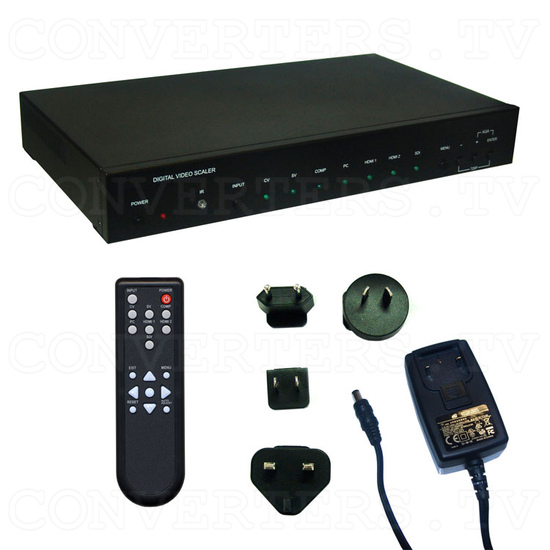 Multi Video to HDMI and VGA Scaler Format Converter - Full Kit