HDMI v1.3 to CAT6 4 In 4 Out Matrix

save 68%





The HDMI v1.3 to CAT6 4 In 4 Out Matrix distributes up to four HDMI 1080p inputs to any of four RJ45 outputs, transmitting each output over twin CAT6 cables up to a distance of 50m.

The HDMI v1.3 to CAT6 4 In 4 Out Matrix has four HDMI inputs and four CAT6 outputs. Each of the four input sources can be directed to any one of the four RJ45 outputs, then each output connects to the distant receivers using twin CAT6 cables. A monitor connects via HDMI to the CAT6 receiver.

The device supports Deep Color (12 bits/color) video and new lossless compressed (Dolby TrueHD, Dolby Digital Plus and DTS-HD Master Audio) Digital audio, at a bandwidth of up to 225MHz. The unit is also able to be "Cascaded", meaning that several of these units can be linked together to create an even longer Digital HDMI Signal transmission pathway.

When used in conjunction with a CAT6 to HDMI Receiver, it offers you maximum convenience in signal distribution between source and display over long distances.

Compatible Receiver: http://www.converters.tv/products/hdtv_to_hdtv/749.html

| | | | |
| --- | --- | --- | --- |
| Unit Dimensions: | 43.8 x 18.0 x 4.8 cm | Shipping Weight: | 3.30 kg |
| Location: | NSW, Australia | Item Type: | HDMI Video Matrix |
| Condition: | New | Warranty : | 12 Months |
| Certificates : | CE, CTick, UL | Manual : | User Manual (291.05 KB) |
Features:
HDMI 1.3, HDCP 1.1 and DVI 1.0 compliant
Supports digital video formats in Deep Color Mode of up to 36 bits (12bits/color) and new lossless compressed (Dolby TrueHD, Dolby Digital Plus and DTS-HD Master Audio) digital audio
HDMI input compensation, clock / phase adjustments, and jitter eliminated guaranteed to output a brand new standard HDMI signal
Supports input source LED indicators on each output select
Compatible with all HDMI sources and displays
Supports a wide range of PC and HDTV resolutions from VGA to UXGA and 480i to 1080p
Supports CAT cable distance up to 50m 1080p@8 bit colour
Supports CAT 6 cables of variable types
Supports RS-232 control
Supports IR remote control with IR extender and blaster
Dolby Digital, DTS digital audio transmission (32-192 kHz Fs sample rate)
Defines HDCP, HDMI and DVI source via LED light
Supports high definition resolution, the cable distance test at 1080p/8 or 12 bits resolution: input & output sources max. distance up to 15 meters
Notes:
A. Cable used during test is CAT-6E / 23AWG / Solid and therefore, cables of different specification may have different distance results.
B. Cable distance test equipment used: PS3 20G, 37" Philips 8 bit LCD TV and 37" SamSung 12 bit LCD TV.
C. Figures provided in this manual are for reference use only.
Specifications:
Frequency Bandwidth: 2.25Gbps (single link)
Input Ports: 4 x HDMI female ports,
Output Ports: 4 x Video/DDC CAT 6 ports
EDID: Standard, TV/Moving Port 1
ESD Protection: ± 10kV (air-gap discharge), ± 6kV (contact discharge)
HDMI Audio Output: PCM2, PCM5.1, PCM7.1, Dolby5.1, DTS5.1, DD+, D-TrueHD, and DTS-HD
HDMI Cable In: 1080p 8-bit (15M), 1080p 12-bit (15M)
HDMI Cable Out: 1080p 8-bit (15M), 1080p 12-bit (15M)
CAT 6 Cable Out: 1080p 8-bit (50M), 1080p 12-bit (15M)
Color Space: RGB_24/36, YCbCr 4:4:4_24/36, YCbCr 4:2:2, xvYCC
IR IN/OUT: Yes/Yes
Deep Colour: 1080p 12-bit
HDMI Resolution: 480i~1080p 50/60, 1080p 24, VGA~UXGA
DVI Resolution: 480i~1080p 50/60, 1080p 24, VGA~UXGA
Power Supply: 5VDC/6A (US/EU standards, CE/FCC/UL certified)
Dimensions (mm): 438(W) x 175(D) x 44(H)
Weight(g): 2150
Chassis Material: Aluminium
Colour: Black
Operating Temperature: 0°C ~ 40°C / 32°F ~ 104°F
Storage Temperature: -20°C ~ 60°C / -4°F ~ 104°F
Relative Humidity: 20% ~ 90% RH (non-condensing)
Power Consumption: 16.5W (MAX)
| Connects From : | Connects To : |
| --- | --- |
| | |
Converts From :
Converts To :

VGA (640 x 480 @ 4:3)
SVGA (800 x 600 @ 4:3)
XGA (1024 x 768 @ 4:3)
SXGA (1280 x 1024 @ 5:4)
UXGA (1600 x 1200 @ 4:3)
HDTV 480p
HDTV 576p
HDTV 720p
HDTV 1080p
HDTV 1080i
HDTV 480i
HDTV 576i
CAT5/6 Protocol

VGA (640 x 480 @ 4:3)
SVGA (800 x 600 @ 4:3)
XGA (1024 x 768 @ 4:3)
SXGA (1280 x 1024 @ 5:4)
UXGA (1600 x 1200 @ 4:3)
HDTV 480p
HDTV 576p
HDTV 720p
HDTV 1080p
HDTV 1080i
HDTV 480i
HDTV 576i
CAT5/6 Protocol
1 x 4 by 4 HDMI 1.3 to CAT6 Matrix
1 x Product Manual
1 x Infrared sensor
5 x Infrared Reciever
1 x 250V Power Cord
1 x AC adapter 30W - 100-240V -50/60hz 1.7A to 5.0V - 6.0A center positive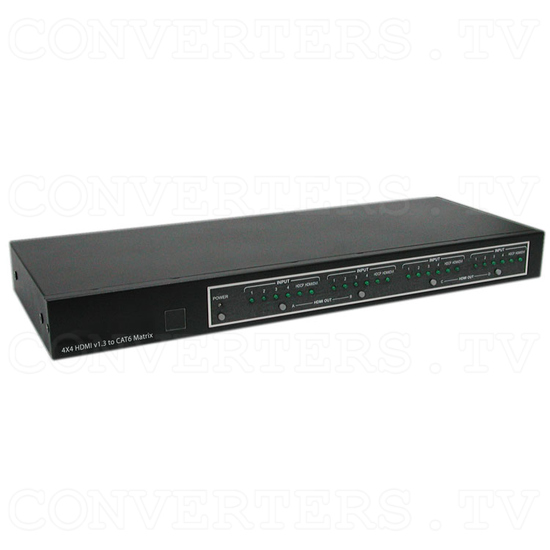 HDMI v1.3 to CAT6 4 In 4 Out Matrix - Full View
HDMI v1.3 to CAT6 4 In 4 Out Matrix - Front View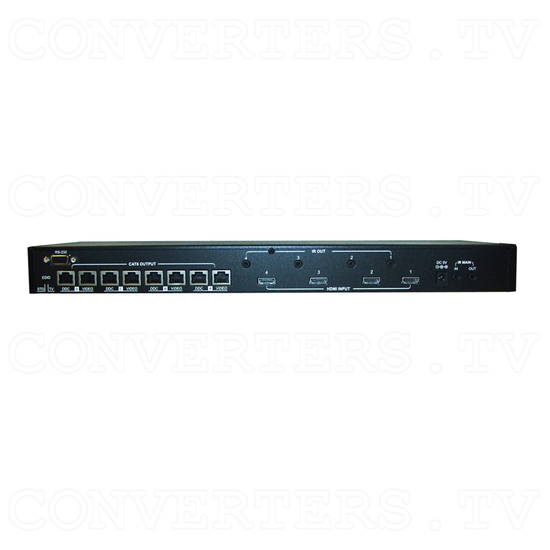 HDMI v1.3 to CAT6 4 In 4 Out Matrix - Back View
HDMI v1.3 to CAT6 4 In 4 Out Matrix - Infrared sensor x 5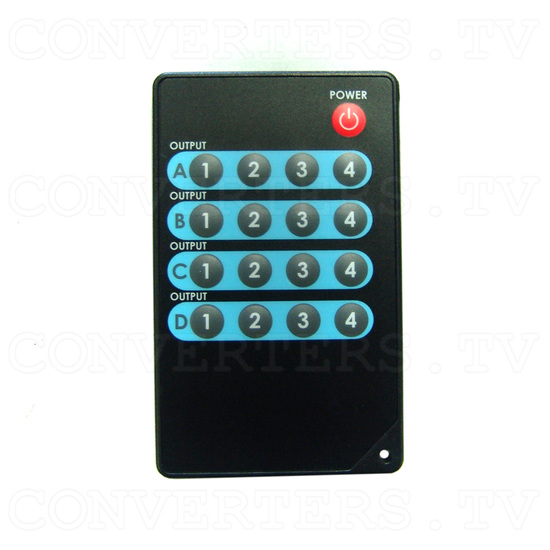 HDMI v1.3 to CAT6 4 In 4 Out Matrix - Remote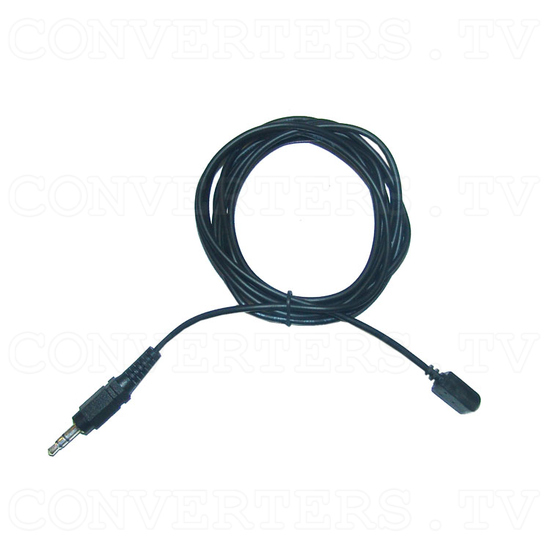 HDMI v1.3 to CAT6 4 In 4 Out Matrix - Infrared Reciever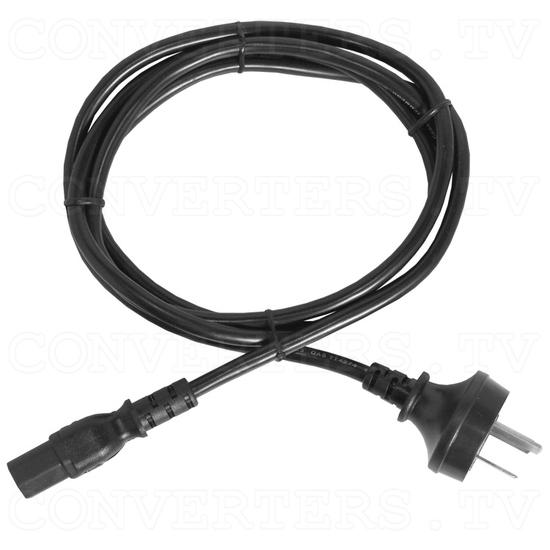 HDMI v1.3 to CAT6 4 In 4 Out Matrix - 250V Power Cord
HDMI v1.3 to CAT6 4 In 4 Out Matrix - Power Supply 110v OR 240v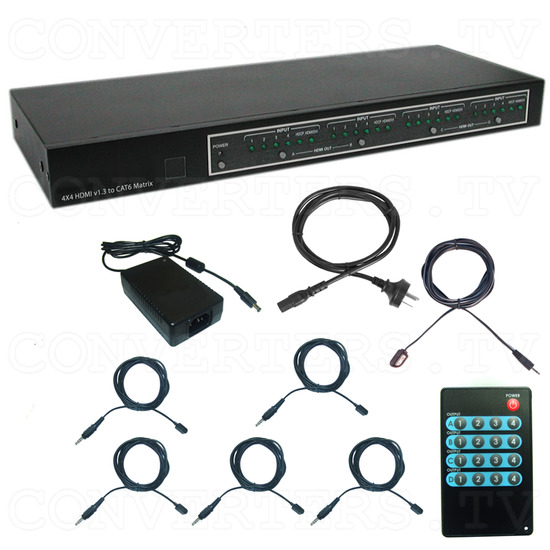 HDMI v1.3 to CAT6 4 In 4 Out Matrix - Full Kit