HDMI v1.3 1 In 2 Out Splitter with CEC

save 48%





The HDMI v1.3 1 In 2 Out Splitter with CEC is a high performance splitter that is part of the Distribution Amplifier Series: an advanced solution to HDMI signal distribution. This device allows you to connect a single HDMI source, such as a Blu-ray Player or PS3, and split the HDMI signal to two HDMI displays, such as a HDTV or projector.

Splitting and regenerating the signal from the HDMI input source ensures no loss of quality. Besides splitting and distributing, the splitter also does signal amplification and equalization, so as to provide high performance I/O of audio and video.

Each product in this series is compatible to HDMI v1.3 specifications, a technology which defines the support to transfer Deep Color (10-bit and 12-bit) video and new lossless compressed digital audio (Dolby TrueHD, Dolby Digital Plus and DTS-HD Master Audio), with a high bandwidth up to 225MHz (6.75Gbps).

The HDMI v1.3 Distribution Amplifier products with CEC in their part number provide additional CEC control feature and CEC function support includes: one touch play and record, timer programming, menu language, deck and device menu control, OSD display, device OSD transfer, remote control pass through, system audio control, and system standby.

Supports DVI source input and DVI display sinks.

| | | | |
| --- | --- | --- | --- |
| Unit Dimensions: | 14.5 x 9.0 x 3.2 cm | Shipping Weight: | 0.50 kg |
| Location: | NSW, Australia | Item Type: | HDMI Converters |
| Condition: | New | Warranty : | 12 Months |
| Certificates : | CE, CTick, UL | Manual : | User Manual (246.9 KB) |
Features:
HDMI v1.3, HDCP1.1 and DVI1.0 compliant
Deep color video support for 10 & 12bit, 1080p@(24/60)Hz.
Splits one HDMI source to connect to 2 HDMI displays simultaneously.
Output resolution follows input resolution.
HDCP keysets allows each output to work independently when connecting to HDMI displays.
Supports DVI source and DVI display by using HDMI to/from DVI adaptor cable.
Supports LPCM 7.1CH, Dolby TrueHD, Dolby Digital Plus and DTS-HD Master Audio transmission (32-192kHz Fs sample rate).
Supports a wide range of PC and HDTV resolutions from VGA to UXGA and 480i/p to 1080i/p.
HDMI cable distance test with 1080p/8bits resolution, the Input/Output source can run up to 15/15 meters. If 1080p/12bits the Input/Output source can run up to 10/15 meters.
Supports EDID functionality. The unit will detect the first HDMI/DVI output source's EDID and record in the unit.
Support xvYCC.
Support CEC Control functions.
Specifications:
Frequency Bandwidth: 2.25Gbps (single link)
Input Port: 1x HDMI female port (Type A connector)
Output Ports: 2x HDMI female ports (signal link)
HDMI Cable In/Out: 1080p 8-bit (15M), 12-bit (15M)
HDMI Cable In/Out: 1080p 12-bit (10M), 12-bit (15M)
ESD Protection: Human body model: ± 10kV (air-gap discharge), ± 6kV (contact discharge)
PCB Stack-up: 4-layer board impedance control - differential 100Ω, Single 50Ω
Input TMDS Signal: 1.2 Volts (peak-to-peak)
Input DDC Signal: 5 Volts (peak-to-peak, TTL)
Support HDMI Input/Output Resolutions: 480i/p ~ 1080p/i, 1080p24, VGA ~ UXGA
Output resolution follows input resolution.
Power Supply: 100-240vAC to 5vDC 1A (US/EU standards, CE/FCC/UL certified)
Dimensions (cm): 14.5(w) x 9.0(d) x 3.2(h)
Weight(g): 160
Chassis Material: Plastic
Colour: Black
Operating Temperature: 0°C ~ 40°C / 32°F~ 104°F
Storage Temperature: -20°C ~60°C / -4°F ~ 140°F
Relative Humidity: 20% ~ 90% RH (non-condensing)
Power Consumption: 3.2W (max)
Supported PC VGA and HDMI/DVI HD Input / Output Resolutions : (Output = Input)
640*480@60/72/75Hz
800*600@56/60/72/75Hz
1024*768@60/70/75Hz
1366*768@50/60Hz
1280*960@60Hz
1280*1024@60/75Hz
1600*1200@60Hz
1920*1200@60Hz
720*480i@59/60Hz Not DVI
720*480p@59/60Hz
720*576i@50Hz Not DVI
720*576p@50Hz
1280*720p@50/59/60Hz
1920*1080i@50/59/60Hz
1920*1080p@23/24/50/59/60Hz
| Connects From : | Connects To : |
| --- | --- |
| | |
Converts From :
Converts To :

VGA (640 x 480 @ 4:3)
SVGA (800 x 600 @ 4:3)
XGA (1024 x 768 @ 4:3)
SXGA (1280 x 1024 @ 5:4)
UXGA (1600 x 1200 @ 4:3)
WXGA HD (1280 x 720 @ 16:9)
WSXGA (1680x1050 @ 16:10)
HDTV 480p
HDTV 576p
HDTV 720p
HDTV 1080p
HDTV 1080i
HDTV 480i
HDTV 576i
WXGA (1360 X 768 @ 16:9)
WUXGA (1920 X 1200 @ 16:10)

VGA (640 x 480 @ 4:3)
SVGA (800 x 600 @ 4:3)
XGA (1024 x 768 @ 4:3)
SXGA (1280 x 1024 @ 5:4)
UXGA (1600 x 1200 @ 4:3)
WXGA HD (1280 x 720 @ 16:9)
WSXGA (1680x1050 @ 16:10)
HDTV 480p
HDTV 576p
HDTV 720p
HDTV 1080p
HDTV 1080i
HDTV 480i
HDTV 576i
WXGA (1360 X 768 @ 16:9)
WUXGA (1920 X 1200 @ 16:10)
1 x HDMI 1input 2output v1.3 Splitter w/CEC
1 x User Manual
1 x Product Manual
1 x 100-240V 0.2A 50/60Hz to 5V DC 1000mA 6W Max Power Supply (Center Positive)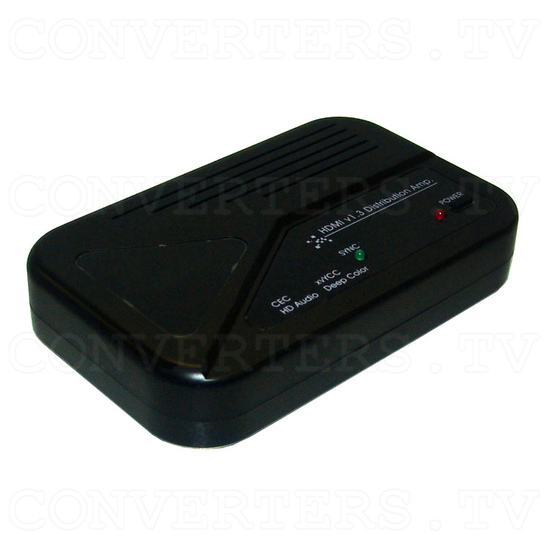 HDMI v1.3 1 In 2 Out Splitter with CEC - Full View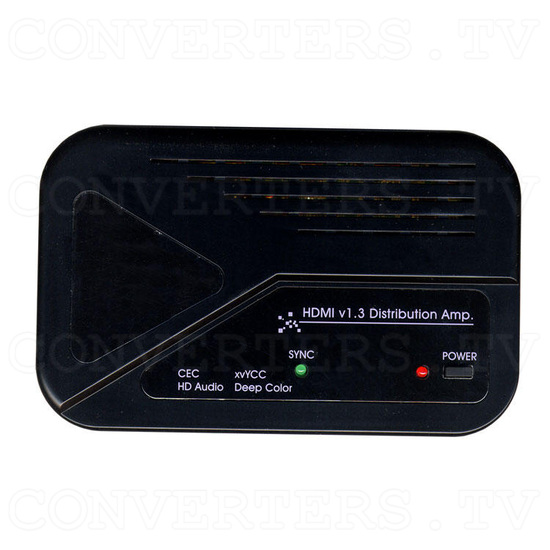 HDMI v1.3 1 In 2 Out Splitter with CEC - Top View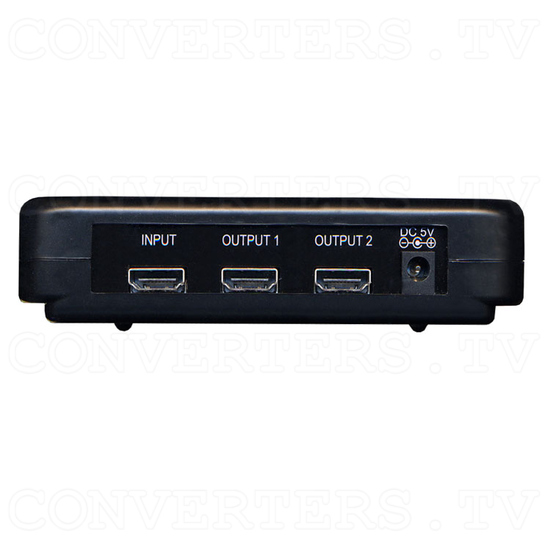 HDMI v1.3 1 In 2 Out Splitter with CEC - Back View
HDMI v1.3 1 In 2 Out Splitter with CEC - Power Supply 110v OR 240v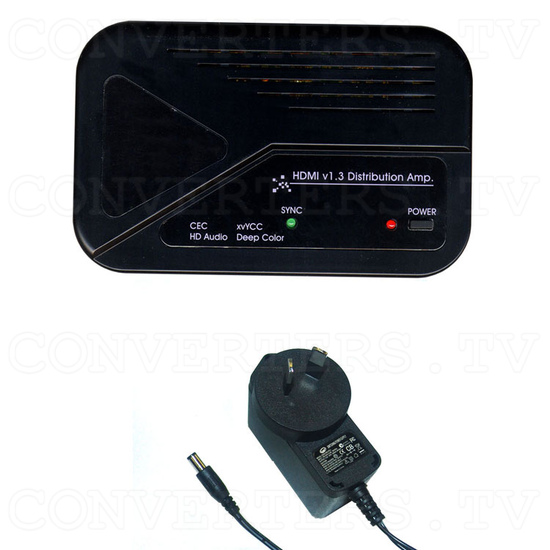 HDMI v1.3 1 In 2 Out Splitter with CEC - Full Kit