HDMI Video Transmitter over Cat5 Cable - 50m to 250m

save 27%




The HDMI Video Transmitter over Cat5 transmits a HDMI signal to a Receiver unit over Category 5 cable, and is used to extend the overall HDMI signal distance. Depending on the type of receiver used with the transmitter, the HDMI signal can be extended for a distance of 50m to 250m.

One limitation of HDMI connections is length, with the HDMI signal rapidly deteriorating over large distances. The HDMI Transmitter over Cat5 solves this common problem, as it essentially extends the HDMI signal. The HDMI Transmitter over Cat5 would suit those who are suffering from HDMI signal loss due to long distance, and those with a large distance in between their HDMI input source and their HDTV display.

To function correctly, the HDMI Video Transmitter over Cat5 unit must be paired with a receiver unit. Receivers are available which will increase your HDMI signal by 50 / 100 / 150 / 250 metres. Setting up the unit is quick and easy. You simply connect the transmitter to your HDMI source (DVD Player, Digital Set Top Box, PS3, XBox 360 etc) via a HDMI cable. The transmitter unit is connected to the Receiver unit via Cat5 cable, and the Receiver unit is in turn connected to your HDTV display via HDMI cable.

Two separate output links available, one for HDMI Video transmission via Cat5 cable and the other is for transmitting DDC (Display Data Channel) information when needed. Where DDC or HDCP data are known for the source and the display, you can use a single Cat5 cable to connect the Video ports of the Transmitter and Receiver units.

The HDMI Video Transmitter over Cat5 Cable can be used with DVI appliances by utilising a standard DVI to HDMI / HDMI to DVI cable converter.

Unit Dimensions:
12.5 x 12.3 x 3.0 cm
Shipping Weight:
0.72 kg
Location:
NSW, Australia
Item Type:
Condition:
New
Warranty :
12 Months
Certificates :
CE, UL
Manual :
User Manual (74.97 KB)
User Manual (179.41 KB)

Practical Applications:
The HDMI Video Transmitter over Cat5 Cable is ideal for use in:
Lecture Halls and Auditoriums.
Educational Facilities such as Schools and Universities.
Shopping Malls and Large Retail Shops.
Sports Stadiums and Gymnasiums.
Recreational Resort and Accommodation Facilities.
Industrial Complexes.
Commercial Office Buildings.
Private Family Homes.
The HDMI Video Transmitter over Cat5 Cable is ideal for use by:
Professional Advertisers.
Lecture Professors, Public and Private Teachers.
Industrial Manufacturers.
Commercial Shop owners.
Resort and Motel/Hotel Managers
Sports Organisers.
Concert, Stage and Theatre groups.
Private Home Owners.
Features:
Supports High Definition Video input up to 1080p (Output = Input)
Operates up to a distance of 250 meters on Cat5 cable, depending on the Receiver used.
Compact and Durable silver casing.
LED indicator for Power On/Off.
Easy to understand Front and Rear panel Layout and Labelling.
Compatible for use with any HDMI and DVI Video appliance.
Easy and simple installation and operation.
Low power consumption.
Specifications:
Supports HDMI Resolutions: 480p, 480i, 576p, 576i, 720p (50/60Hz), 1080p and 1080i (50/60HZ)
Supports Cables: Cat5, Cat5E and Cat6 of various manufacture.
Complies to HDMI 1.2, HDCP 1.1 and DVI 1.0 specs.
HDMI input connector: 1 x Female (Type A)
Cat5 output connectors: 2 x RJ45 ports. (1 for Video, 1 for DDC information)
Universal Switch-Mode Power Supply 100-240vAC 50/60Hz to 5vDC 2.6Amp
Dimensions (cm's): 12.5(w) x 12.3(d) x 3.0(h)
Weight: 350 grams
Accepted DVI/HDMI Resolutions:
640*480@60/72/75Hz
800*600@56/60/72/75Hz
1024*768@60/70/75Hz
1280*1024@60/75Hz
1366*768@60Hz
1600*1200@60Hz
1920*1200@60Hz
720*480i@59/60Hz
720*576i@50Hz
720*576p@50Hz
720*480p@59/60Hz
1280*720p@59/50/60Hz
1920*1080i@59/50/60Hz
1920*1080p@59/50/60
Power Supplies:
Multi-Voltage Power Supply : 100 - 240VAC to 5V DC 2.6A Switch Mode Power Supply - Center Positive
Connects From :
Connects To :

HDMI (HDTV)
RJ-45 Control Telnet/WebGUI
CAT5 / CAT6 Cable RJ-45

HDMI (HDTV)
RJ-45 Control Telnet/WebGUI
CAT5 / CAT6 Cable RJ-45
Converts From :
Converts To :

VGA (640 x 480 @ 4:3)
SVGA (800 x 600 @ 4:3)
XGA (1024 x 768 @ 4:3)
SXGA (1280 x 1024 @ 5:4)
HDTV 480p
HDTV 576p
HDTV 720p
HDTV 1080p
HDTV 1080i
HDTV 480i
HDTV 576i
CAT5/6 Protocol

VGA (640 x 480 @ 4:3)
SVGA (800 x 600 @ 4:3)
XGA (1024 x 768 @ 4:3)
SXGA (1280 x 1024 @ 5:4)
HDTV 480p
HDTV 576p
HDTV 720p
HDTV 1080p
HDTV 1080i
HDTV 480i
HDTV 576i
CAT5/6 Protocol
1 x HDMI Video Transmitter over Cat5 Cable - 50m to 250m
1 x Product Manual
1 x 100-240VAC to 5V DC 2.6A Switch Mode Power Supply (Center Positive)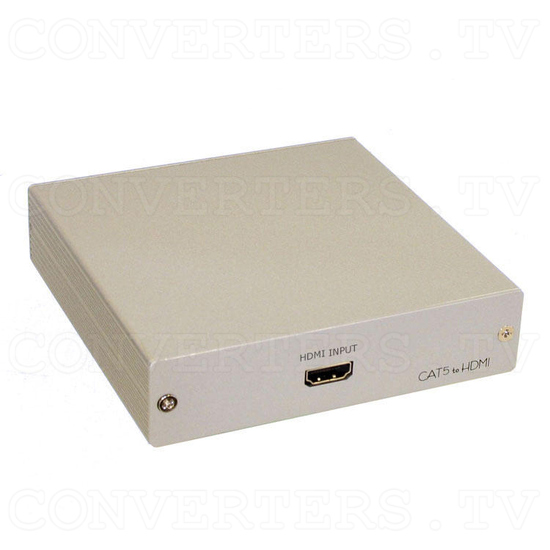 HDMI Video Transmitter over Cat5 Cable - 50m to 250m - Full View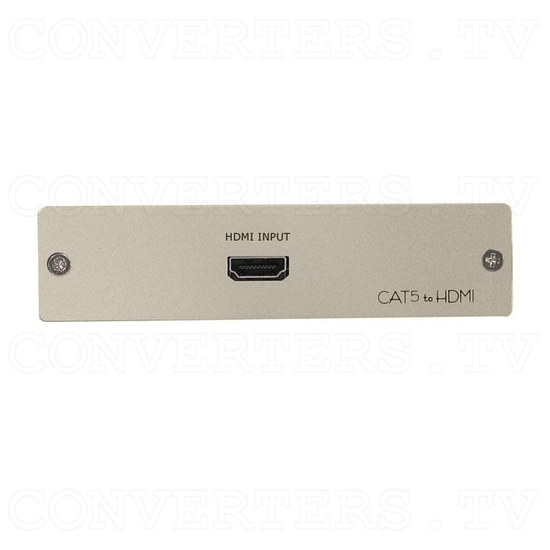 HDMI Video Transmitter over Cat5 Cable - 50m to 250m - Front View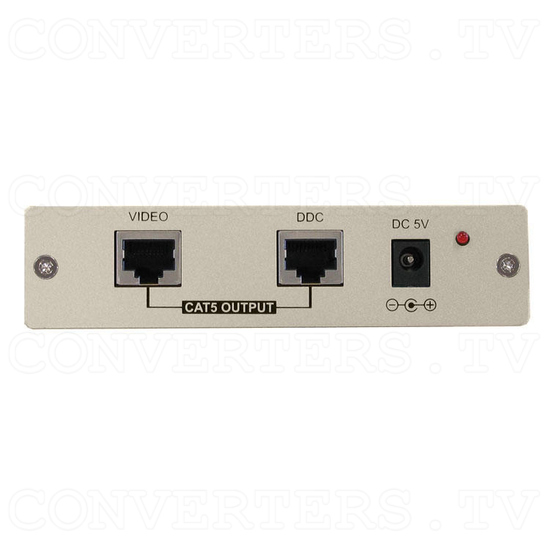 HDMI Video Transmitter over Cat5 Cable - 50m to 250m - Back View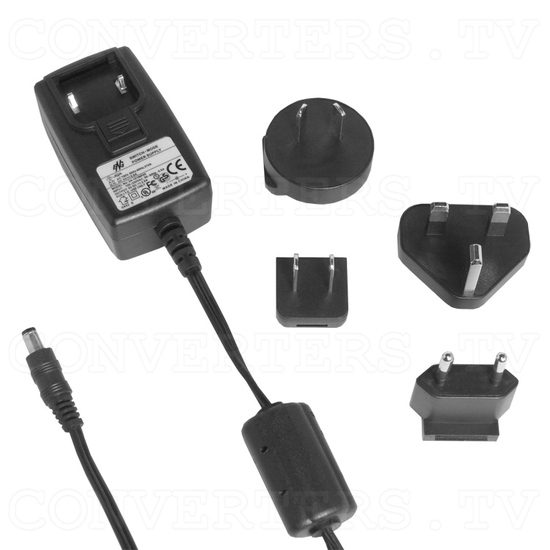 HDMI Video Transmitter over Cat5 Cable - 50m to 250m - Power Supply 110v OR 240v
HDMI Video Transmitter over Cat5 Cable - 50m to 250m - Full Kit