DisplayPort 1 In 4 Out Splitter

save 28%




The DisplayPort 1 In 4 Out Splitter allows a single DisplayPort input source to be displayed on four DisplayPort output monitors simultaneously. It supports video resolution up to 2560 x 1600 and audio up to PCM 7.1 The DisplayPort 1 In 4 Out Splitter provides a fast switch between source and display and saves EDID's reading sink time to allow image to display properly.

The device is rated v1.1a and works with deep colour video up to 12 bit with resolution support up to 2560x1600. Uncompressed PCM Audio is supported up to PCM 7.1 with a frequency sampling rate of 32kHz - 192kHz. Data rates are 1.62 Gbps (Low Rate) and 2.7 Gbps (High Rate) and supports full 10.8 Gpbs rate over 4 lanes (@2.7Gbps per lane).

Utilizing internal or external EDID switching and setting technology, the splitter supports the various technologies for best image display on DisplayPort monitors. It will not support DisplayPort to HDMI level conversion.

| | | | |
| --- | --- | --- | --- |
| Unit Dimensions: | 27.0 x 12.4 x 2.9 cm | Shipping Weight: | 1.20 kg |
| Location: | NSW, Australia | Item Type: | Display Port Extenders |
| Condition: | New | Warranty : | 12 Months |
| Certificates : | CE, CTick, UL | Manual : | User Manual (312.85 KB) |
Features:
Supports resolution up to 2560 x 1600
Supports audio up to PCM 7.1
Supports EDID switch and setting
Specifications:
Sampling Rate: 192kHz
Input port: 1 x Displayport
Output ports: 4 x DisplayPort
ESD Protection: Human body model: ± 8kV (air-gap discharge), ± 4kV (contact discharge)
Dimensions (mm): 270(W) x 124(D) x 29(H)
Weight(g): 770
Chassis Material: Aluminium
Silkscreen Color: Black
Power Consumption: 7W
Operating Temperature: 0˚C~40˚C / 32˚F ~ 104˚F
Storage temperature: -20˚C~60˚C / -4˚F ~ 140˚F
Relative Humidity: 20~90% RH (non-condensing)
Power Supplies:
Multi-Voltage Power Supply : 100-240V to 5V 3.2A Switch Mode Power Supply Center Positive
| Connects From : | Connects To : |
| --- | --- |
| | |
Converts From :
Converts To :

VGA (640 x 480 @ 4:3)
SVGA (800 x 600 @ 4:3)
XGA (1024 x 768 @ 4:3)
SXGA (1280 x 1024 @ 5:4)
UXGA (1600 x 1200 @ 4:3)
WXGA HD (1280 x 720 @ 16:9)
WQXGA (2560 x 1600 @ 16:10)
WSXGA (1680x1050 @ 16:10)
WUXGA (1920 x 1080 @ 16:10)

VGA (640 x 480 @ 4:3)
SVGA (800 x 600 @ 4:3)
XGA (1024 x 768 @ 4:3)
SXGA (1280 x 1024 @ 5:4)
UXGA (1600 x 1200 @ 4:3)
WXGA HD (1280 x 720 @ 16:9)
QXGA (2048 x 1536 @ 4:3)
WQXGA (2560 x 1600 @ 16:10)
WSXGA (1680x1050 @ 16:10)
WUXGA (1920 x 1080 @ 16:10)
1 x DisplayPort Splitter 1in:4out (up to 2560x1600 res)
1 x User Manual
1 x 100-240V to 5V 3.2A Switch Mode Power Supply (Center Positive)
DisplayPort 1 In 4 Out Splitter - Full View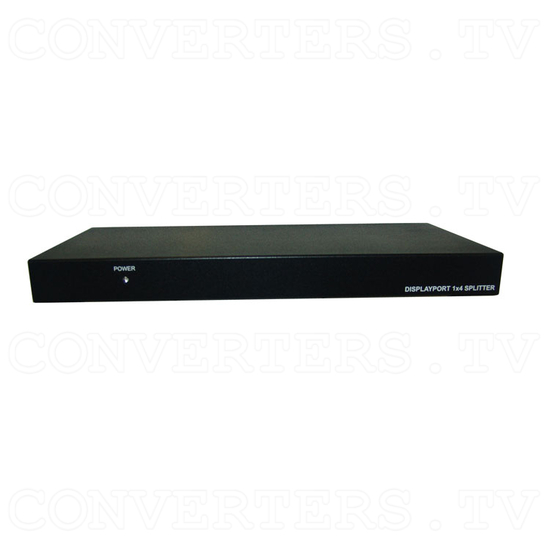 DisplayPort 1 In 4 Out Splitter - Front View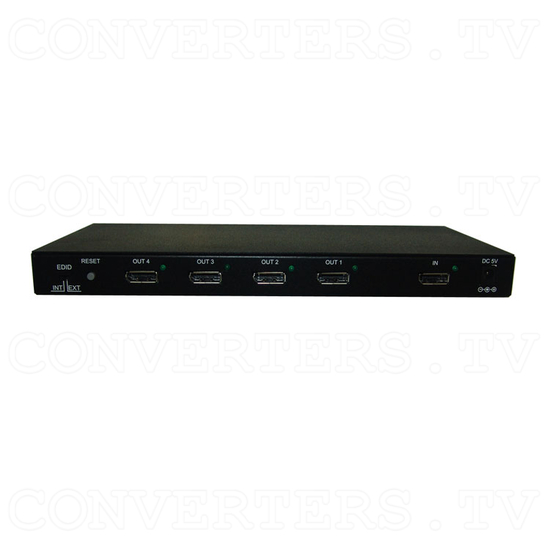 DisplayPort 1 In 4 Out Splitter - Back View
DisplayPort 1 In 4 Out Splitter - Power Supply 110v OR 240v
DisplayPort 1 In 4 Out Splitter - Full Kit