3D HDMI 1 In 2 Out Splitter

save 14%




The 3D HDMI 1 In 2 Out Splitter with audio is fully compliant with HDMI v1.3. It allows the output from any HDMI equipped device, such as a 3D DVD or Blu-ray Player, to be split equally and connected to two HDMI displays, such as a HDTV or a HD projector in the same room. The third HDMI output is an audio with blue screen output, which means it can be connected to an AV Receiver that does not support 3D signal.

This device has a number of applications, such as promotional use in showrooms for home entertainment or just general advertisement, educational or business presentations, as well as your own home entertainment set up.

| | | | |
| --- | --- | --- | --- |
| Unit Dimensions: | 15.0 x 10.2 x 2.5 cm | Shipping Weight: | 0.75 kg |
| Location: | NSW, Australia | Item Type: | |
| Condition: | New | Warranty : | 12 Months |
| Certificates : | CE, CTick, UL | Manual : | User Manual (297.17 KB) |
Features:
HDMI v1.3 , HDCP1.1 and DVI 1.0 compliant Receiver
Deep Color video up to 12-bit, 1080p@24/60 Hz
One HDMI source to connect up to two HDMI displays simultaneously
One audio-only HDMI output connected to AVR
Splits a HDMI source to two outputs without signal loss
Supports DVI source and DVI display by using HDMI to/from DVI adaptor cable
Supports LPCM 7.1CH, Dolby Digital and Dolby Digital Plus Audio transmission (32–192 kHz Fs sample rate)
Supports a wide range of PC and HDTV resolutions from VGA to WUXGA and 480i to 1080p
HDMI cable distance test with 1080p/8-bit or 12-bit resolution, the Input/Output distance can run up to 15 meters
Supports EDID functionality. This device will detect the video's EDID information based on HDMI OUT 1 and the audio's EDID based on HDMI OUT 3. Note: If both HDMI OUT 1 & HDMI OUT 2 are connected and HDMI OUT 1 is unplugged, the device will retain the EDID information for that device.
Supports CEC bypass
Power Supplies:
Multi-Voltage Power Supply : 100-240V 0.2A 50/60Hz to 5V DC 1000mA 6W Max Power Supply Center Positive
| Connects From : | Connects To : |
| --- | --- |
| | |
Converts From :
Converts To :

VGA (640 x 480 @ 4:3)
SVGA (800 x 600 @ 4:3)
XGA (1024 x 768 @ 4:3)
SXGA (1280 x 1024 @ 5:4)
UXGA (1600 x 1200 @ 4:3)
WXGA HD (1280 x 720 @ 16:9)
WSXGA (1680x1050 @ 16:10)
HDTV 480p
HDTV 576p
HDTV 720p
HDTV 1080p
HDTV 1080i
WUXGA (1920 x 1080 @ 16:10)
HDTV 480i
HDTV 576i

VGA (640 x 480 @ 4:3)
SVGA (800 x 600 @ 4:3)
XGA (1024 x 768 @ 4:3)
SXGA (1280 x 1024 @ 5:4)
UXGA (1600 x 1200 @ 4:3)
WXGA HD (1280 x 720 @ 16:9)
WSXGA (1680x1050 @ 16:10)
HDTV 480p
HDTV 576p
HDTV 720p
HDTV 1080p
HDTV 1080i
WUXGA (1920 x 1080 @ 16:10)
HDTV 480i
HDTV 576i
1 x 3D HDMI 1in 2out Splitter
1 x Product Manual
1 x 100-240V 0.2A 50/60Hz to 5V DC 1000mA 6W Max Power Supply (Center Positive)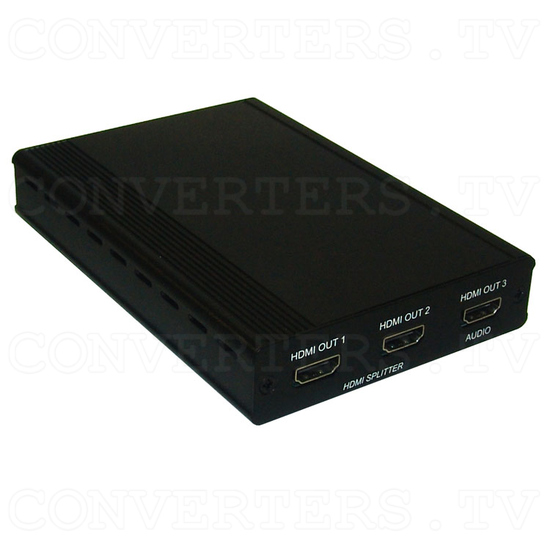 3D HDMI 1 In 2 Out Splitter - Full View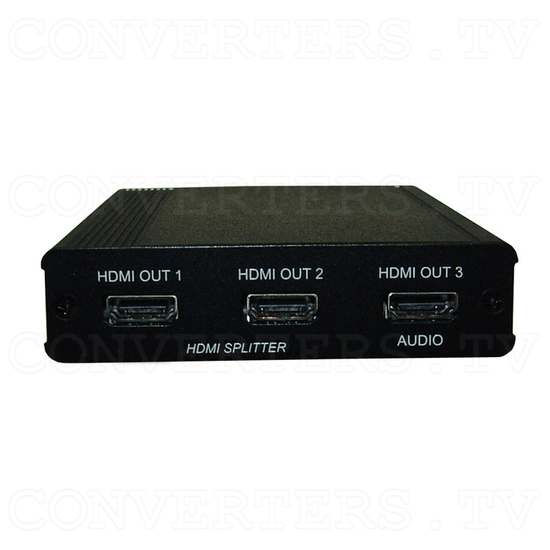 3D HDMI 1 In 2 Out Splitter - Front View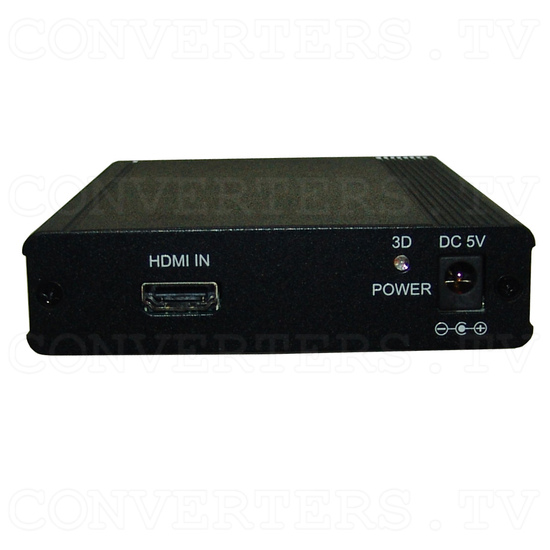 3D HDMI 1 In 2 Out Splitter - Back View
3D HDMI 1 In 2 Out Splitter - Power Supply 110v OR 240v
3D HDMI 1 In 2 Out Splitter - Full Kit