| | |
| --- | --- |
| | 20 Inch CGA EGA VGA CRT Monitor & Chassis |
20 Inch Curved CRT Monitor and Chassis which accepts CGA, EGA or VGA (15khz, 24khz, 31khz) inputs and comes with mounting frame and wiring accessories.

The adjustments set on the mounting frames are "brightness, contrast, v-position, v-size, v-hold, h-hold, h-position, pincushion and impedance select switch. The neck board adjustments are RGB Drive and RGB Off.

Due to it's advanced design it can accept a combined sync or seperate sync. As well as any power input 100~240 VAC, 50/60 HZ.

| | | | |
| --- | --- | --- | --- |
| Unit Dimensions: | 45.6 x 46.5 x 41.0 cm | Shipping Weight: | 30.08 kg |
| Location: | NSW, Australia | Item Type: | CRT + LCD Monitors |
| Condition: | New | Warranty : | 3 Months |
Specifications:
CRT SIZE: 20" Curved
Dot Pitch (mm): 0.75
VIDEO INPUT: ANALOG 0.7VPP (75�) / TTL 2.5-5.0VPP(2K�)
IMPEDANCE SELECT: SWITCH TYPE
SYNC INPUT TTL LEVEL POSITIVE / NEGATIVE (SEPARATE OR COMPOSITE)
H-FREQUENCY: 15K/24K/31KHZ, CGA/EGA/VGA
V-FREQUENCY: 47-70HZ
RESOLUTION: 640X480
BANDWIDTH: 65MHZ
Adjustments available on neck board: RGB Drive and RGB Off.
Adjustments available on frame mounted controls: brightness, contrast, v-position, v-size, v-hold, h-hold, h-position, pincushion and impedance select switch
CAN ACCEPT UNIVERSAL POWER: 100-240VAC 50/60HZ
POWER CONSUMPTION: 90W
SIGNAL CONNECTOR: 15PIN D-SUB MALE CONNECTOR OR 6 PIN (R,G,B,GND,H OR H+V,V)
Dimensions:
Overall Monitor: W45.6 x D46.5 x H41 cms
Size of Screen: W43.3 x H33.5 cms (these are also the distances between the centers of the mounting holes)
Connects From :
Connects To :

RGB Combined Sync - RGBH+V
RGB Separate Sync - RGBHV
CGA (15K)
EGA (24K)
Converts From :
Converts To :

VGA (640 x 480 @ 4:3)
CGA (15k)
EGA (24K)
RGB Combined Sync - RGBH+V
RGB Separate Sync - RGBHV
CGA Combined Sync (15khz)
CGA Separate Sync (15khz)
1 x 20 Inch CGA EGA VGA CRT Monitor & Chassis
1 x Chassis Board
1 x 6 Pin Signal Wire
1 x Monitor Frame
1 x User Manual
1 x Adapter board 15 pin to 6 pin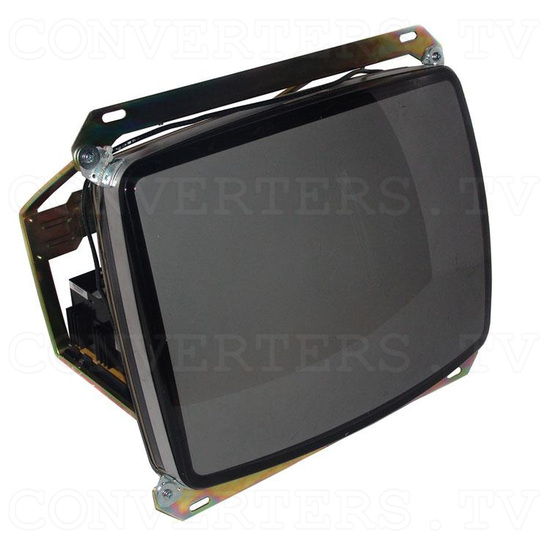 20 Inch CGA EGA VGA CRT Monitor & Chassis - Full View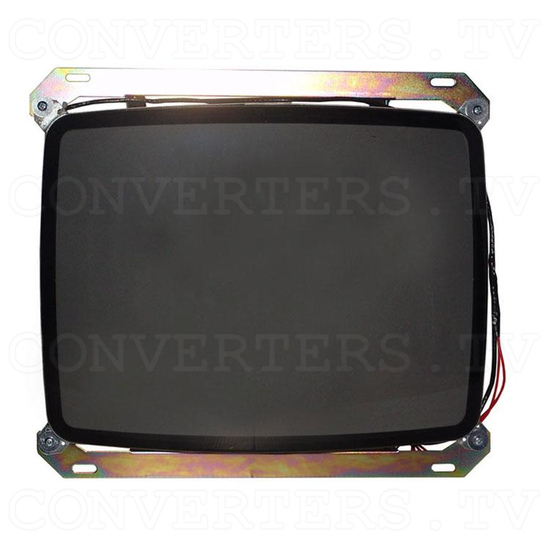 20 Inch CGA EGA VGA CRT Monitor & Chassis - Front View
20 Inch CGA EGA VGA CRT Monitor & Chassis - Back View
20 Inch CGA EGA VGA CRT Monitor & Chassis - Left View
20 Inch CGA EGA VGA CRT Monitor & Chassis - Right View