| | |
| --- | --- |
| | VGA to Video Converter |
Allows the user to display whatever the PC is outputting to both a monitor and TV at the same time.

This unit can be outputted to a TV as a RGB, Y/Cb/Cr including YUV Y,Cb,Cr & Y,Pb,Pr, S-video or Composite(AV) signal. It is also able to output simultaneously on your TV & VGA Monitor.

| | | | |
| --- | --- | --- | --- |
| Unit Dimensions: | 12.0 x 7.0 x 2.0 cm | Shipping Weight: | 0.65 kg |
| Location: | NSW, Australia | Item Type: | PC to Video Converters |
| Condition: | New | Warranty : | 12 Months |
| Certificates : | CE | Manual : | User Manual (887.76 KB) |
Product Features:
Automatically saves your adjustment settings
Plug and Play design
Programmable 2D scaling (without black frame on TV)
Powered from PC via the USB port (no additional power neccessary)
24 bit, true colour digitizer
Panel button functions, Power, Fine Tune, PAL/NTSC, Zoom, Menu, and Position Control
Supports NTSC, NTSC-EIAJ, PAL-M, PAL-N, PAL, PAL-Combination-N
Support Mode and Resolution
IPC compatiable VGA Mode & Apple MAC G4,G4 Cubic,G3:
640x480 @ Vertical Frequency of 60,70,72,75,85,100,120
800x600 @ Vertical Frequency of 56,60,70,72,75,85,100
1024x768 @ Vertical Frequency of 60,70,72,75
1152x864 @ Vertical Frequency of 60,70,72,75
1280x960 @ Vertical Frequency of 60 (IPC/VGA only)
1280x1024 @ Vertical Frequency of 60
(IPC/VGA only)
1600x1200 @ Vertical Frequency of 60 (IPC/VGA only)
Apple iMac, iMac DV:
640x480 @ Vertical Frequency of 117
800x600 @ Vertical Frequency of 95
Power Supplies:
Multi-Voltage Power Supply : Power Supply for Converter 424
Connects From :
Connects To :

Composite - RCA / AV (TV)
S-Video (TV)
Component - RGB & YCrCb/YPrPb (TV)
Converts From :
Converts To :

VGA (640 x 480 @ 4:3)
SVGA (800 x 600 @ 4:3)
XGA (1024 x 768 @ 4:3)
SXGA (1280 x 1024 @ 5:4)

PAL B
NTSC M - NTSC 3.58
NTSC N - NTSC 4.43
PAL D
PAL N
PAL G
PAL H
PAL I
PAL K
PAL M
1 x VGA to Video Converter
1 x Composite - RCA Cable (Male to Male)
1 x S-Video - Super Video Cable (Male to Male)
1 x Remote
1 x Component Cable
1 x Modified VGA Cord (Male to Male & Female)
1 x USB Power Supply
1 x Product Manual
1 x 100 - 240V to 12V DC 0.5A Power Supply for Converter 424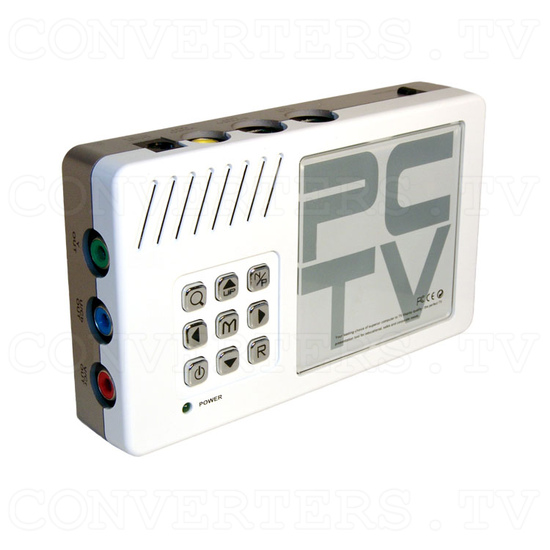 VGA to Video Converter - Full View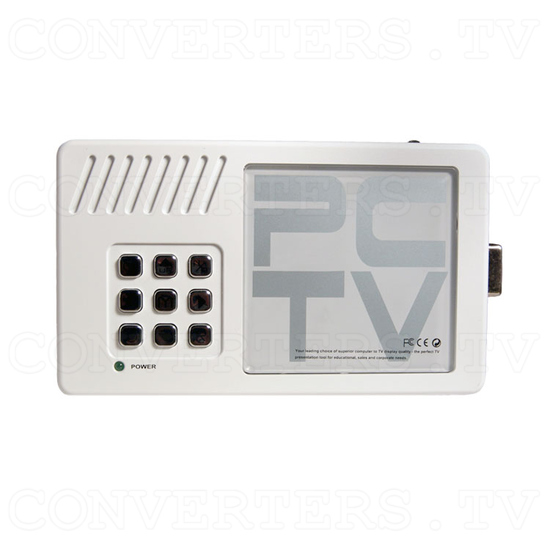 VGA to Video Converter - Front View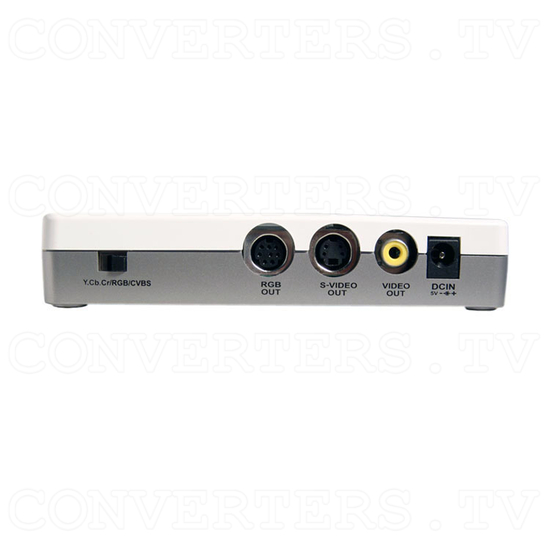 VGA to Video Converter - Back View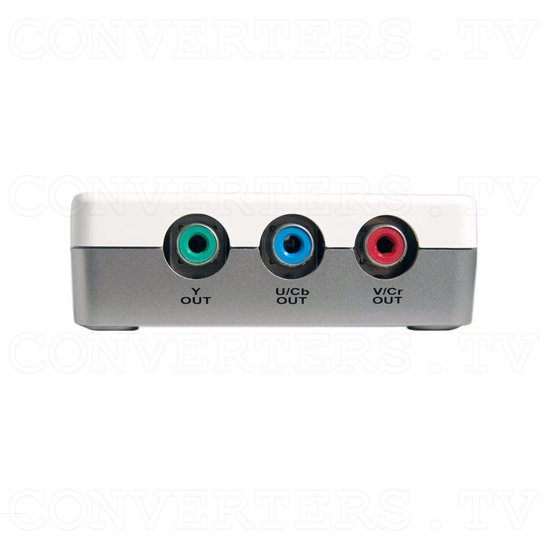 VGA to Video Converter - Left Side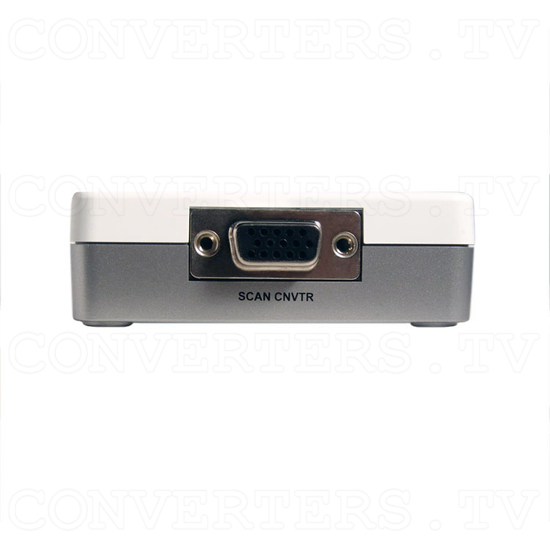 VGA to Video Converter - Right Side
VGA to Video Converter - Remote
VGA to Video Converter - Modified VGA Cord (Male to Male & Female)
VGA to Video Converter - Composite - RCA Cable (Male to Male)
VGA to Video Converter - S-Video - Super Video Cable (Male to Male)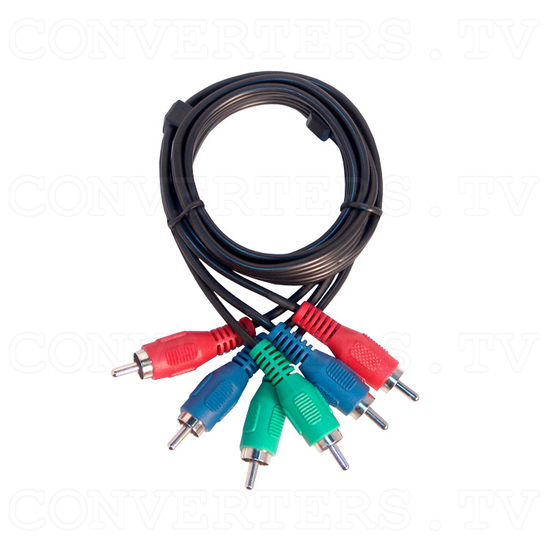 VGA to Video Converter - Component Cable
VGA to Video Converter - USB Power Cable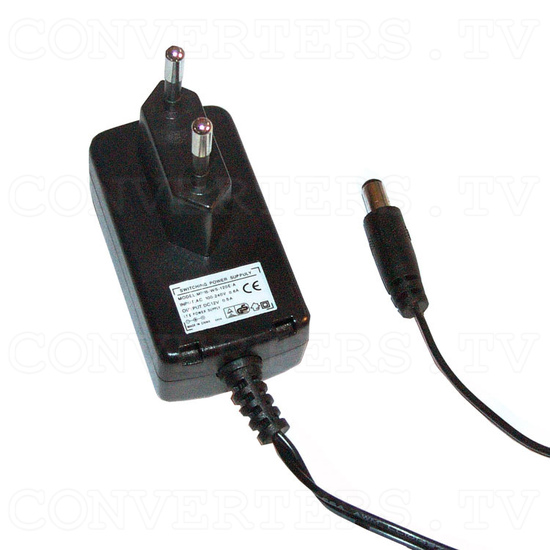 VGA to Video Converter - Power Supply 110v OR 240v
VGA to Video Converter - Full Kit