| | |
| --- | --- |
| | VGA to RGB PAL NTSC Converter |
Convert high end SXGA - VGA to PAL, NTSC or RGB. It is powered by USB and is compatible with all USB 1.1 and 2.0, with no power adaptors required for the unit to function. The unit supports composite video, S-video and analog RGB for Scart output.

It contains many features including a 4x zoom function for best presentation and On-Screen-Display function for convenient control of the unit. Auto-saving for control parameters as well as horizontal and vertical scaling and positioning allow the user to adjust parameters to their desired level.

| | | | |
| --- | --- | --- | --- |
| Unit Dimensions: | 11.5 x 2.5 x 7.2 cm | Shipping Weight: | 1.00 kg |
| Location: | NSW, Australia | Item Type: | |
| Condition: | New | Warranty : | 12 Months |
| Certificates : | CE | | |
Features:
Instant Plug and Play, no software drivers required.
Powered by USB, no power adaptors required, compatible with all USB1.1 and 2.0.
Multi-system support- NTSC, PAL and SECAM.
32 Bit true colour quality.
OSD- On-Screen-Display function.
Supports maximum resolution of 1920x1200.
Supports scan rate modes for 100Hz, 85Hz, 75Hz and 60Hz.
Simultaneous display on both TV screen and PC monitor.
Supports Composite Video, S-Video and analog RGB for Scart Output.
4x zoom function support.
Horizontal/Vertical scaling and positioning.
Sharpness, brightness and contrast control.
Freeze/Un-freeze video control.
Supports screen pause.
Auto-saving for control parameters.
Specifications:
Input signal: VGA display card.
Horizontal frequency: 31.469KHz-91.146KHz.
Vertical frequency: 56Hz-100Hz.
Display mode up to: 800x600 100Hz, 1024x768 85Hz, 1152x864 75Hz, 1280x1024 85Hz, 1600x1200 75Hz, 1920x1080 70Hz, 1920x1200 60Hz.
Output signal: Composite video, S-video, Analog RGB Video for Scart, computer monitor pass-thru.
Power input: USB port 5VDC 450mA.
Dimension: 120mmx80mmx35mm.
Connects From :
Connects To :

Composite - RCA / AV (TV)
S-Video (TV)
Converts From :
Converts To :

SVGA (800 x 600 @ 4:3)
XGA (1024 x 768 @ 4:3)
SXGA (1280 x 1024 @ 5:4)
UXGA (1600 x 1200 @ 4:3)
WUXGA (1920 x 1080 @ 16:10)

PAL B
NTSC M - NTSC 3.58
NTSC N - NTSC 4.43
PAL D
PAL G
PAL H
PAL I
PAL K
1 x VGA to RGB PAL NTSC Converter
1 x Composite - RCA Cable (Male to Male)
1 x S-Video - Super Video Cable (Male to Male)
1 x VGA Cable
1 x USB Power Supply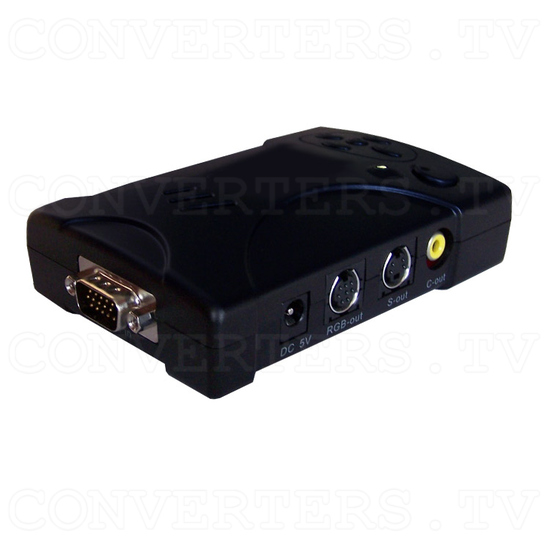 VGA to RGB PAL NTSC Converter - Full View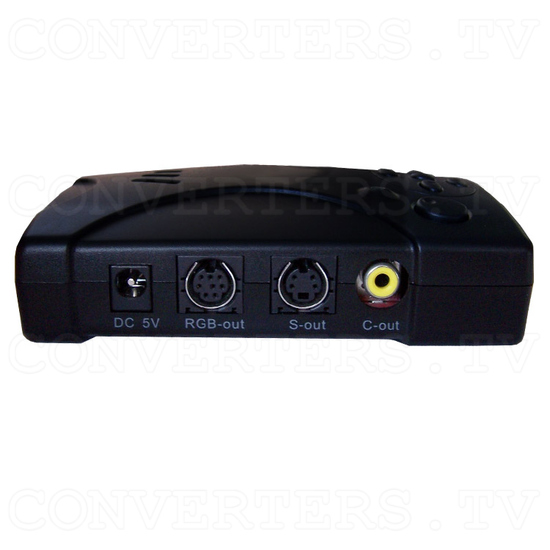 VGA to RGB PAL NTSC Converter - Front View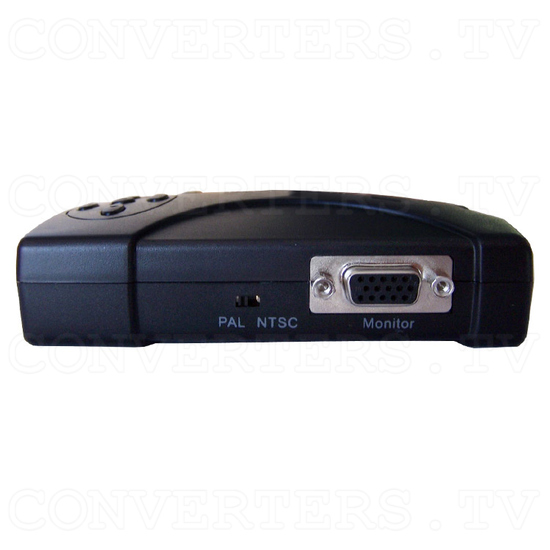 VGA to RGB PAL NTSC Converter - Back View
VGA to RGB PAL NTSC Converter - Left View
VGA to RGB PAL NTSC Converter - Top View
VGA to RGB PAL NTSC Converter - Composite - RCA Cable (Male to Male)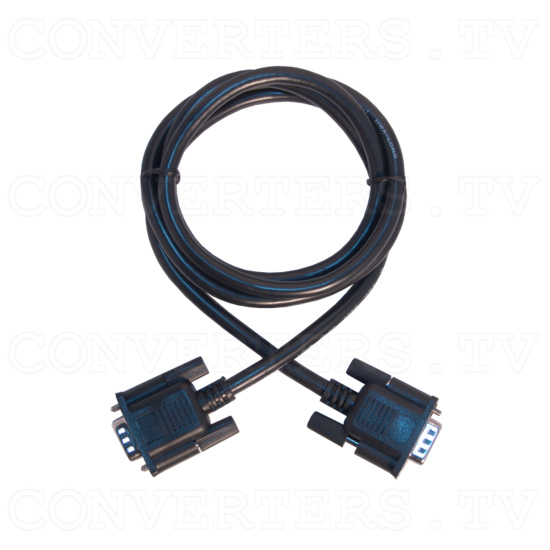 VGA to RGB PAL NTSC Converter - VGA Cable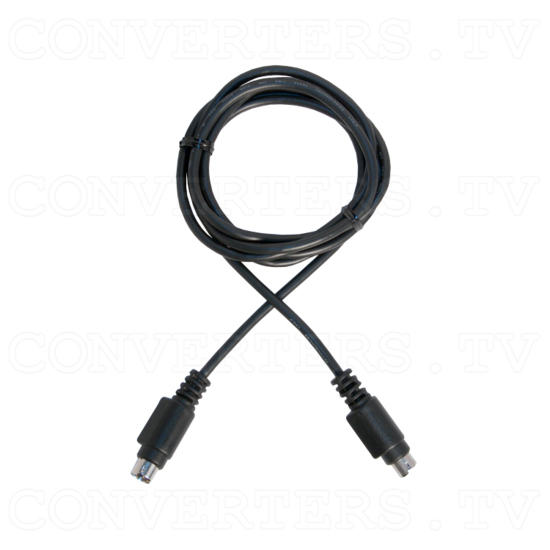 VGA to RGB PAL NTSC Converter - S-Video - Super Video Cable (Male to Male)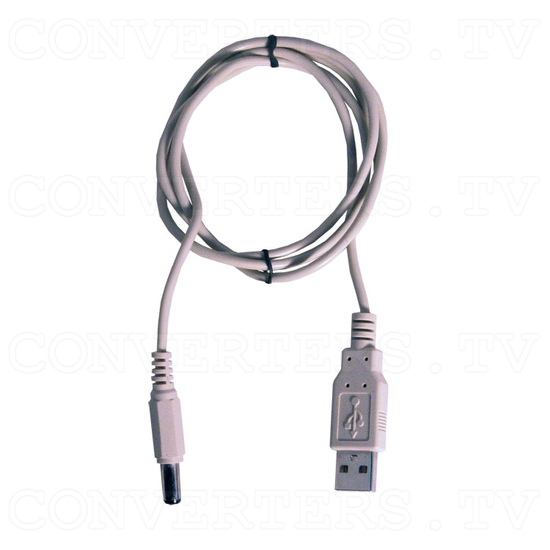 VGA to RGB PAL NTSC Converter - USB Power Cable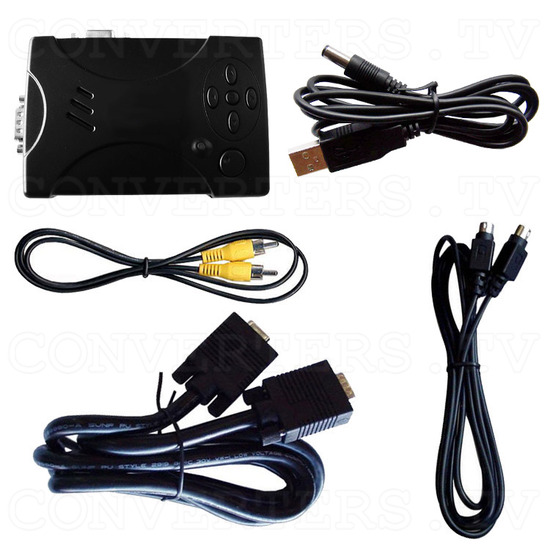 VGA to RGB PAL NTSC Converter - Full Kit