HDMI to Video Scan Converter

save 32%




The HDMI to Video Scan Converter is designed to convert a digital HDMI signal into an analog Composite Video output, with Left/Right stereo audio. The signal can be output in either PAL or NTSC format (switch selectable). The unit accepts a wide range of HDTV input resolutions from 480p to 720p@60Hz and PC from VGA to WXGA@60Hz. It will also work with DVI source and target using DVI to HDMI cable.

The device provides a convenient way to store high definition movies and other content in standard resolution 480i or 576i on DVR/VCR machines. Other applications include simply downscaling a HDMI signal into Composite Video signal for display, or to convert digital audio from HDMI source to analog L/R stereo audio.

The HDMI to Video Scan Converter is HDMI v1.2 and DVI 1.0 compliant, and includes many great functions such as 3D noise reduction, frame rate conversion, output picture Underscan / Overscan, and adaptive contrast enhancement.

| | | | |
| --- | --- | --- | --- |
| Unit Dimensions: | 11.0 x 6.5 x 2.5 cm | Shipping Weight: | 0.32 kg |
| Location: | NSW, Australia | Item Type: | |
| Condition: | New | Warranty : | 12 Months |
| Certificates : | CE, CTick, UL | Manual : | User Manual (313.19 KB) |
Features:
HDMI 1.2, HDCP1.1 and DVI1.0 compliant
Deep Colour 8bit RGB YUV
Converts video signal from HDMI source to NTSC or PAL Composite Video signal
Converts digital audio from HDMI source to analog stereo audio
Accepts a wide range of HDTV input resolutions, from 480p to 720p@60Hz and PC from VGA@60Hz to WXGA@60Hz
Output picture size Underscan / Overscan
3D noise reduction in both temporal and spatial domain
Frame rate conversion with arbitrar
Adaptive contrast enhancement
Specifications:
Input Port: 1 x HDMI,
Output Port: 1 x CVBS, 1 x L/R RCA Jack
HDMI Input Resolution 480p, 576p & 720p, VGA@60 / 72 / 75 / 85, SVGA@56 / 60 / 72 / 75 / 85, XGA@60 / 70 / 75, WXGA(15:9 & 16:10)@60RB / 60
HDMI Colour Space Support: RGB 4.4.4. ; YUV(YCbCr) 4.4.4. ; YUV(YCbCr) 4.2.2.
HDMI Deep Colour Support: 8bit
HDMI Input Audio: LPCM 2Ch, 48kHz
Output Video: NTSC/PAL
Output Audio: Stereo L/R
ESD Protection Human body model: ±8kV (air-gap discharge), ±6kV (contact discharge)
Power Supply: 5V/1A DC (US/EU standards, CE/FCC/UL certified)
Dimensions(mm): 110 (W) x 65 (D) x 25(H)
Weight(g): 120
Chassis Material: Plastic
Silkscreen Color: White
Operating Temperature: -20ºC~40ºC / 32ºF~104ºF
Storage Temperature: -20ºC~60ºC / -4ºF~140ºF
Relative Humidity: 20 ~ 90% RH (non-condensing)
Accepted PC/HD Input Resolutions:
PC HDMI/DVI:
640*480@60Hz
640*480@72Hz
640*480@75Hz
640*480@85Hz
800*600@56Hz
800*600@60Hz
800*600@72Hz
800*600@75Hz
800*600@85Hz
1024*768@60Hz
1024*768@70Hz
1024*768@75Hz
HD HDMI/DVI:
720*480p@59Hz
720*480p@60Hz
1280*720p@59Hz
1280*720p@60Hz
720*576p@50Hz
1280*720p@50Hz
1366*768@60Hz
Converts From :
Converts To :

VGA (640 x 480 @ 4:3)
SVGA (800 x 600 @ 4:3)
XGA (1024 x 768 @ 4:3)
WXGA HD (1280 x 720 @ 16:9)
HDTV 480p
HDTV 576p
HDTV 720p

PAL B
NTSC M - NTSC 3.58
NTSC N - NTSC 4.43
PAL D
PAL N
PAL G
PAL H
PAL I
PAL K
PAL M
1 x HDMI to Video Scan Converter
1 x Product Manual
1 x 100-240VAC to 5V DC 2.6A Switch Mode Power Supply (Center Positive)
HDMI to Video Scan Converter - Full View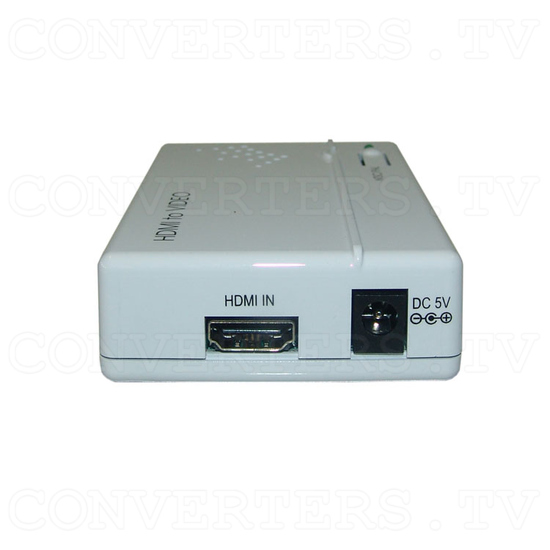 HDMI to Video Scan Converter - Front View
HDMI to Video Scan Converter - Back View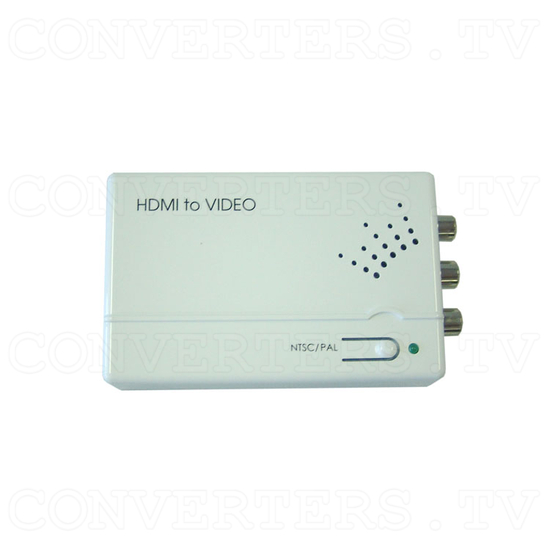 HDMI to Video Scan Converter - Top View
HDMI to Video Scan Converter - Power Supply 110v OR 240v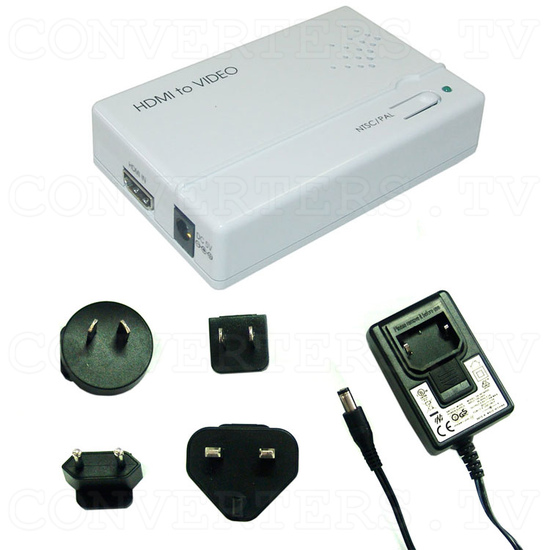 HDMI to Video Scan Converter - Full Kit