| | |
| --- | --- |
| | GONBES - VGA PC to Video-CGA converter |
GONBES - VGA PC to Video-CGA converter PCB is designed to display a PC signal to a standard TV or a CGA (15k) CRT monitor. Convert PC VGA, SVGA, XGA and SXGA signal timings to standard video, s-video or RGB CGA outputs. Ideal for display of high resolution Arcade or PC games on Arcade CGA (15k) monitors or standard TV's. This PCB supports PAL and NTSC video standards.

The VGA PC to Video-CGA converter PCB supports an OSD menu for easy access and control of the converters features. Menu items include Horizontal and Vertical Size, Colour, Brightness, Contrast, Sharpness, Hue and Saturation. A set of 5, on-board buttons control the menu, plus there is another button for the Zoom function.

PC VGA input is via a 15pin D-sub connector. Outputs include a 15pin D-sub PC pass-through, Composite and Super Video and a 5pin CGA RGBS (combined sync). Two switches allow for selection of PAL or NTSC working and RGBS or S-Video out. Power supply is 5vDC, centre positive.

Designed for simplicity, ease of use and good quality video conversion, the VGA PC to Video-CGA converter is ideally suited for applications where standard TV's or CRT monitors are to be used with high resolution PC outputs.

| | | | |
| --- | --- | --- | --- |
| Unit Dimensions: | 10.5 x 7.5 x 1.5 cm | Shipping Weight: | 0.17 kg |
| Location: | NSW, Australia | Item Type: | PC to Video Converters |
| Condition: | New | Warranty : | 12 Months |
| Certificates : | CE, CTick, UL | Manual : | User Manual (309.39 KB) |
Features:
Open Box PCB board for easy installation
Inputs/Outputs/Buttons clearly labeled
True Digital 24bit A/D controller for 16.7 million colour conversion
Supports PC signal timings: VGA(640x480); SVGA(800x600); XGA(1024x768); SXGA(1280x1024)
Supports PC pass-through
Video and S-Video outputs
RGBS(combined sync) 15kHz output
Supports NTSC and PAL
Operating Temperature -10C ~ +50C
Control Buttons for position and zoom
Full OSD menu (Colour, Contrast, Brightness, Hue, Saturation, Flicker, Sharpness, Vertical and Horizontal size)
Specifications:
Input Signal:
VGA (640x480) @ 60/72/75/80/85Hz
SVGA(800x600) @ 60/72/75/80/85Hz
XGA(1024x768) @ 60/72/75/80Hz
SXGA(1280x1024) @ 60/72/75Hz
Output Signals:
CGA (15kHz) 480i @ 60Hz (RGBS-Combined Sync)
VGA (31kHz) Pass Through
Video 480p NTSC/PAL
S-Video 480p NTSC/PAL
Control Buttons: Size, Menu, Up, Down, Left, Right
Control Dip-Switches:
S1.1: On=RGBS out; Off=S-Video out
S1.2: On=PAL out; Off=NTSC out
Power Supply: 5vDC 2A (± 0.5v) centre positive
Dimensions (cm): 10.5(w) x 7.5(d) x 1.5(h)
Weight (grams) : 60g
Connects From :
Connects To :

Composite - RCA / AV (TV)
S-Video (TV)
Converts From :
Converts To :

VGA (640 x 480 @ 4:3)
SVGA (800 x 600 @ 4:3)
XGA (1024 x 768 @ 4:3)
SXGA (1280 x 1024 @ 5:4)

PAL B
NTSC M - NTSC 3.58
NTSC N - NTSC 4.43
PAL D
PAL N
PAL G
PAL H
PAL I
PAL K
PAL M
1 x PC to Video/CGA converter
1 x Power cable - 2 pin connector
1 x 5 Pin RGB to 5 Pin RGB
1 x Product Manual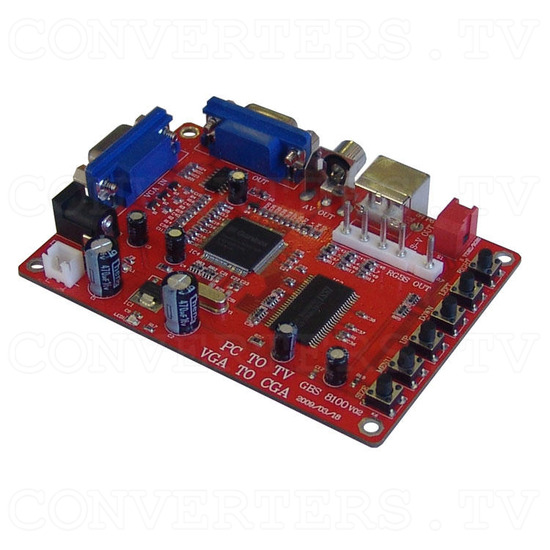 GONBES - VGA PC to Video-CGA converter - Full View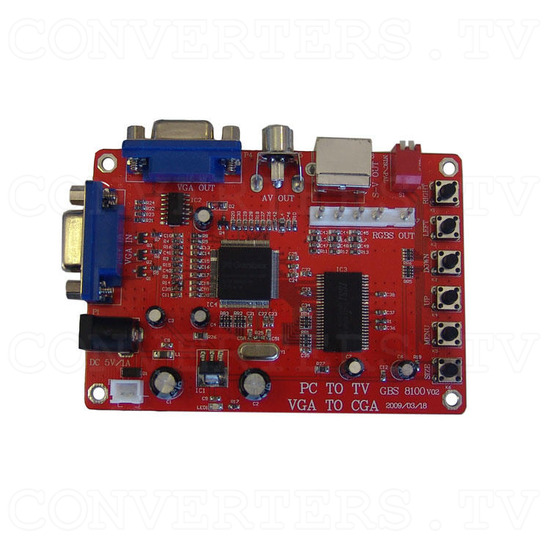 GONBES - VGA PC to Video-CGA converter - Top View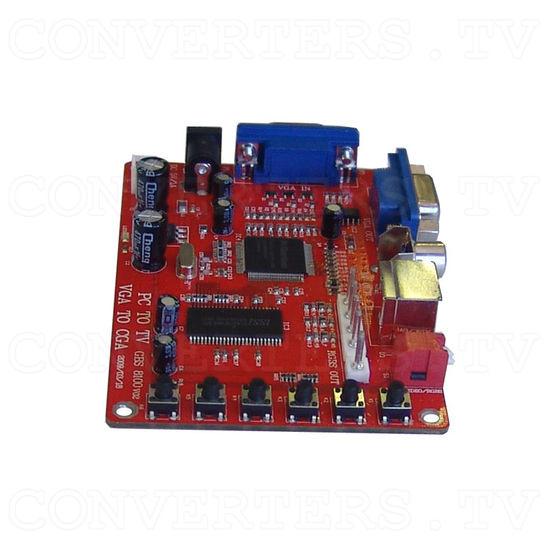 GONBES - VGA PC to Video-CGA converter - Front View
GONBES - VGA PC to Video-CGA converter - Back View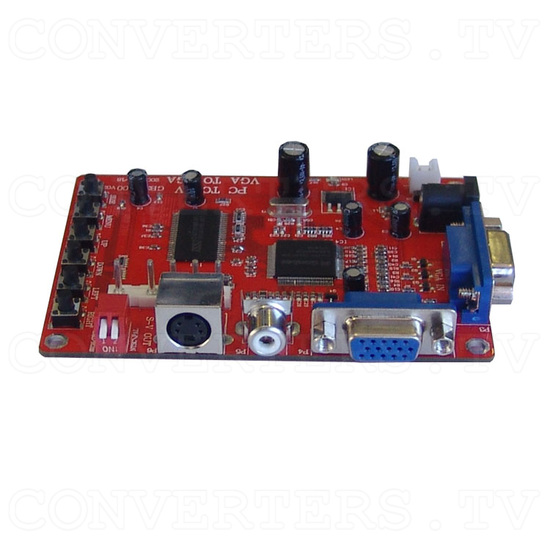 GONBES - VGA PC to Video-CGA converter - Left View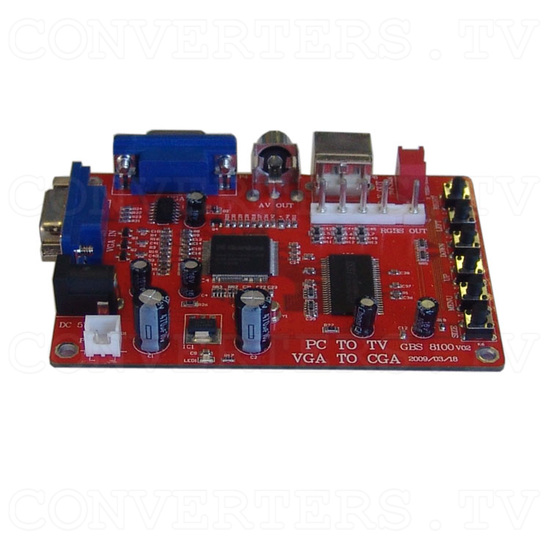 GONBES - VGA PC to Video-CGA converter - Right View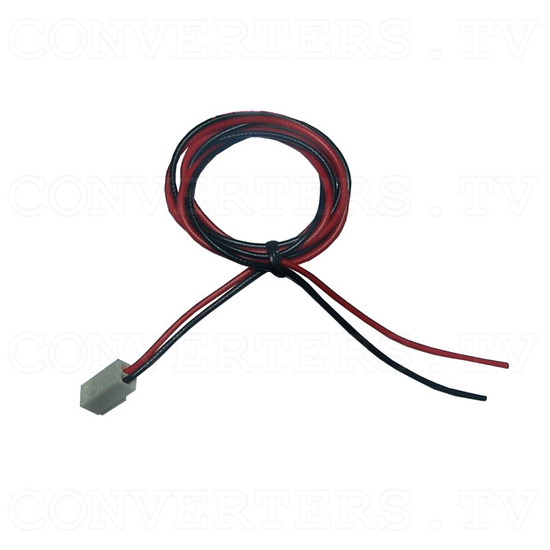 GONBES - VGA PC to Video-CGA converter - Power cable - 2 pin connector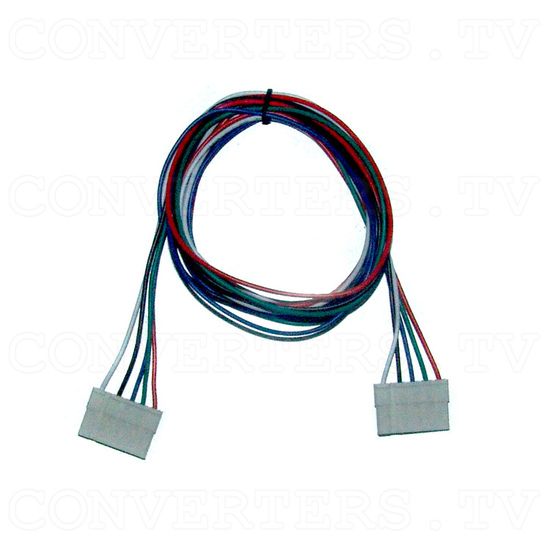 GONBES - VGA PC to Video-CGA converter - 5 Pin RGB to 5 Pin RGB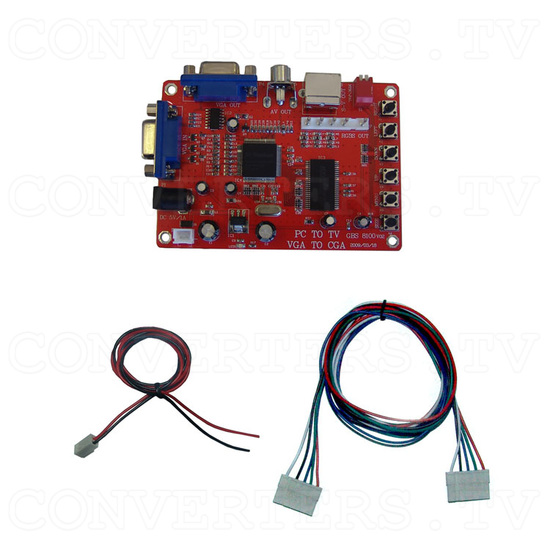 GONBES - VGA PC to Video-CGA converter - Full Kit