PC to HDMI Scaler

save 13%





The upgraded PC to HDMI Scaler is designed to upscale an analog video signal from a PC (VGA) or HD (Component Video) source, to a digital HDMI output in a wide range of HDTV or PC resolutions, up to 1080p/WUXGA.

By using a VGA 15-pin D-sub to 3 BNC adaptor cable, connect Component HD video 480/576p~1080p

Additionally, the PC to HDMI Scaler accepts digital and analog audio signals, converts and simultaneously outputs the audio signal via HDMI, Optical TOSlink and 3.5mm Mini-jack (L/R audio) connections.

This unit has a comprehensive OSD menu that allows the user to select a variety of output resolutions and make picture adjustments to optimize the image quality.

| | | | |
| --- | --- | --- | --- |
| Unit Dimensions: | 10.2 x 15.7 x 2.5 cm | Shipping Weight: | 0.56 kg |
| Location: | NSW, Australia | Item Type: | PC to Video Converters |
| Condition: | New | Warranty : | 12 Months |
| Certificates : | CE, CTick, UL | | |
Features:
HDMI, HDCP and DVI compliant
Supports a wide range of PC resolutions from VGA to WUXGA (RB) and HD resolutions from 480i to 1080p
Automatically detects the display settings of the connected display and outputs the correct resolution and refresh rate when the NATIVE output option is selected
Supports adjustment of contrast, brightness, hue, saturation, sharpness, RGB (color tone) level and aspect ratio size of the video output
Supports OSD selectable stereo analog and digital audio inputs and simultaneous stereo analog and digital audio outputs to HDMI, Optical digital audio and analog mini-jack connections
Specifications:
Video Bandwidth: 225MHz / 6.75Gbps
Input Ports: 1 × VGA (15-pin D-sub); 1 × 3.5mm Mini-jack; 1 × Optical (TOSLINK); 1 × USB (Service only)
Output Ports: 1 × HDMI; 1 × 3.5mm Mini-jack; 1 × Optical (TOSLINK)
HDMI Output Resolutions: Up to 1080p & WUXGA@60 (RB)
HDMI and Optical Audio Sampling Rates: Up to 48 kHz
Power Supply: 100-240vAC to +5vDC 2.6A (US/EU standards, CE/FCC/UL certified)
Power Consumption (watts): 4.8w
ESD Protection: Human body model: ±8 kV (air-gap discharge); ±6 kV (contact discharge)
Dimensions (cm's): 10.2(w) × 14.7(d) × 2.5(h) Jacks Out; 10.2(w) × 15.7(d) × 2.5(h) Jacks In
Weight (grams): 340 g
Chassis: Black Aluminum
Operating Temperature: 0˚C~40˚C / 32˚F~104˚F
Storage Temperature: −20˚C~60˚C / −4˚F~140˚F
Relative Humidity: 20% ~ 90% RH (non-condensing)
Connects From :
Connects To :

VGA 15pin D-Sub (31K+)
Optical TOSlink S/PDIF
3.5mm Headphone Jack
USB (Service)

HDMI (HDTV)
Optical TOSlink S/PDIF
3.5mm Headphone Jack
Converts From :
Converts To :

VGA (640 x 480 @ 4:3)
SVGA (800 x 600 @ 4:3)
XGA (1024 x 768 @ 4:3)
UXGA (1600 x 1200 @ 4:3)
HDTV 480p
HDTV 576p
HDTV 720p
HDTV 1080p
HDTV 1080i
HDTV 480i
HDTV 576i
WUXGA (1920 X 1200 @ 16:10)
SXGA (1280 x 960 @ 4:3)
WXGA (1280 X 768 @ 5:3)

HDTV 480p
HDTV 576p
HDTV 720p
HDTV 1080p
HDTV 1080i
HDTV 480i
HDTV 576i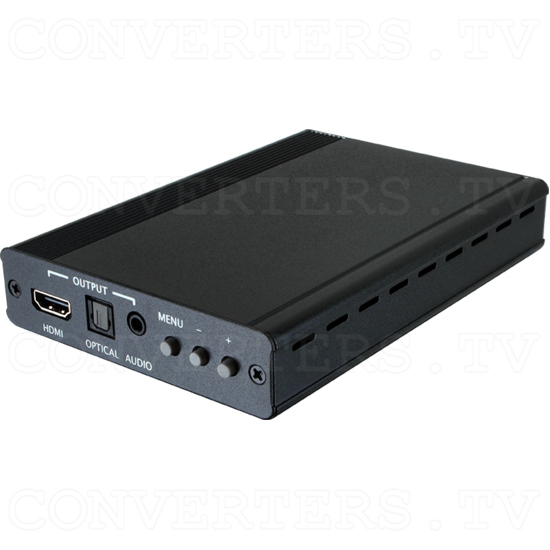 PC to HDMI Scaler - Full View.png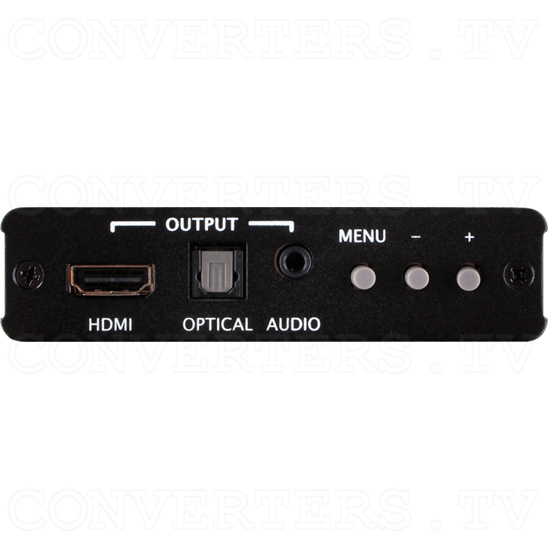 PC to HDMI Scaler - Front View.png
PC to HDMI Scaler - Back View.png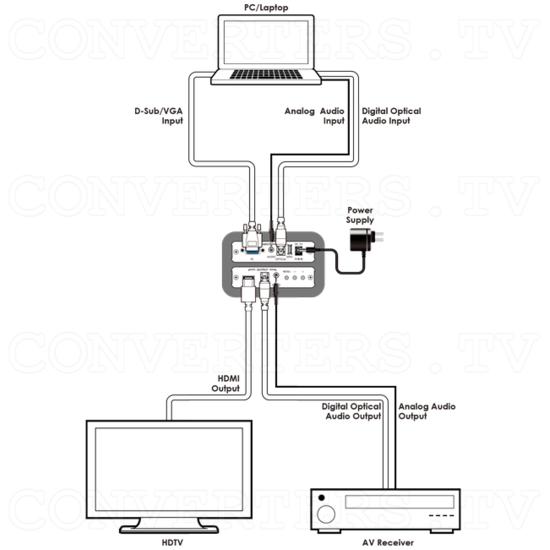 PC to HDMI Scaler - How To Connect.png