| | |
| --- | --- |
| | PC/HD to DVI Format Converter |
The PC/HD to DVI Format Converter converts an analog VGA signal (such as from a PC) to a DVI-D digital signal. This allows you to connect the analog VGA output from a PC or Laptop computer to a digital monitor, TV or projector, resulting in a crystal clear digital image.

The converter is not only suitable with PC sources, but is also suitable with traditional RGB signals. Through using a Component to VGA adapter cable, for example, you could connect a DVD Player with HD Output to your digital DVI-D monitor.

Manually select the input between Analog RGB and YPbPr, with the converter supporting up to 1600 x 1200 @ 60 Hz for PC input/output and 1920 x 1080p @ 60 Hz for HD input/output. Please note that the converter does not scale content, with Input equaling Output (eg, 1080p in, 1080p out).

| | | | |
| --- | --- | --- | --- |
| Unit Dimensions: | 10.3 x 7.6 x 3.0 cm | Shipping Weight: | 0.56 kg |
| Location: | NSW, Australia | Item Type: | DVI Converters |
| Condition: | New | Warranty : | 12 Months |
| Certificates : | CE, CTick, UL | Manual : | User Manual (272.3 KB) |
Features:
Connect computers with analog PC output or DVDs with HD output to digital DVI-D monitors or projectors
Select input between analog RGB and YPbPr manually
Select output between Bypass or digital RGB manually
Supports up to 1600 x 1200 @ 60 Hz for PC input and 1920 x 1080p @ 60 Hz for HD input
Built-in EDID
Specifications:
Input: Analog HD-15 (RGBHV or YPbPr)
Input Signal:
RGB: 0.7 Vp-p 75 ohm, H + V: 3 to 5 Vp-p or Y: 1 Vp-p 75 ohm
Pb/Pr: 0.7 Vp-p, 75 ohm
Output: DVI-I connector (only DVI-D output)
Output Signal: Digital RGB or YPbPr data bit stream
Compliant With DVI Rev 1.0
Operation Frequency: up to 165MHz
Input/ Output Resolution:
PC: 640x480=VGA60, VGA72, VGA75, 800x600=SVGA56, SVGA60, SVGA72, SVGA75, 1024x768=XGA60, XGA70, XGA75, 1152x864=MAC70, MAC75, MAC85, 1028x1024=SXGA60, SXGA75, 1600x1200=UXGA60, 1920x1200=WUXGA60 Reduced Blanking (pixel-rate/154MHz);
HD: 480i/p@60Hz, 576i/p@50Hz, 720p@50/60Hz, 1080i/p@50/60Hz, 1080p@30Hz. Note: Some PC monitors do not support HD mode.
Dimensions (cm): 7.6(w) x 10.5(d) x 3.0(h)
Power: 100-240vAC to +5V 2A
EDID: Built-in
Accepted PC Resolutions:
640*480@60/72/75Hz
800*600@56/60/72/75Hz
1024*768@60/70/75Hz
1280*960@60Hz
1280*102460/75Hz
1366*768@60Hz
1600*1200@60Hz
1920*1200@60Hz
Accepted HD Resolutions:
720*480i/p@59/60Hz
1280*720i/p@50/59/60Hz
1920*1080i/p@50/59/60Hz
1920*1080p@30Hz
Power Supplies:
Multi-Voltage Power Supply : 100 - 240VAC to 5V DC 2.6A Switch Mode Power Supply - Center Positive
Connects From :
Connects To :

VGA 15pin D-Sub (31K+)
Component - Y/Pb/Pr
Converts From :
Converts To :

VGA (640 x 480 @ 4:3)
SVGA (800 x 600 @ 4:3)
XGA (1024 x 768 @ 4:3)
SXGA (1280 x 1024 @ 5:4)
UXGA (1600 x 1200 @ 4:3)
HDTV 480p
HDTV 576p
HDTV 720p
HDTV 1080p
HDTV 1080i
WUXGA (1920 x 1080 @ 16:10)
HDTV 480i
HDTV 576i

HDTV 480p
HDTV 576p
HDTV 720p
HDTV 1080p
HDTV 1080i
HDTV 480i
HDTV 576i
1 x DVI to PC/Component Converter Box
1 x Product Manual
1 x 240vACto +5vDC 1A Australian Power Supply
1 x VGA to 3 RCA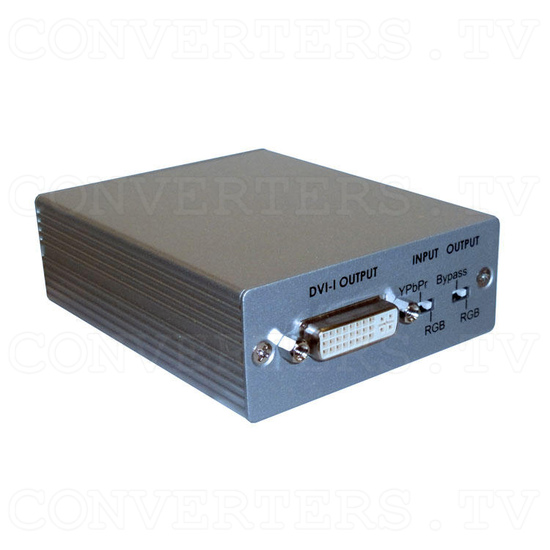 PC/HD to DVI Format Converter - Full View
PC/HD to DVI Format Converter - Front View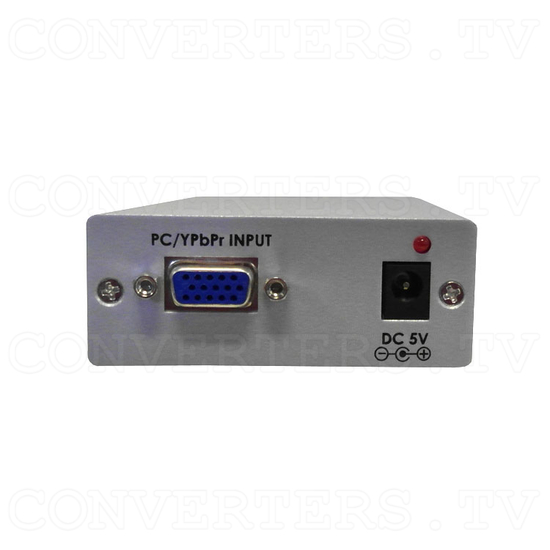 PC/HD to DVI Format Converter - Back View
PC/HD to DVI Format Converter - VGA to 3 RCA