PC/HD With Audio to HDMI Format Converter

save 49%




The PC/HD With Audio to HDMI Format Converter supports analog PC (RGBHV and YPbPr) video and analog Left/Right audio input for conversion to digital HDMI video and audio output. Ideal for digital upgrade of your analog PC's, DVD, VCR players, and game consoles.

True digital display is possible using this device. Simply connect to any analog RGBHV or YPbPr video signal for display to a HD monitor, such as Plasma, LCD and DLP displays. Supports analog PC resolutions up to UXGA (1600 x 1200) and analog Component YPbPr resolutions up to 1080p@60Hz. Output resolution follows input resolution.

Very easy and simple to set up and use, the converter allows you to use your digital HDTV as your PC monitor or for displaying older analog model DVD, VCR players or game consoles on a HDTV.

| | | | |
| --- | --- | --- | --- |
| Unit Dimensions: | 10.5 x 7.6 x 3.0 cm | Shipping Weight: | 1.30 kg |
| Location: | NSW, Australia | Item Type: | |
| Condition: | New | Warranty : | 12 Months |
| Certificates : | CE, CTick, UL | Manual : | User Manual (219.11 KB) |
Features:
Enables you to connect computers with analog PC output or DVDs with YPbPr output to HDMI input of HD ready plasma, LCD or DLP TV
You can select input format as PC/RGBHV or HD/YPbPr
HDMI 1.2 compliant
Supports up to 1600 x 1200 @ 60 for PC input and 1920 x 1080p @ 60 for HD input
Specifications:
Video Input: HD-15 (RGBHV/YPbPr)
Input signal: RGB: 0.7 Vp-p 75 ohm, H + V: 3 to 5 Vp-p, or Y :1 Vp-p 75 ohm, Pb/Pr:0.7 Vp-p, 75 ohm
Audio Input: Analog audio L,R
HDMI 1.2 compliant
Operation frequency: up to 165MHz
Input/Output resolution:
PC: VGA@60, VGA@72, VGA@75, VGA@85, SVGA@60, SVGA@72, SVGA@75, SVGA@85, XGA@60, XGA@70, XGA@75, XGA@85, SXGA@60, SXGA@75, SXGA@85, UXGA@60, 1152@70, 1152@75, 1152@85, XGAi@87, - HD: 480i@60, 576i@50, 480p@60, 576p@50, 720p@60, 720p@50, 1080i@60, 1080i@50, 1080p@60, 1080p@50, 1080p@30, 1080p@25, 1080p@24
Output resolution follows input resolution
Using switch to select input format between HD/YPbPr and PC/RGBHV
Dimension (mm): 76(H) x 30 (H) x 105 (D)
Power: 5V 2A Center-positive
Connects From :
Connects To :

VGA 15pin D-Sub (31K+)
Component - Y/Pb/Pr
Converts From :
Converts To :

VGA (640 x 480 @ 4:3)
SVGA (800 x 600 @ 4:3)
XGA (1024 x 768 @ 4:3)
SXGA (1280 x 1024 @ 5:4)
UXGA (1600 x 1200 @ 4:3)
HDTV 480p
HDTV 576p
HDTV 720p
HDTV 1080p
HDTV 1080i
HDTV 480i
HDTV 576i

HDTV 480p
HDTV 576p
HDTV 720p
HDTV 1080p
HDTV 1080i
HDTV 480i
HDTV 576i
1 x HDMI to PC/Component Converter with Audio Box
1 x Product Manual
1 x 5vDC 2A Power Supply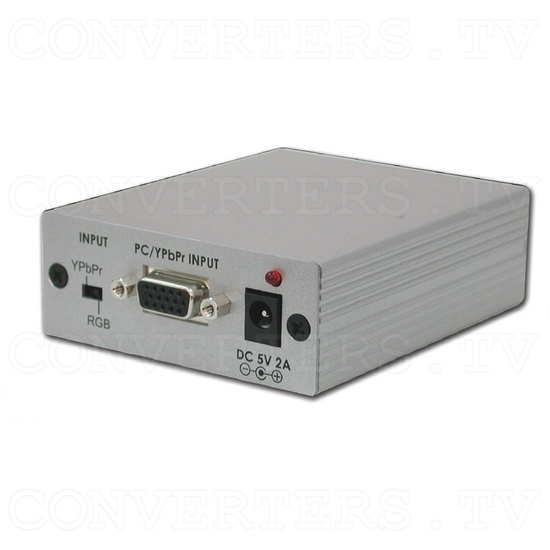 PC/HD With Audio to HDMI Format Converter - Full View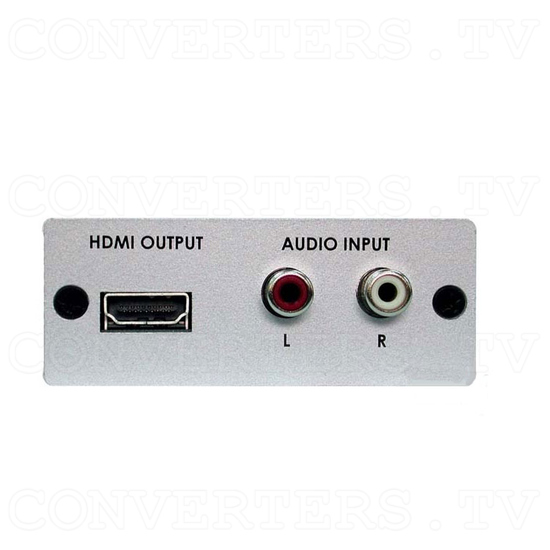 PC/HD With Audio to HDMI Format Converter - Back View