All Video to HDMI Converter

save 25%




The All Video to HDMI Converter accepts most video formats, outputting as an HDMI video/audio stream for viewing content in High Definition resolution on HDTV's. It also allows you to have your DVD player, game console, Set-top box, PC and other devices connected and ready for selection to instantly display to your HDTV.

The All Video to HDMI converter connects CVBS, YPrbPr, VGA, HDMI, and USB media, with selectable 720p and 1080p HDMI high definition output. Analog stereo audio associated with CV, YPbPr and VGA sources can also be connected via the All Video to HDMI Converter for integration into the output HDMI Video/Audio stream.

It will accept PAL 50Hz and NTSC 60Hz and output all as NTSC 60Hz with excellent picture quality, along side integrated noise reduction, an advanced colour process engine, dynamic luminance control, gamma control and 3D decoder features.

| | | | |
| --- | --- | --- | --- |
| Unit Dimensions: | 17.3 x 12.7 x 4.0 cm | Shipping Weight: | 0.72 kg |
| Location: | NSW, Australia | Item Type: | |
| Condition: | New | Warranty : | 12 Months |
| Certificates : | CE, CTick, UL | Manual : | User Manual (2.79 MB) |
Features:
Inputs: 1 x Composite video + audio, 1 x YPbPr + audio, 1 x VGA + audio, 2 x HDMI and 2 x USB
Output: HDMI
Remote Control for full picture control and ease of use
USB movie, picture and music playback
Selectable 720p and 1080p high definition HDMI output
PAL, NTSC and SECAM colour systems supported
Accepts PAL 50Hz and NTSC 60Hz input; output as NTSC 60Hz only
-5% to +5% display ratio control
Auto detect working input function (except USB)
Picture controls: brightness, contrast, colour, sharpness, hue control
4 preset picture modes: soft, standard, bright and personal
Picture mode setting saved for respective source
Geometry control for VGA input with auto tune function
Capture USB picture and save as user defined logo
Standby mode
Specifications:
Inputs:
Composite video: PAL, NTSC and Secam video + audio
PC VGA: 640*480@60Hz; 800*600@60Hz; 1024*768@60Hz; 1280*1024@60Hz; 1280*720@60Hz; 1360*768@60Hz; 1440*900@60Hz; 1680*1050@60Hz; 1920*1080@60Hz + audio
Component YPbPr: 480i/p ~ 1080i/p @ 50Hz & 60Hz + audio
HDMI: HD - 480i/p ~ 1080i/p @ 50Hz & 60Hz, and PC - 640*480@60Hz; 800*600@60Hz; 1024*768@60Hz; 1280*1024@60Hz; 1280*720@60Hz; 1360*768@60Hz; 1440*900@60Hz; 1680*1050@60Hz; 1920*1080@60Hz
USB: MPEG; H.264; RM/RMVB movie decode; JPEG; BMP; PNG picture decode and MPEG1/2, MP3 audio decode
Output:
HDMI: 720p and 1080p@60Hz
Audio: Incorporated with HDMI output signal
Power: 100-240vAC to +5vDC 2.0A (centre positive)
Watts: Max 480w
Temperature: 0C ~ 40C
Weight (grams): 303g
Dimensions (cm): 17.3 x 12.7 x 4.0
Casing: Flat black hard plastic
Connects From :
Connects To :

Composite - RCA / AV (TV)
VGA 15pin D-Sub (31K+)
HDMI (HDTV)
USB (PC) Type A Device Ports
Component - Y/Pb/Pr
Converts From :
Converts To :

VGA (640 x 480 @ 4:3)
PAL B
NTSC M - NTSC 3.58
NTSC N - NTSC 4.43
SECAM B
PAL D
PAL N
PAL G
PAL H
PAL I
PAL K
PAL M
SVGA (800 x 600 @ 4:3)
XGA (1024 x 768 @ 4:3)
SXGA (1280 x 1024 @ 5:4)
UXGA (1600 x 1200 @ 4:3)
WXGA HD (1280 x 720 @ 16:9)
SECAM D
SECAM G
SECAM H
SECAM K
SECAM K1
SECAM L
MESECAM
HDTV 480p
HDTV 576p
HDTV 720p
HDTV 1080p
HDTV 1080i
WUXGA (1920 x 1080 @ 16:10)
HDTV 480i
HDTV 576i
1 x All Video to HDMI Converter
1 x Product Manual
1 x Remote Control
1 x 100-240vAC to +5vDC 2.0A Power Adaptor
1 x 100-240vAC to +5vDC 2.0A Power Adaptor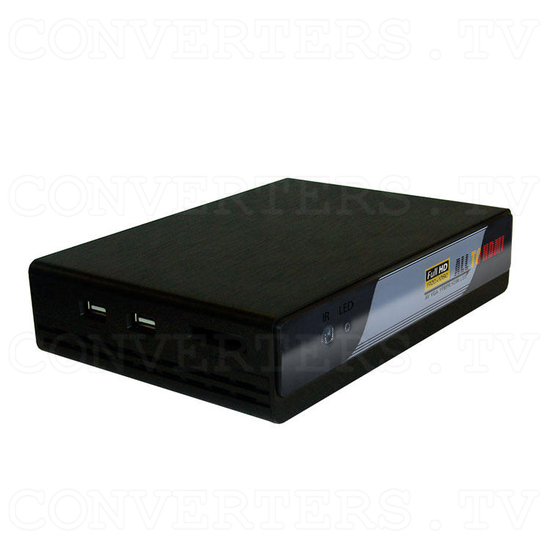 All Video to HDMI Converter - Full View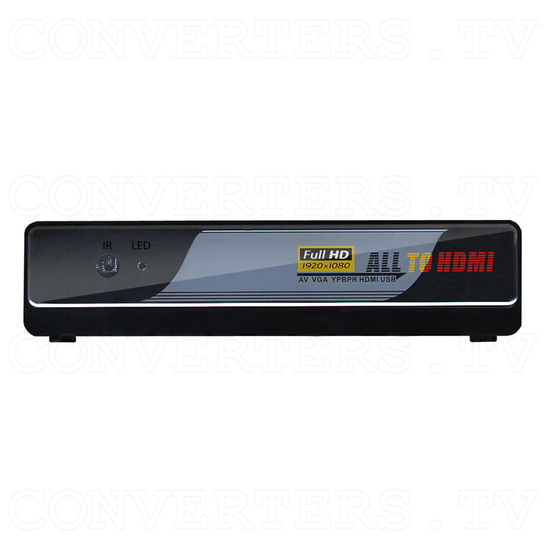 All Video to HDMI Converter - Front View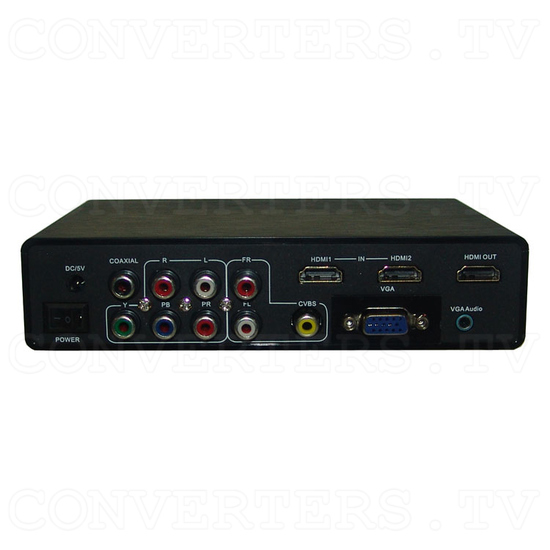 All Video to HDMI Converter - Back View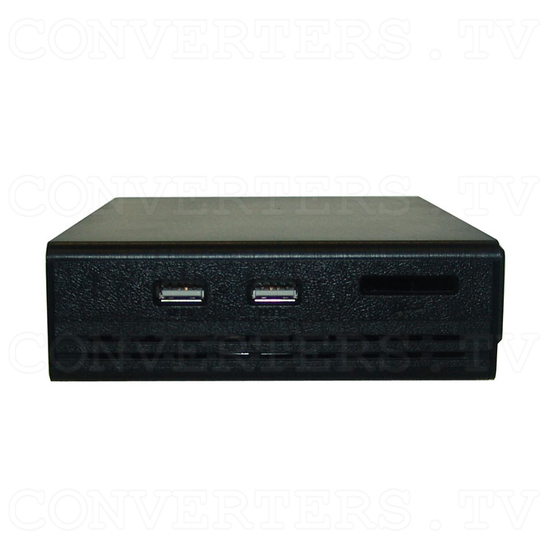 All Video to HDMI Converter - Left View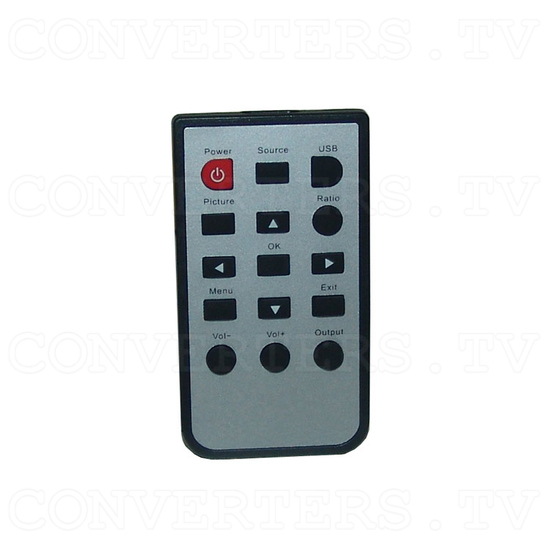 All Video to HDMI Converter - Remote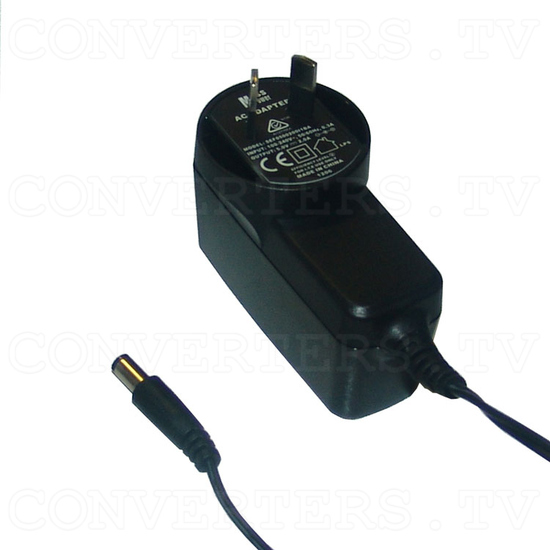 All Video to HDMI Converter - Power Supply 110v OR 240v
All Video to HDMI Converter - Full Kit