| | |
| --- | --- |
| | DVI to DVI - I Converter Scaler Box |
| | |
| --- | --- |
| This product has been replaced by : | View other products in this category |
The DVI to DVI - I Converter is a high performance two-way Scaler Box that converts DVI-D input into analog + digital PC or HDTV output. The unit automatically detects the input resolution while output resolution and the refresh rate can be selected via the OSD menu.

Picture adjustment on brightness, contrast, colour, RGB level and Horizontal & Vertical position is enabled through the use of the OSD menu and the front panel push buttons. The DVI output allows for an all-digital rendering of video without the loss caused by an analog interface, making the unit ideal for use with LCD, plasma and DLP projectors.

| | | | |
| --- | --- | --- | --- |
| Unit Dimensions: | 7.5 x 3.0 x 15.5 cm | Shipping Weight: | 1.50 kg |
| Location: | NSW, Australia | Item Type: | Other Products |
| Condition: | New | Warranty : | 12 Months |
| Manual : | User Manual (127.46 KB) | | |
Features:
Accepts digital DVI-D input and converts to DVI-I (digital + analog RGB) output.
The input is digital PC/HDTV signal in the format of either RGBHV or YPbPr/YCbCr data bitstream via 24-pin DVI connector.
The output is digital + analog PC or HDTV signal in the format of digital RGBHV bitstream plus analog RGBHV, known as DVI-I (integrated digital and analog).
The input resolution is automatically detected while the output resolution and refresh rate can be selected through OSD menu and front panel push buttons.
48 MB frame memory for frame rate conversion.
Output picture adjustment on brightness, contrast, color, RGB level, and H-V position.
A DVI-I to VGA adaptor is included to transfer the analog RGB output contained in the DVI-I connector into a HD-15 VGA connector so that the output can also connect to any display unit with a VGA input.
Specifications:
Input Format: Digital RGBHV,YPbPr or YCbCr.
Input Signal: Digital RGB data bitstream.
Input Connector: 24 pin DVI-D connector.
Output Format: Digital RGBHV + Analog RGBHV or YPbPr (through DVI to HD-15 adaptor).
Output Signal: Digital data bitstream.
Output Connector: 29 pin DVI-I connector + 1 DVI - HD-15 adaptor.
Power Supply: 5V 2.6A
Polarity: Center-positive.
Input Resolutions:
PC(RGBHV): 640x400 to 1280x1024
HDTV(YCYb,YPbYr,RGBHV): 720x480 to 1920x1080
Output Resolutions:
PC(RGBHV): 640x400 to 1280x1024
HDTV(YPbYr,RGBHV): 720x480 to 1920x1080
Please Note:
Power supply available in 110V or 220V (please mention the type you require when ordering)
Power plug adapter available for most countries (please mention the type you require when ordering)
Power Supplies:
Multi-Voltage Power Supply : 100 - 240VAC to 5V DC 2.6A Switch Mode Power Supply - Center Positive
| Connects From : | Connects To : |
| --- | --- |
| | |
Converts From :
Converts To :

RGB Separate Sync - RGBHV

VGA (640 x 480 @ 4:3)
SVGA (800 x 600 @ 4:3)
XGA (1024 x 768 @ 4:3)
SXGA (1280 x 1024 @ 5:4)
WXGA HD (1280 x 720 @ 16:9)
HDTV 720p
HDTV 1080p
1 x DVI to DVI - I Converter Scaler Box
1 x Product Manual
1 x DVI Cable
1 x 100-240VAC to 5V DC 2.6A Switch Mode Power Supply (Center Positive)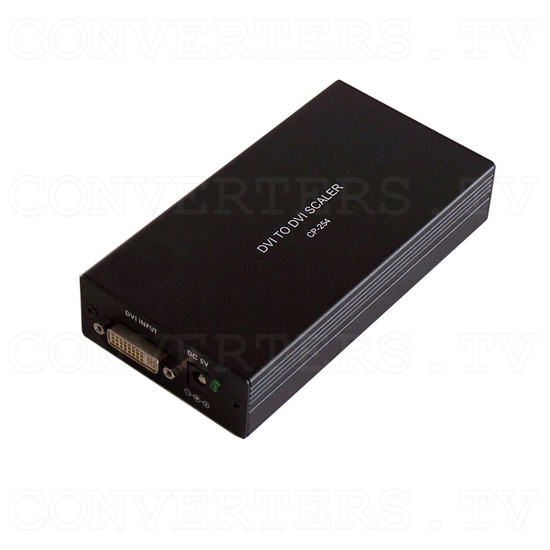 DVI to DVI - I Converter Scaler Box - Full View
DVI to DVI - I Converter Scaler Box - Front View
DVI to DVI - I Converter Scaler Box - Back View
DVI to DVI - I Converter Scaler Box - DVI Cable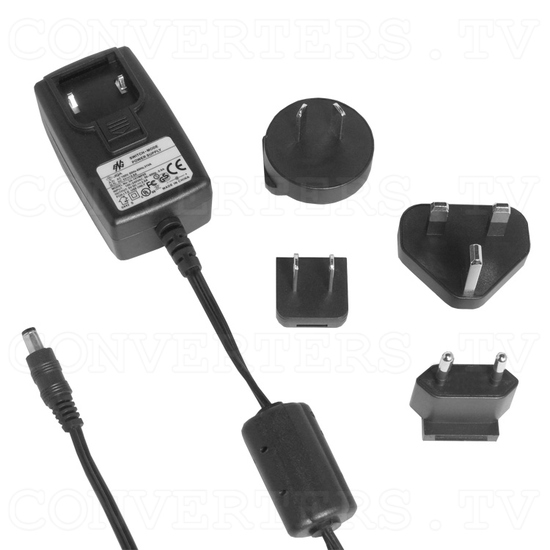 DVI to DVI - I Converter Scaler Box - Power Supply 110v OR 240v
DVI to DVI - I Converter Scaler Box - Full Kit