SCART to HDMI v1.3 Scaler Box

save 29%





The SCART to HDMI v1.3 Scaler Box displays your SCART analog video/RGB image to any HDMI capable HDTV. Now you can use modern HDTV's with your older style SCART output devices. Utilizing simple plug'n'play functionality, the scaler box will upscale the analog signal to full HD v1.3 1080p digital video. The audio component of the analog signal is also transferred to digital audio and output with the HDMI signal.

The unit greatly enhances viewing pleasure when integrating older style analog devices with new Digital HDTV's. Use a SCART to SCART cable for the input and HDMI to HDMI or DVI cable for connection to your HDTV. Front panel control buttons allow for auto or manual setting of the output resolution, including 576p@50Hz, 720p/1080i/1080p@50/60Hz. When auto is selected, the scaler box auto-detects the EDID of the connected screen for best image display.

PAL and NTSC video formats are supported. PAL in = PAL out, NTSC in = NTSC out (please note: the unit is not a TV system format converter). With high quality video enhancement operating up to 1080p with 8/10/12 bit deep colour transfer makes the resultant display image superior to other converters. Audio can also be carried with the digital signal and is LPCM 2ch@48Khz.

| | | | |
| --- | --- | --- | --- |
| Unit Dimensions: | 15.1 x 12.5 x 3.0 cm | Shipping Weight: | 0.80 kg |
| Location: | NSW, Australia | Item Type: | HDMI Converters |
| Condition: | New | Warranty : | 12 Months |
| Certificates : | CE, CTick, UL | Manual : | User Manual (255.32 KB) |
Features:
Sturdy, black aluminium casing
Plug'n'Play ease of use
Clearly labelled buttons and indicator lamps
Supports HDMI v1.3, HDCP 1.1, DVI 1.0 compliant
Scales SCART video signal up to HDMI 1080p format
Supports PAL and NTSC video formats
Supports 8/10/12 bit Deep Colour on HDMI cable up to 6 meters.
Digital Noise Reduction - minimises picture noise for original image reproduction
MPEG Noise Reduction - minimises "mosquito noise" for MPEG video images
Block Noise Reduction - minimises all MPEG noise effects on HDTV broadcasts
High Quality Image enhancer function
3D (frame-based) motion adaptive noise reduction
Advanced 3D motion adaptive de-interlace
Auto 2:2/3:2 film mode detection
Auto and Manual output resolution selection button
Specifications:
Input Port: SCART
Output Port: HDMI (Type A)
Output Resolutions: 576p@50Hz; 720p/1080i/1080p@50/60Hz
Input Signal Levels: Video-1Vp-p, 75ohms / RGB-0.7vp-p, 75ohms / Audio L/R-0.5Vrms
Video Systems: PAL and NTSC
Audio Sampling Rate: uncompressed LPCM 2ch@48Khz
Power Supply: 100-240vAC to 5V 2.6A DC (US/EU standards. CE/FCC/UL certified)
Power consumption: 6W (max)
Dimensions (cm): 15.1(L) x 12.5(D) x 3.0(H)
Weight (g): 340g
Operating Temperature: 0C~40C
Power Supplies:
Multi-Voltage Power Supply : 100 - 240VAC to 5V DC 2.6A Switch Mode Power Supply - Center Positive
| Connects From : | Connects To : |
| --- | --- |
| | |
Converts From :
Converts To :

RGB (15K Video)
RGB Sync on Green RGsB
CGA Compatible 15K Video Source
RGB Combined Sync - RGBH+V
RGB Separate Sync - RGBHV

HDTV 576p
HDTV 720p
HDTV 1080p
HDTV 1080i
1 x SCART to HDMI 1.3 SD to Full HD Scaler Box
1 x Product Manual
1 x 100-240VAC to 5V DC 2.6A Switch Mode Power Supply (Center Positive)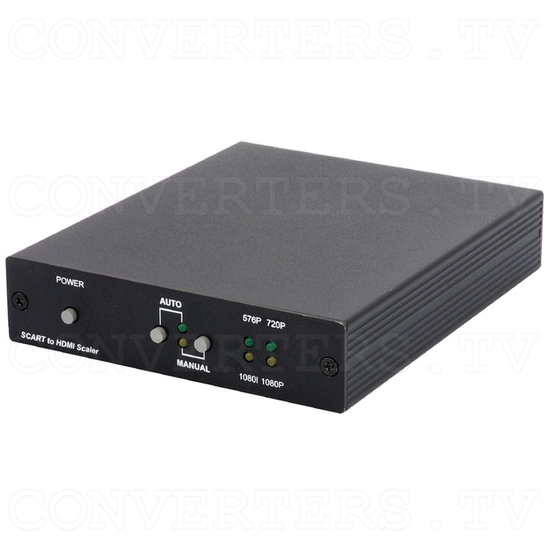 SCART to HDMI v1.3 Scaler Box - Full View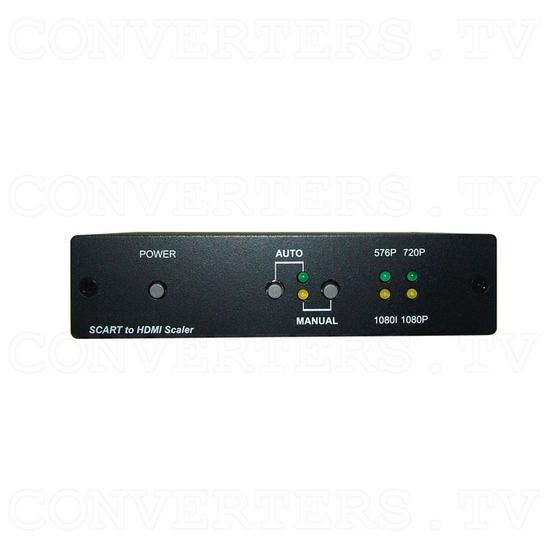 SCART to HDMI v1.3 Scaler Box - Front View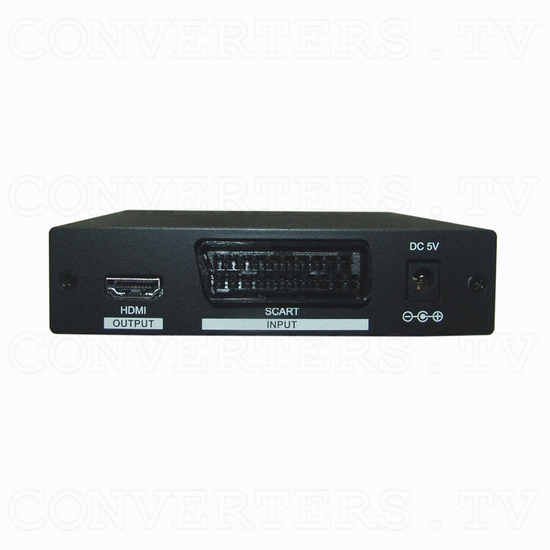 SCART to HDMI v1.3 Scaler Box - Back View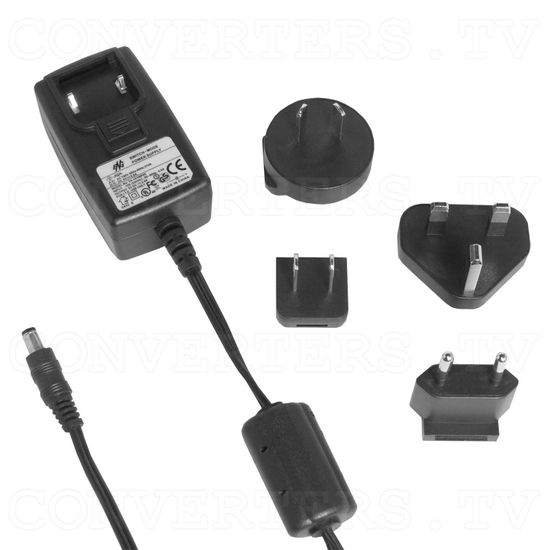 SCART to HDMI v1.3 Scaler Box - Power Supply 110v OR 240v
SCART to HDMI v1.3 Scaler Box - Full Kit