Video to DVI 1080p Scaler Box

save 30%




The Video to DVI 1080p Scaler Box is an upgraded design to convert Standard Definition Composite Video (CV) and S-Video (SV) signals to High Definition PC and HDTV resolutions. Maximum output resolutions available are WUXGA and 1080p. The device has support for NTSC and PAL video format input and an in-built frame rate conversion feature from 50Hz to 60Hz ensuring glitch-free viewing. It has many enhanced features to maximize video performance and is ideal for use in professional large screen presentations or private home theatre applications.

The Video to DVI 1080p Scaler Box output is DVI-I (Integrated). This means that the output supports both Digital and Analog screens. The link can carry single or dual link with all digital video/data signals on 24 pins, or Analog video/data signals and ground on 5 pins. This makes the Scaler Box ideal for use with any digital/analog video system.

| | | | |
| --- | --- | --- | --- |
| Unit Dimensions: | 12.5 x 13.0 x 3.0 cm | Shipping Weight: | 0.79 kg |
| Location: | NSW, Australia | Item Type: | |
| Condition: | New | Warranty : | 12 Months |
| Certificates : | CE, CTick, UL | Manual : | User Manual (635.64 KB) |
Features:
Motion adaptive 3D Y/C separation comb filter (for composite video input)
3D (frame Based) motion adaptive YNR/CNR noise reduction (for Y/C video input)
Advanced 3D motion adaptive deinterlace
Automatic 2:2/3:2 film mode detection
Supports 50Hz to 60Hz frame rate conversion
Video quality improvement: DCTI (Digital chroma transient improvement), DLTI (Digital luminance
transient improvement), Black level extension
Average picture level (APL), Automatic contrast limiter (ACL) function supported
OSD menu for picture quality adjustment
Built-in 8-bit DAC for RGB or YPbPr output
Front Panel and IR remote control
Automatic NTSC/PAL video format detection and switching
Specifications:
Input Signal Levels: Video@1Vp-p, 75 ohm, Y@1 Vp-p, 75 ohm, Colour@ 0.7 Vp-p, 75 ohm
Output Format: Digital RGB
Output Connector: DVI-I Connector
Output Signal: Bitstream
Output Resolutions - PC: VGA, SVGA, XGA, WXGA, SXGA, UXGA, WUXGA
Output Resolutions - HDTV: 480p, 576p, 720p, 1080i, 1080p
Power: 5vDC
Weight (g): 400
Dimensions (mm): 125(W) x 123(D) x 30(H)
Operating Temperature: 0°C~40°C
Colour: Blue
Output Formats:
The format for Digital DVI output is Digital RGB for all resolutions.
The format for Analog PC output is RGB and for Analog HD output is Y/Pb/Pr
Converts From :
Converts To :

PAL B
NTSC M - NTSC 3.58
NTSC N - NTSC 4.43
PAL D
PAL N
PAL G
PAL H
PAL I
PAL K
PAL M

VGA (640 x 480 @ 4:3)
SVGA (800 x 600 @ 4:3)
XGA (1024 x 768 @ 4:3)
SXGA (1280 x 1024 @ 5:4)
UXGA (1600 x 1200 @ 4:3)
WXGA HD (1280 x 720 @ 16:9)
HDTV 480p
HDTV 576p
HDTV 720p
HDTV 1080p
HDTV 1080i
WUXGA (1920 x 1080 @ 16:10)
1 x CYP - Video to DVI Scaler Box (CM-1391)
1 x Product Manual
1 x Switch mode Power Supply 100-240v 50-60Hz 0.3A, DC 5V - 1.2A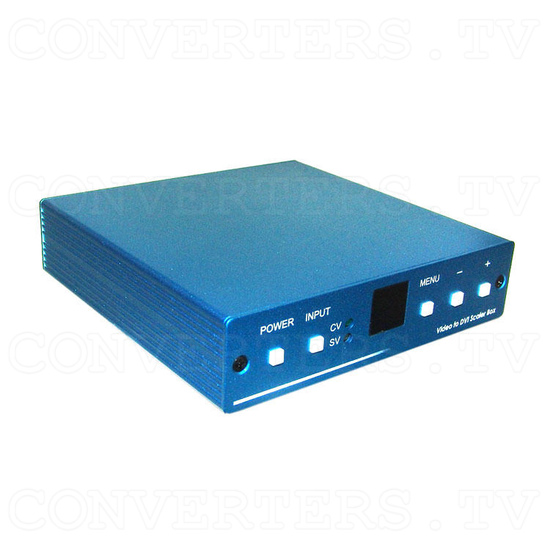 Video to DVI 1080p Scaler Box - Full View
Video to DVI 1080p Scaler Box - Front View
Video to DVI 1080p Scaler Box - Back View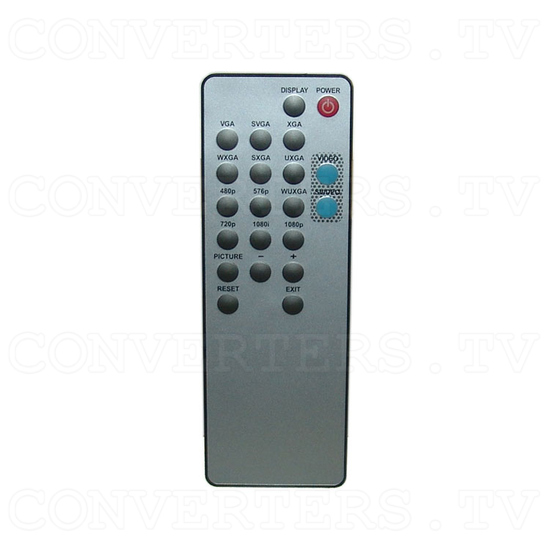 Video to DVI 1080p Scaler Box - Remote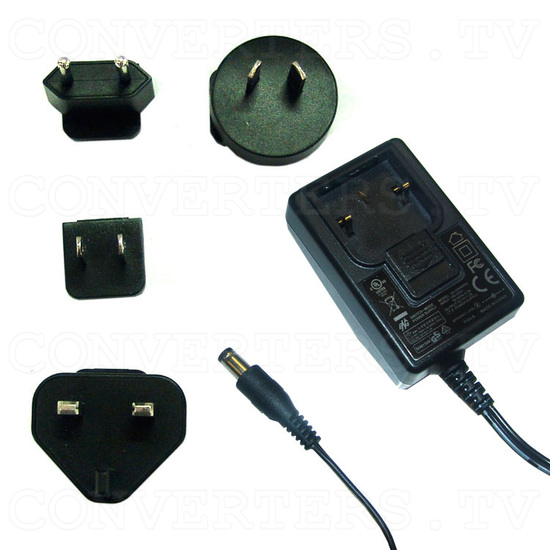 Video to DVI 1080p Scaler Box - Power Supply 110v OR 240v
Video to DVI 1080p Scaler Box - Full Kit