| | |
| --- | --- |
| | GADMEI - PC-TV System Converter |
GADMEI - PC-TV System Converter is designed to convert any Digital NTSC or PAL input source to an NTSC/PAL output signal for correct display on your TV. It can also output the signal to your PC monitor, with XGA and VGA output supported, and you can also watch TV channels on your PC.

The unit has a switch on the rear panel which enables you to switch between the different output modes available. You can switch between a PAL Video, NTSC Video, VGA Mode, or XGA Mode. The PC-TV System Converter has a variety of input and output ports available, making it a very versatile unit. You can connect your display via S Video or by composite AV cable. The converter has a MMI port where you can easily connect devices such as DVD/VCD Players and Game Consoles.

The PC-TV System Converter is the perfect solution for viewing your imported DVDs or games on your TV. For example, with the GM998 TV System Converter you can connect your NTSC DVD player to your PAL TV, with the unit converting the signal so that it will display correctly on your TV.

To watch TV on your PC display, you must connect an antenna cable into the ANT/CABLE input port on the back of the unit. The PC-TV System Converter has an easy to use menu display, where you can enter into the tuning menu and search for channels automatically. The unit also has Picture in Picture (PIP) functionality, which allows you to watch TV programs and operate your PC at the same time.

| | | | |
| --- | --- | --- | --- |
| Unit Dimensions: | 17.0 x 14.0 x 3.0 cm | Shipping Weight: | 0.73 kg |
| Location: | NSW, Australia | Item Type: | TV on PC |
| Condition: | New | Warranty : | 12 Months |
| Certificates : | CE, UL | | |
Features:
Slim, modern style.
Fully Remote Controlled for full OSD function adjustments.
Control buttons on top panel for full OSD function adjustments.
Inbuilt TV Tuner.
NTSC/PAL Video input via MMI-C/S AV cable.
Video Output to LCD/Plasma/CRT monitors or C-video and S-video TV's or to Video recording unit.
Switch selection of NTSC/PAL (TV) and VGA/XGA (LCD/PLASMA/CRT) video output mode.
OSD menu selection for input source: TV C-video or S-video.
Full OSD control for colour, contrast, brightness and noise reduction.
Four, nine and sixteen frame pre-scan picture wall.
Picture-in-picture in PC mode.
Still frame (picture) mode.
Audio Left and Right output.
Calender, Timer and Games available.
Low power consumption.
Specifications:
Video output: NTSC/PAL (TV) and VGA/XGA (PC) 1Vp-p.
Video input: NTC/PAL 1Vp-p.
TV input: RF 75ohm 47MHz-870MHz.
Power: 100-240vAC to 5vDC, 1A
Dimensions (cm's): 17.0(w) x 14.0(d) x 3.0(h)
Weight: 240 grams
Connects From :
Connects To :

Composite - RCA / AV (TV)
S-Video (TV)
VGA 15pin D-Sub (31K+)
Converts From :
Converts To :

PAL B
NTSC M - NTSC 3.58
NTSC N - NTSC 4.43
PAL D
PAL G
PAL I

VGA (640 x 480 @ 4:3)
PAL B
NTSC M - NTSC 3.58
NTSC N - NTSC 4.43
PAL D
PAL G
PAL I
XGA (1024 x 768 @ 4:3)
1 x PC-TV System Converter
1 x S-Video - Super Video Cable (Male to Male)
1 x Video and Stereo AV Cable
1 x MultiMedia - 3 RCA / S-Video
1 x Remote Control
1 x Switch Mode Power Supply 100-240vAC 0.2A to 5vDC 1A Center Positive
PAL TV Tuner
NTSC TV Tuner
Remote Control
GADMEI - PC-TV System Converter - Full View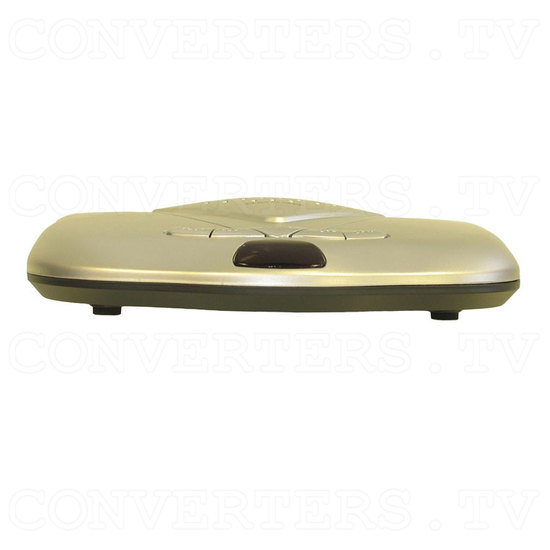 GADMEI - PC-TV System Converter - Front View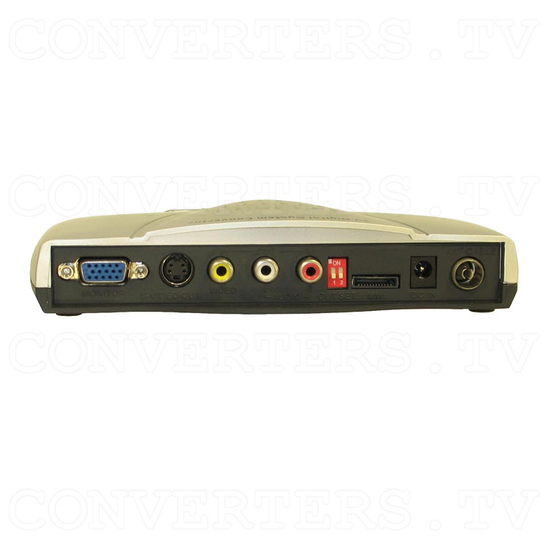 GADMEI - PC-TV System Converter - Back View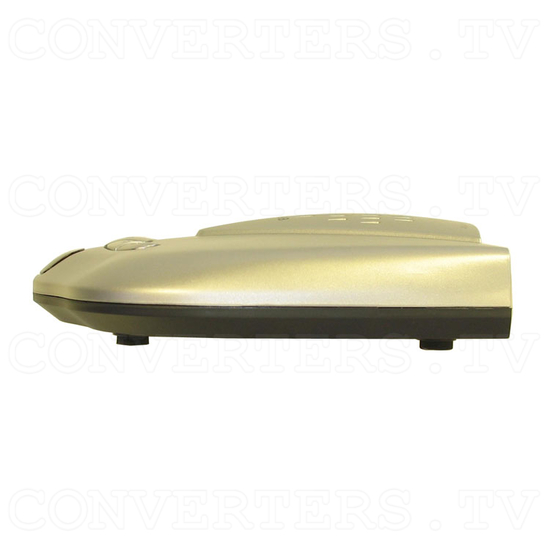 GADMEI - PC-TV System Converter - Side View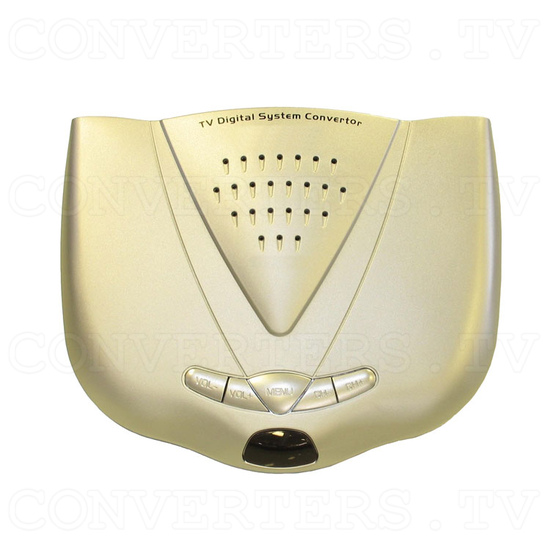 GADMEI - PC-TV System Converter - Top View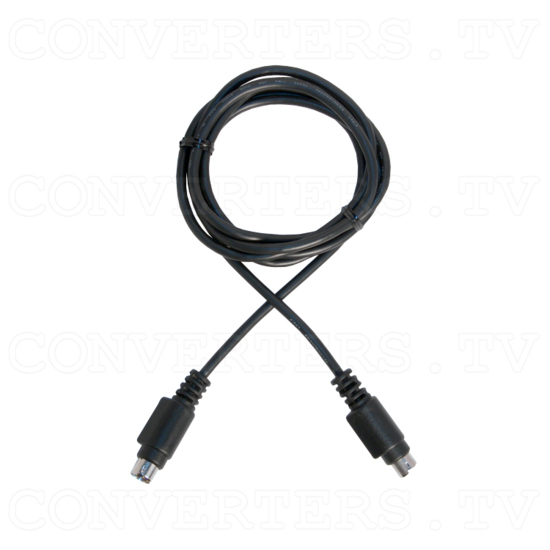 GADMEI - PC-TV System Converter - S-Video - Super Video Cable (Male to Male)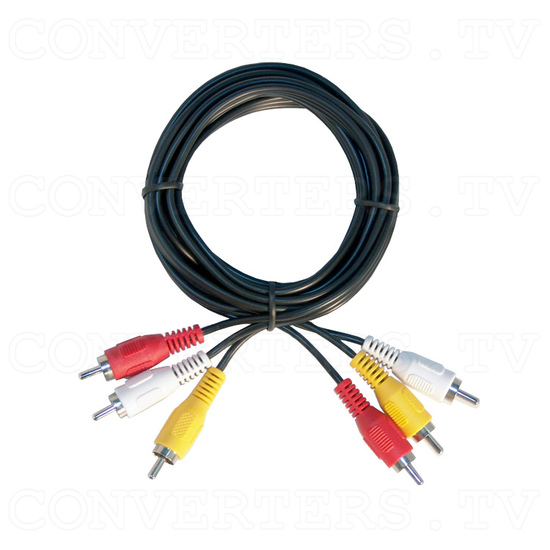 GADMEI - PC-TV System Converter - Video and Stereo AV Cable
GADMEI - PC-TV System Converter - MultiMedia - 3 RCA / S-Video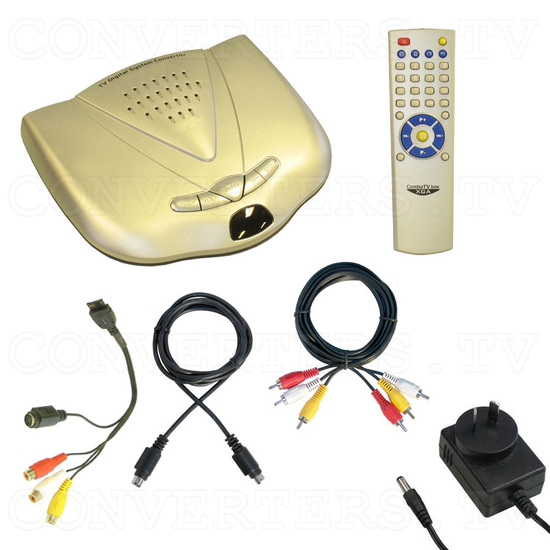 GADMEI - PC-TV System Converter - Full Kit