Composite Video/S - Video to PC Converter

save 42%





The Composite Video/S - Video to PC Converter Box is a simple, yet good quality converter. It can convert a Composite Video or S-Video signal (NTSC or PAL system) to PC (XGA, SXGA and UXGA) resolutions. Ideal for utilizing your PC monitor to display standard video images from DVD or VCR players, set top boxes, video game consoles, camcorders and security system cameras.

The Composite Video (CV)/ S-Video (SV) to PC Converter is easy to setup and operate. No software is required – simply plug-n-play! A switch on the converters PC output panel allows you to switch between the desired output resolution XGA, SXGA, or UXGA. There is also a convenient switch on the top of the unit which allows you to select between your desired Input source Composite or S-Video.

| | | | |
| --- | --- | --- | --- |
| Unit Dimensions: | 11.0 x 6.5 x 2.5 cm | Shipping Weight: | 0.35 kg |
| Location: | NSW, Australia | Item Type: | |
| Condition: | New | Warranty : | 12 Months |
| Certificates : | CE, CTick, UL | Manual : | User Manual (290.69 KB) |
Features:
Operates in NTSC 3.58 and PAL system
Output Frame Rates: 60Hz
High Quality Scaling Engine
Supported output resolutions: XGA, SXGA and UXGA
50/60 Hz frame rate conversion ensures glitch-free display
Play video games on your VGA monitors
High-resolution output picture
Plug & play- no driver software required
Specifications:
Input Ports: 1 x Composite Video, 1 x S-Video
Output Port: 1 x VGA
Output Resolution: XGA, SXGA and UXGA
Power Supply: 5V/1A DC (US/EU standards, CE/FCC/UL certified)
Dimensions (mm): 100(W) x 64(D) x 18.5(H)
Weight(g): 100
Chassis Material: Plastic
Silkscreen Colour: White
Operating Temperature: 0˚C ~ 40˚C / 32˚F ~ 104˚F
Storage Temperature: -20˚C ~ 40˚C / -4˚F ~140˚F
Relative Humidity: 20~60% RH (non-condensing)
Power Consumption: 2.5 W
Power Supplies:
Multi-Voltage Power Supply : Switch mode Power Supply 100-240v 50-60Hz 0.3A, DC 5V - 1.2A
Connects From :
Connects To :

Composite - RCA / AV (TV)
S-Video (TV)
Converts From :
Converts To :

PAL B
NTSC M - NTSC 3.58
NTSC N - NTSC 4.43
PAL D
PAL N
PAL G
PAL H
PAL I
PAL K
PAL M

XGA (1024 x 768 @ 4:3)
SXGA (1280 x 1024 @ 5:4)
UXGA (1600 x 1200 @ 4:3)
1 x Composite Video/S-Video to PC Converter
1 x Product Manual
1 x Switch mode Power Supply 100-240v 50-60Hz 0.3A, DC 5V - 1.2A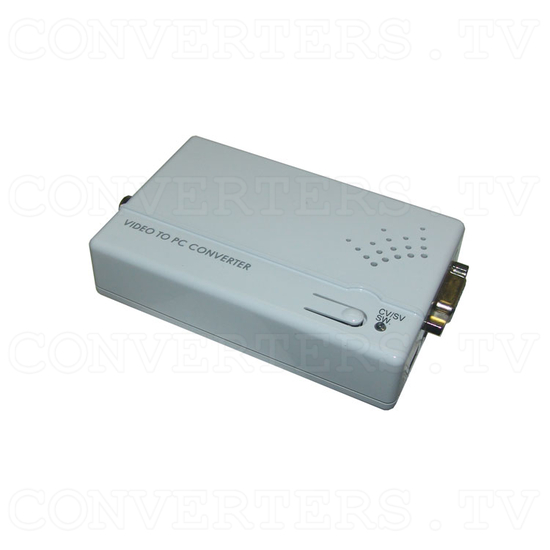 Composite Video/S - Video to PC Converter - Full View
Composite Video/S - Video to PC Converter - Front View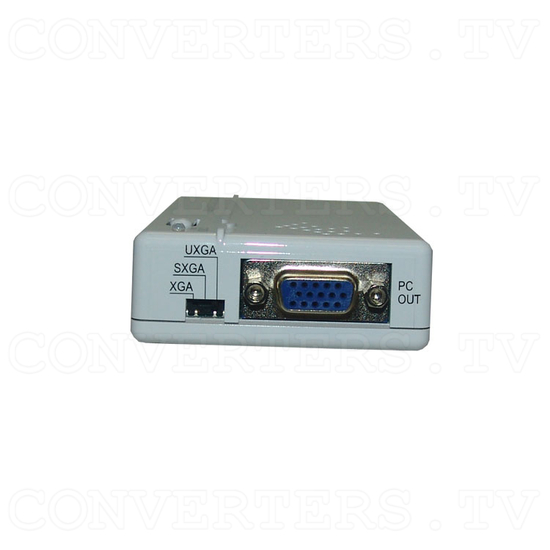 Composite Video/S - Video to PC Converter - Back View
Composite Video/S - Video to PC Converter - Top View
Composite Video/S - Video to PC Converter - Power Supply 110v OR 240v
Composite Video/S - Video to PC Converter - Full Kit