| | |
| --- | --- |
| | Wireless Digital TV Receiver |
The wireless digital TV receiver supports PAL and NTSC Digital TV reception and EPG, where the software can be upgraded via the RS-232 port. The OSD (On Screen Display menu) enables the user to change and adjust certain functions, including the channel view functions which will allow the channel to be moved or swapped.

The unit contains 400 channels and supports both manual or auto channel search. The front panel includes LED indicators for power/stand-by/system/lock.

| | | | |
| --- | --- | --- | --- |
| Unit Dimensions: | 23.7 x 19.0 x 3.7 cm | Shipping Weight: | 2.17 kg |
| Location: | NSW, Australia | Item Type: | Other Products |
| Condition: | New | Warranty : | 12 Months |
| Certificates : | CE | Manual : | User Manual (1.95 MB) |
Features:
MPEG-II digital and fully DVB-T compliant.
OSD languages: English/German.
Number of programs: Basic 400 services.
Supports manual channel search.
Supports automatic channel search.
Upgrade software: Via RS-232 loader.
Supports EPG.
Specifications:
Power Supply: Input voltage- DC 12V~DC 24V.
Power consumption: max. 18W.
Demodulation:
Waveform- COFDM.
Modes supported- 2K and 8K FEC combinations including hierarchical modes.
Constellation: QPSK, 16-QAM and 64-QAM.
Tuner:
Input connector- F- Type, Female.
Input Frequency- UHF and VHF.
Bandwidth- 6MHz or 7MHz or 8MHz or 7/8MHz.
Front Panel:
Common Interface: PCMCIA (optional).
A/V input: 2 pairs RCA (optional).
LED indicators: power/stand-by/system/lock.
Mode switch: for maintenance.
IR sensor: 1 fixed.
Data port: 1 RS232 (9-pin D-sub).
Rear Panel:
Audio: 2 RCA/Cinch (left/right).
Video: 3RCA/Cinch (75 ohm).
RF: 2 inputs.
DC/SC connector/ANT-PWR: 6 pins wafer for + 12V DC/24V DC power IN/SC handbrake signal, ANT-Power (+5V or 12V) optional.
Remote IR connector: 4 Pin MINI-DIN.
Country TV Systems Supported:
Australia; Argentina; China; Finland; France; Germany; Italy; Netherlands; New Zealand; Russia; Singapore; Spain; Sweden; Taiwan; Thailand; UK; USA.
Languages Supported:
English; German; Russian; Chinese; French; Dutch; Spanish.
Connects From :
Connects To :

Composite - RCA / AV (TV)
RF - F Connector (TV)
VGA 9 pin D-sub

Composite - RCA / AV (TV)
RF - F Connector (TV)
Converts From :
Converts To :

PAL B
NTSC M - NTSC 3.58
NTSC N - NTSC 4.43
PAL D
PAL N
PAL G
PAL H
PAL I
PAL K
PAL M

PAL B
NTSC M - NTSC 3.58
NTSC N - NTSC 4.43
PAL D
PAL N
PAL G
PAL H
PAL I
PAL K
PAL M
1 x Wireless Digital TV Receiver
1 x Remote
1 x Mounting Kit
1 x Wiring Harness
1 x Infa Red Sensor
1 x Product Manual
PAL TV Tuner
NTSC TV Tuner
Remote Control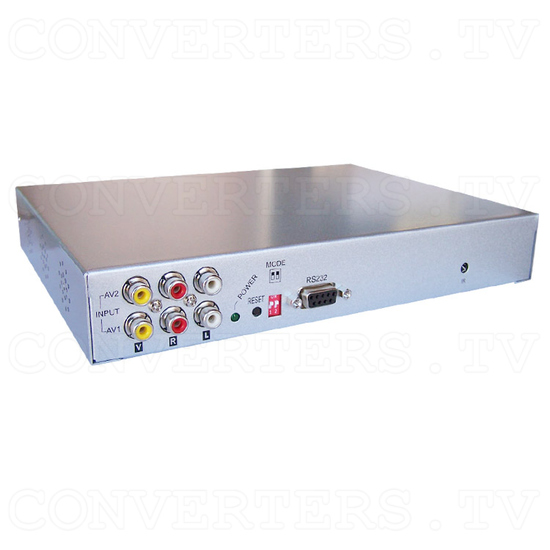 Wireless Digital TV Receiver - Full View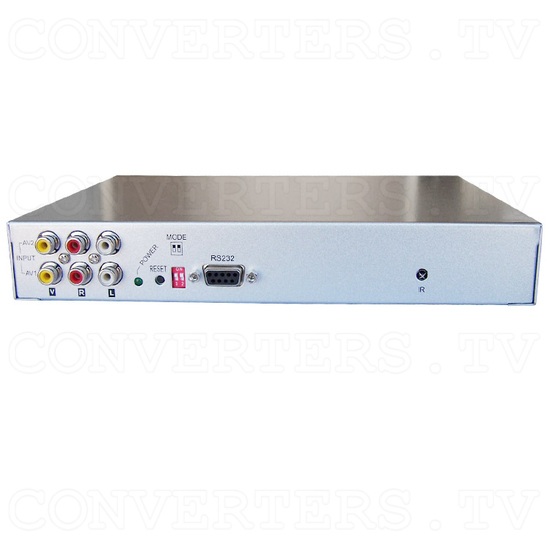 Wireless Digital TV Receiver - Front View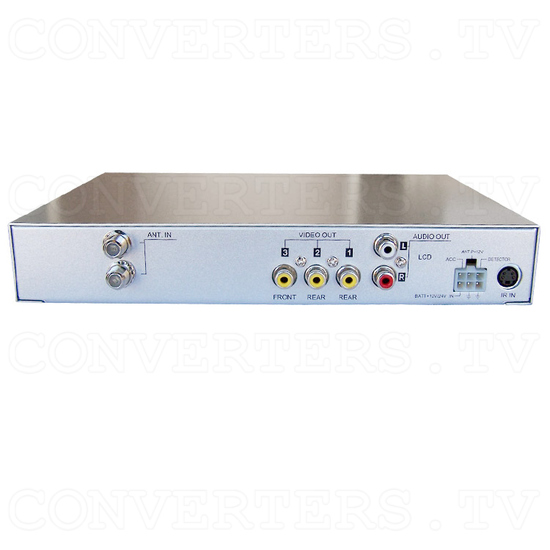 Wireless Digital TV Receiver - Back View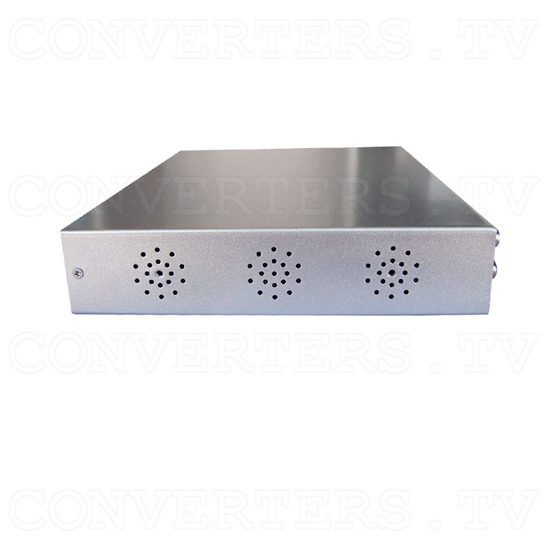 Wireless Digital TV Receiver - Side View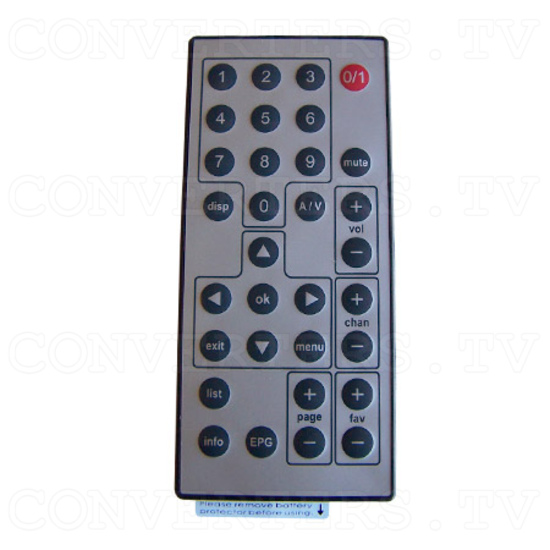 Wireless Digital TV Receiver - Remote Control
Wireless Digital TV Receiver - Wiring Harness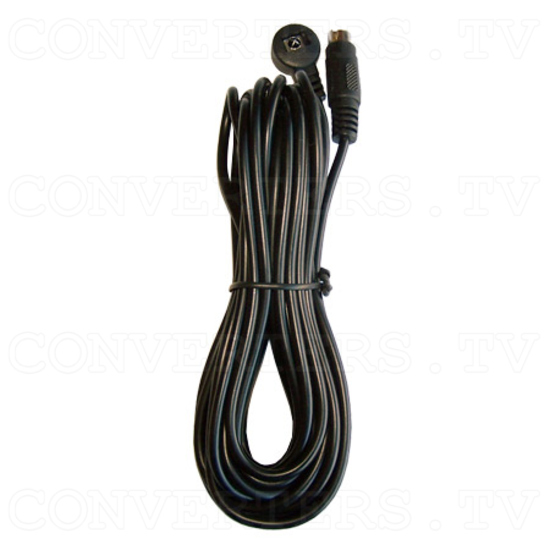 Wireless Digital TV Receiver - Infa Red Sensor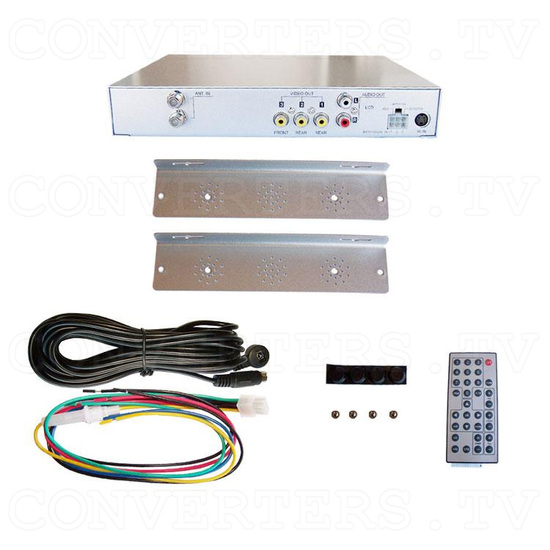 Wireless Digital TV Receiver - Full Kit