| | |
| --- | --- |
| | PAL to NTSC (NTSC to PAL) Video Converter / Convertor (CDM-600) |
| | |
| --- | --- |
| This product has been replaced by : | View other products in this category |
NTSC / PAL Digital Multisystem Video Converter that can convert video signal from NTSC, PAL, Secam to NTSC or PAL.

This NTSC / PAL converter is a middle range converter suitable for home applications.

This is base model used for testing purpose in house. Not absolutely new but working properly.

| | | | |
| --- | --- | --- | --- |
| Unit Dimensions: | 23.0 x 14.0 x 4.0 cm | Shipping Weight: | 1.21 kg |
| Location: | NSW, Australia | Item Type: | Digital Video System Converters |
| Condition: | New | Warranty : | 12 Months |
| Certificates : | CE | Manual : | User Manual (135.85 KB) |
Features:
Full digital processing: 2M bit field memory.
Automatic input system detection.
Stylish, compact package, excellent for portable application.
Converter includes manual, power supply and AV cable
Specifications:
Input NTSC 3.58, NTSC 4.43, PAL, SECAM
Output NTSC 3.58, PAL (B,D,G,I)
Sampling Frequency: Y:14.318MHz 8bits R-Y:7.159MHz 8bits B-R:7.159MHz 8 bits
Line conversion 525 to 625 lines and vice versa
Field conversion 60 to 50 fields and vice versa
Power Supply DC 15V 450mA
Please Note:
This is "floor stock" and used in our showroom for demonstration purposes. Sold with 12 month warranty.
Power supply available in 110V or 220V (please mention the type you require when ordering)
Power plug adapter available for most countries (please mention the type you require when ordering)
Power Supplies:
110 Volt Model : 120VAC to 15V DC 600mA Power Supply - Center Negative
OR
240 Volt Model : 240VAC to 15V DC 600mA Power Supply - Center Negative
| Connects From : | Connects To : |
| --- | --- |
| Composite - RCA / AV (TV) | Composite - RCA / AV (TV) |
Converts From :
Converts To :

PAL B
NTSC M - NTSC 3.58
NTSC N - NTSC 4.43
SECAM B
PAL D
PAL N
PAL G
PAL H
PAL I
PAL K
PAL M
SECAM D
SECAM G
SECAM H
SECAM K
SECAM K1
SECAM L
MESECAM

PAL B
NTSC M - NTSC 3.58
PAL D
PAL G
PAL I
1 x PAL to NTSC (NTSC to PAL) Video Converter / Convertor (CDM-600)
1 x Product Manual
1 x Composite - RCA Cable (Male to Male)
1 x 120VAC to 15V DC 600mA Power Supply (Center Negative)
OR
1 x 240VAC to 15V DC 600mA Power Supply (Center Negative)
PAL to NTSC (NTSC to PAL) Video Converter / Convertor (CDM-600) - Full View
PAL to NTSC (NTSC to PAL) Video Converter / Convertor (CDM-600) - Front View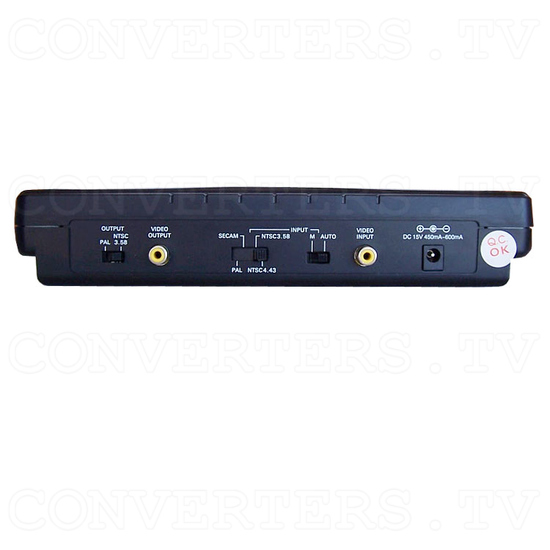 PAL to NTSC (NTSC to PAL) Video Converter / Convertor (CDM-600) - Back View
PAL to NTSC (NTSC to PAL) Video Converter / Convertor (CDM-600) - Composite - RCA Cable (Male to Male)
PAL to NTSC (NTSC to PAL) Video Converter / Convertor (CDM-600) - Mounting Feet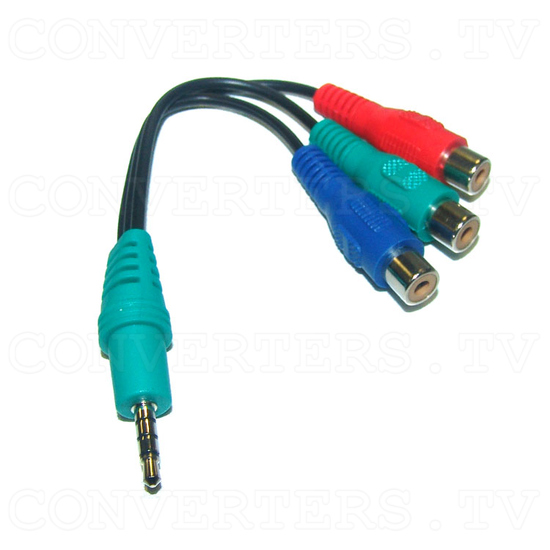 PAL to NTSC (NTSC to PAL) Video Converter / Convertor (CDM-600) - Male Line Jack to Female Composite Cable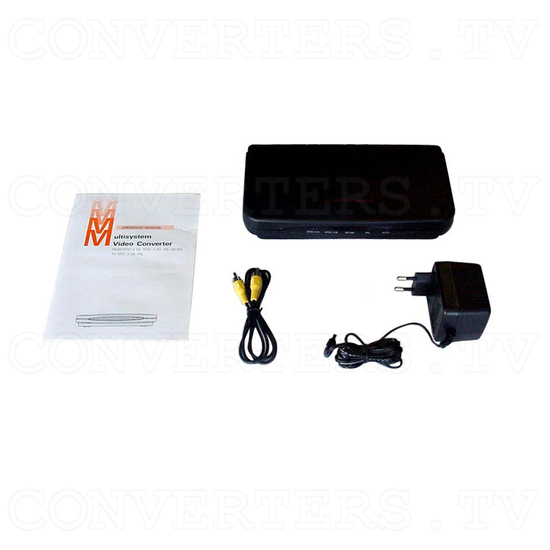 PAL to NTSC (NTSC to PAL) Video Converter / Convertor (CDM-600) - Full Kit