PAL/NTSC Video System Converter

save 27%





| | |
| --- | --- |
| This product has been replaced by : | View other products in this category |
The PAL/NTSC Video System Converter is designed to convert a source video signal of NTSC, N4, PAL, PAL M, PAL, N and SECAM systems (automatically detected), to an NTSC or PAL video signal output (selectable), for the connected display to work properly.

The Video System Converter has Composite Video (CV) and S-Video (SV) input and output ports, suitable for Standard Definition display. One added benefit of this converter is that it also acts as a simple and convenient way to convert a Composite Video input signal to an S-Video output signal, and vice versa. For example you could connect your NTSC DVD Player to the unit via S-Video, and output to your PAL display via Composite Video.

The on-panel H.position adjusters allow you to fine tune screen offset caused by display of different types of signals.

| | | | |
| --- | --- | --- | --- |
| Unit Dimensions: | 12.7 x 11.0 x 3.0 cm | Shipping Weight: | 0.61 kg |
| Location: | NSW, Australia | Item Type: | Digital Video System Converters |
| Condition: | New | Warranty : | 12 Months |
| Manual : | User Manual (272.77 KB) | | |
Features:
Supports digital conversion from NTSC, N4, PAL, PAL M, PAL N and SECAM to NTSC/PAL
Converts 525 lines to/from 625 lines (PAL to NTSC; NTSC to PAL)
Converts refresh frequency (frame rate) between 60Hz and 50Hz
Provides colour bar pattern when there is no signal present
System is capable with 8 Mb field memory
Can convert a Composite Video input to S-Video output, and vice versa.
Specifications:
Input Systems: NTSC, N4, PAL, PAL M, PAL N and SECAM
Output Systems: NTSC 3.58, PAL
Input Port: Video/S-Video
Output Port: Video/S-Video
Sampling Frequency: Y: 13.5MHz, R-Y: 6.75MHz, B-Y: 6.75 MHz
Digital Code Bit: R: 8 Bits, G: 8 Bits, B: 8 Bits
Line: 525/625
Field: 60/50
Power Supply: 5V/1A DC (US/EU Standards, CE/FCC/UL Certified), Centre Positive
Dimensions (mm): 125 (W) x 110 (D) x 30 (H)
Weight (g): 350
Material: Aluminium
Colour: Black
Operating Temperature: 0°C ~ 40°C
Power Supplies:
Multi-Voltage Power Supply : 100-240V 0.2A 50/60Hz to 5V DC 1000mA 6W Max Power Supply Center Positive
Connects From :
Connects To :

Composite - RCA / AV (TV)
S-Video (TV)

Composite - RCA / AV (TV)
S-Video (TV)
Converts From :
Converts To :

PAL B
NTSC M - NTSC 3.58
NTSC N - NTSC 4.43
SECAM B
PAL D
PAL N
PAL G
PAL H
PAL I
PAL K
PAL M
SECAM D
SECAM G
SECAM H
SECAM K
SECAM K1
SECAM L
MESECAM

PAL B
NTSC M - NTSC 3.58
NTSC N - NTSC 4.43
PAL D
PAL N
PAL G
PAL H
PAL I
PAL K
PAL M
1 x Video System Converter
1 x Product Manual
PAL/NTSC Video System Converter - Full View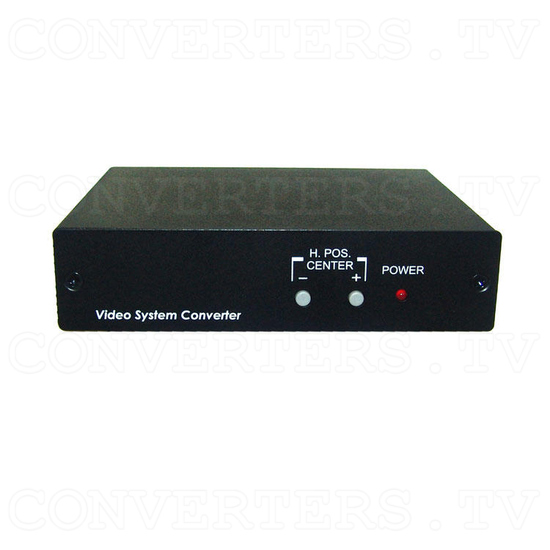 PAL/NTSC Video System Converter - Front View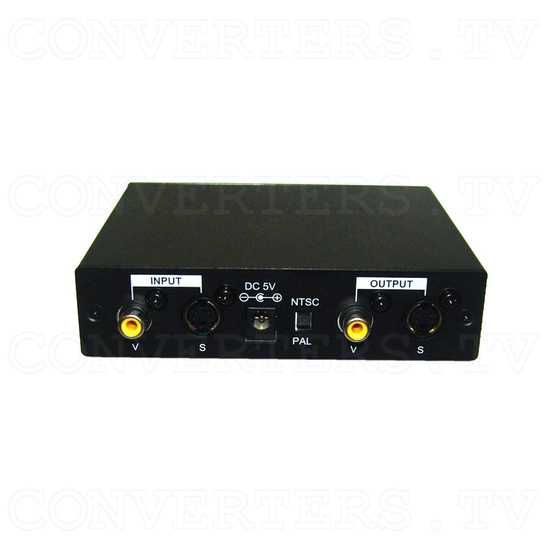 PAL/NTSC Video System Converter - Back View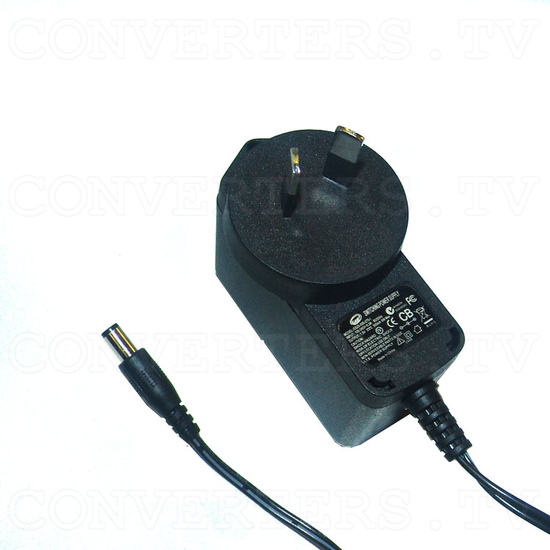 PAL/NTSC Video System Converter - Power Supply 110v OR 240v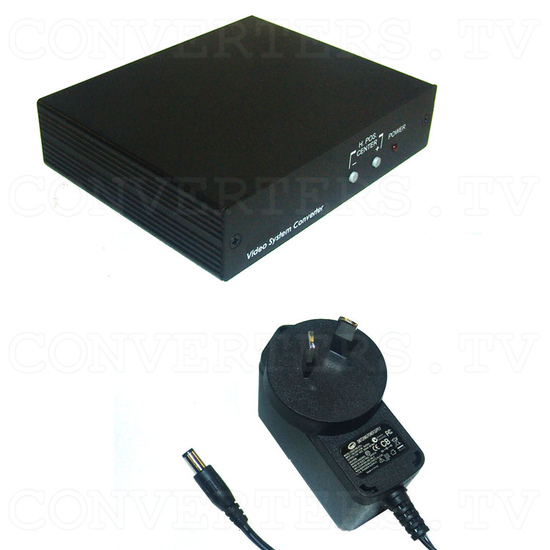 PAL/NTSC Video System Converter - Full Kit