| | |
| --- | --- |
| | PAL & NTSC to PAL & NTSC Converter (Multisystem)--- (KDV 1000) |
This stylish and compact converter is used for quality video conversion and duplication, and converts signals from NTSC, PAL or SECAM to NTSC, PAL or SECAM.

It can be used to convert PAL tapes to NTSC and NTSC tapes to PAL. The S-Video function also allows conversion of high quality video signals from DVD or Mini-DV Camcorders. This unit can convert TV signals from a local tuner such as a cable box, VCR or satellite receiver which allows for a PAL TV to be used in a NTSC country, or an NTSC TV to be used in a PAL/SECAM country.

| | | | |
| --- | --- | --- | --- |
| Unit Dimensions: | 22.5 x 4.0 x 13.0 cm | Shipping Weight: | 1.00 kg |
| Location: | NSW, Australia | Item Type: | Digital Video System Converters |
| Condition: | New | Warranty : | 12 Months |
| Manual : | User Manual (132.71 KB) | | |
Features:
Field memory speed 40MHz
Crisp and clear converted video signals
Composite in/out and S-Video in /out.
Input signals of NTSC 3.58 / NTSC 4.43, PAL, PAL M/N and SECAM can be converted to either NTSC 3.58 / NTSC 4.43, PAL, PAL M/N or SECAM.
Input signal can be set manually or automatically.
Built-in automatic gain control ensures 1 Vp-p output signal to optimise video quality.
Built-in Time Base Correction function for signal synchronisation.
Variable auto switching power supply gives undisturbed power to the converter as long as input voltage is between 85-265 Volts 50-60 hertz.
Soft button can be used to haze sharp pixilation on screen display.
Power Supply: DC 5V 1.2A
Polarity: Centre Positive.
Power Consumption: 4W.
Inputs:
Composite video RCA connector
S-Video 4-pin mini DIN connector
Outputs:
Composite video RCA connector
S-Video 4-pin mini DIN connector
Please Note:
Power supply available in 110V or 220V (please mention the type you require when ordering)
Power plug adapter available for most countries (please mention the type you require when ordering)
Power Supplies:
Multi-Voltage Power Supply : 100 - 240VAC to 5V DC 2.6A Switch Mode Power Supply - Center Positive
Connects From :
Connects To :

Composite - RCA / AV (TV)
S-Video (TV)

Composite - RCA / AV (TV)
S-Video (TV)
Converts From :
Converts To :

PAL B
NTSC M - NTSC 3.58
NTSC N - NTSC 4.43
SECAM B
PAL D
PAL N
PAL G
PAL H
PAL I
PAL K
PAL M
SECAM D
SECAM G
SECAM H
SECAM K
SECAM K1
SECAM L
MESECAM

PAL B
NTSC M - NTSC 3.58
NTSC N - NTSC 4.43
SECAM B
PAL D
PAL N
PAL G
PAL H
PAL I
PAL K
PAL M
SECAM D
SECAM G
SECAM H
SECAM K
SECAM K1
SECAM L
MESECAM
1 x PAL & NTSC to PAL & NTSC Converter (Multisystem)--- (KDV 1000)
1 x Product Manual
2 x S-Video - Super Video Cable (Male to Male)
2 x Composite - RCA Cable (Male to Male)
1 x 100-240VAC to 5V DC 2.6A Switch Mode Power Supply (Center Positive)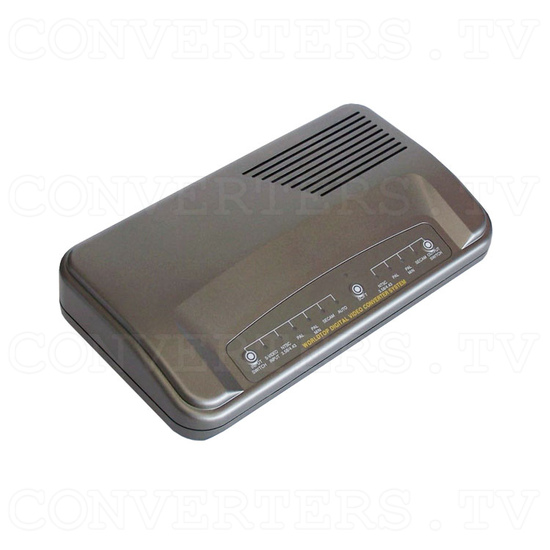 PAL & NTSC to PAL & NTSC Converter (Multisystem)--- (KDV 1000) - Full View
PAL & NTSC to PAL & NTSC Converter (Multisystem)--- (KDV 1000) - Front View
PAL & NTSC to PAL & NTSC Converter (Multisystem)--- (KDV 1000) - Back View
PAL & NTSC to PAL & NTSC Converter (Multisystem)--- (KDV 1000) - Composite - RCA Cable (Male to Male)
PAL & NTSC to PAL & NTSC Converter (Multisystem)--- (KDV 1000) - S-Video - Super Video Cable (Male to Male)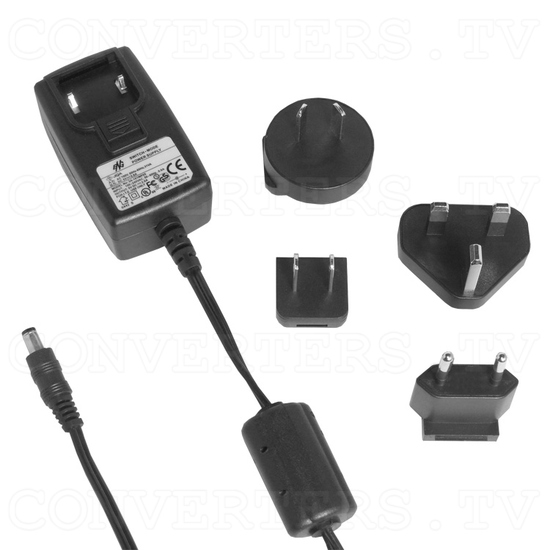 PAL & NTSC to PAL & NTSC Converter (Multisystem)--- (KDV 1000) - Power Supply 110v OR 240v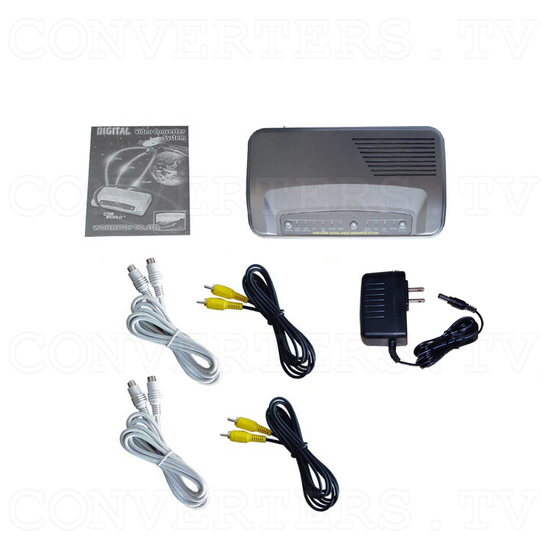 PAL & NTSC to PAL & NTSC Converter (Multisystem)--- (KDV 1000) - Full Kit