Multisystem TV Pattern Generator

save 8%




Multisystem TV Pattern Generator provides hundreds of TV video signals and test patterns. Covering all the major Video formats such as PAL, PAL-N, PAL-M, NTSC, NTSC-4 and SECAM. Ideal for use by Factories and Technicians for Research & Development, maintainence, repair and calibration, TV station test broadcasts and CATV (Cable TV) Head-end systems.

Use the various test pattern signals of the Multisystem TV Pattern Generator in different applications to determine quality and reliability of all types of Composite Video, Super Video and Component Video displays. Some basic tests that can be incorporated using the various patterns include Overall Linearity and Geometry, Framing, Reflections, Centring, White setting, Static convergence, Focus, Video Bandwidth, Amplitude response/resolution...to name a few.

A quality test instrument designed for the testing and calibration of TV's and monitors with efficiency, accuracy and safety.

| | | | |
| --- | --- | --- | --- |
| Unit Dimensions: | 28.0 x 19.5 x 8.0 cm | Shipping Weight: | 2.36 kg |
| Location: | NSW, Australia | Item Type: | Other Products |
| Condition: | New | Warranty : | 12 Months |
| Manual : | User Manual (550.29 KB) | | |
Features:
On board OSD (On Screen Display) indicates the video Format of the output signal. (PAL/NTSC/SECAM)
Fourteen basic test patterns are provided including: Circle, 8-step Grey Scale, 16-step Grey Scale, Color Bar, Multiburst, Color Difference R-Y, B-Y, Moving white Field, White Pattern, Checkerboard, Crosshatch, Dots, Center Cross, and Purity Patterns.
More than 100 different test patterns are available through using a combination of the 14 basic patterns.
Multiburst pattern comprises full screen definition pattern of 8 vertical bars at frequencies of 0.1, 1.8, 2.8, 3.0, 3.4, 3.8 and 4.8 MHz.
Four different speeds are available for the Moving White Field, for testing fast motion picture.
Multi-system output suits worldwide TV Video systems: NTSC 3.58, NTSC 4.43, PAL, PAL M, PAL N, and SECAM.
Three Video Output Interfaces: Composite video, S-Video (Y/C Separation) and Component (Color Difference Y, R-Y, B-Y)
Specifications:
TV System -
Colour System/ H.Lines / V. Freq / H.Freq / Colour Subcarrier
NTSC3.58 / 525 lines / 59.94Hz / 15.734kHz / 3.579545MHz
NTSC4.43 / 525 lines / 59.94Hz / 15.734kHz / 4.433619MHz
PAL / 625 lines / 50.0Hz / 15.625kHz / 4.433619MHz
PAL-M / 525 lines / 59.94Hz / 15.734KHz / 3.575611MHz
PAL-N / 625 lines / 50.0Hz / 15.625kHz / 3.582056MHz
SECAM / 625 lines / 50.0Hz / 15.625kHz / FoR = 4.406250MHz; FoB = 4.250000MHz
Basic Patterns -
Circle: White circle on Black background in centre of screen
Centre Cross: White centre cross and black/white border castellations for 3% over-scan indication
Dots: 17 x 13 (525 line system), 17 x 12 (625 line systems)
Crosshatch: 17 x 13 (525 line system), 17 x 12 (625 line systems)
Checkerboard: Full field checkerboard with 8x6 Black/White block
Greyscale: 8-step linear Greyscale, 16-step linear Greyscale
Multiburst: Full screen definition pattern of 8 vertical bars (0.1, 1.8, 2.8, 3.0, 3.4, 3.8, 4.8MHz)
VCR Pattern: 1/6 vertical white rectangle, 4 different moving speeds
Colour Bar: Full field colour bar pattern with vertical bars - White/Yellow/Cyan/Green/Magenta/Red/Blue/Black
Colour Difference: 16 steps of linearly decreasing R-Y and B-Y
Purity: 3 Primary Colours - Red/Blue/Green
Connects From :
Connects To :

Composite - BNC (TV)
S-Video (TV)
Component - Y/Pb/Pr
| Converts From : | Converts To : |
| --- | --- |
| | |
1 x Multisystem TV Pattern Generator
1 x Product Manual
1 x 240vAC Power Cable
2 x Power Fuses
Multisystem TV Pattern Generator - Full View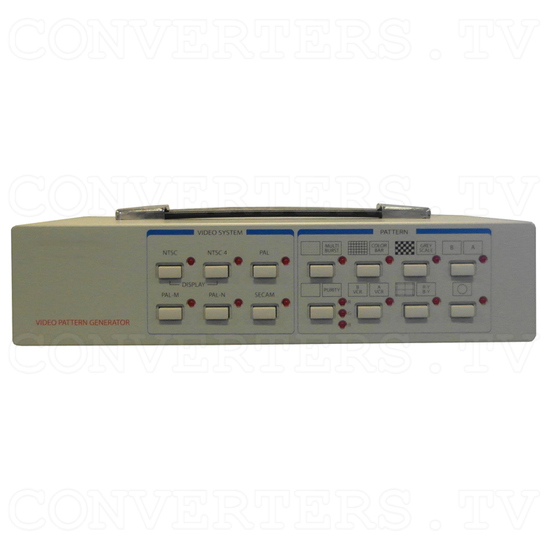 Multisystem TV Pattern Generator - Front View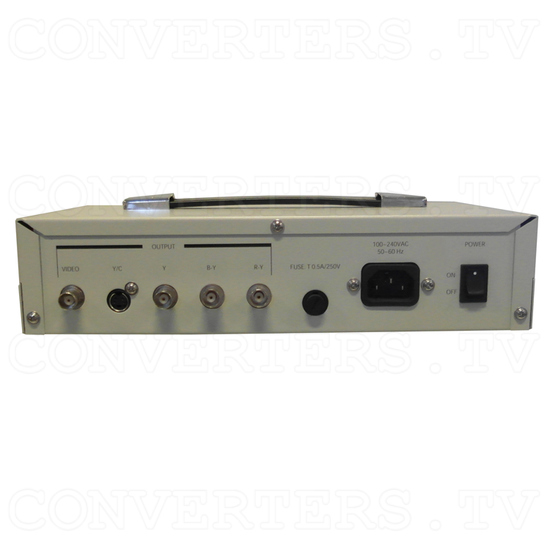 Multisystem TV Pattern Generator - Back View