| | |
| --- | --- |
| | AV-4410 RF Modulator |
A compact AV-4410 to RF modulator. Which converters your any Pal video source that can be connected via the standard AV (composite) plug to RF (attenna) plug.

This conversion is called modulation, your video and audio signals are combined and modulated to a specific frequency much like free to air tv is. So to pick up the signal you only need to tune your tv or vcr, etc to that specific frequency in this case 57.25MHz which is best to be tuned onto channel 1 of your tv or select device.

| | | | |
| --- | --- | --- | --- |
| Unit Dimensions: | 15.0 x 3.5 x 8.0 cm | Shipping Weight: | 0.50 kg |
| Location: | NSW, Australia | Item Type: | |
| Condition: | New | Warranty : | 12 Months |
Features:
Can convert AV and S-video signals to RF signals
Can change signal system and has the function of antenna signal input
Specifications:
Power Supply: 240VAC 50Hz
Input AV System: PAL
Colour subcarrier frequency: 5.5Mhz
Video Input: 1Vp-p; 75 ohms
Audio Input: -20dB; 25 Kohms
Frequency: 57.25Mhz
Connection Terminals Input: Video x 1, Audio x 2, Antenna Jack x 1
Connection Terminals Output: RF x 1
Power: 240V Power Cable
Connects From :
Connects To :

Composite - RCA / AV (TV)
S-Video (TV)
RF (TV)
Converts From :
Converts To :

PAL B
PAL D
PAL G
PAL H
PAL I
PAL K

PAL B
PAL D
PAL G
PAL H
PAL I
PAL K
AV-4410 RF Modulator - Full View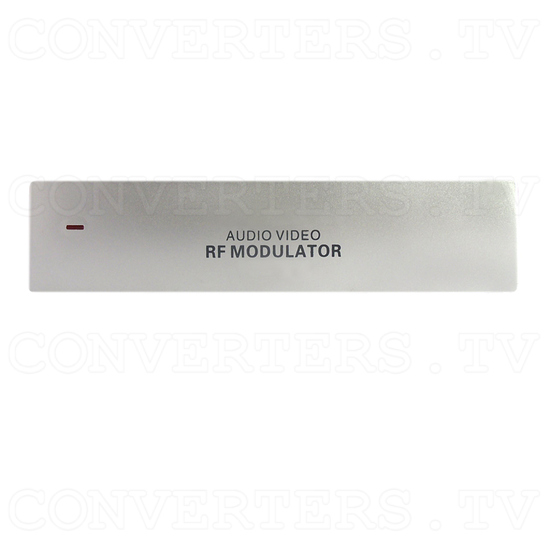 AV-4410 RF Modulator - Front View
AV-4410 RF Modulator - Back View
AV-4410 RF Modulator - Full Kit