Video to HDMI Converter

save 40%




The Video to HDMI Converter connects your Set Top Box, DVD player, or Game Console etc to your High Definition TV for quality image display. Then using the switcher button, you can 'switch' between watching television and watching a DVD, or playing a video game, without having to disconnect and reconnect anything. This product supports PAL and NTSC video formats.

The Video to HDMI Converter takes a Composite Video (CV) or S-video (SV) signal + Audio L/R and combines and upscales the video and audio signals to a High Definition (HD) 720p@60Hz HDMI output signal.

Upscale Standard Definition Composite video or Super-video to High Definition 720p video using the Video to HDMI Converter. Video formats PAL and NTSC are supported, however the output video format will be equal to the input video format i.e. PAL in equals PAL out, NTSC in equals NTSC out.

Compact and cheap to operate, this Video to HDMI Converter is ideal as a simple plug'n'play solution to your cabling nightmares.

| | | | |
| --- | --- | --- | --- |
| Unit Dimensions: | 13.4 x 8.7 x 2.0 cm | Shipping Weight: | 0.49 kg |
| Location: | NSW, Australia | Item Type: | |
| Condition: | New | Warranty : | 12 Months |
| Certificates : | CE, CTick, UL | Manual : | User Manual (1.07 MB) |
Features:
HDMI HD 720p@60Hz output PAL or NTSC (out format = in format)
SD PAL/NTSC S-video signal input
SD PAL/NTSC CV signal input
R/L audio signal input
Adaptive PAL/ NTSC standard
Status Led Light-when signal source or signal end is working, the relative light will go bright.
Support output up to 20 meters AWG26
Inputs can be switched by button
No loss of quality
Installs in minutes
Needs DC5V/1A power supply
Specifications:
Input signal support: CV and SV
Audio input support: R/L Analog
Support HDMI output: 720p@60Hz
CV signal input: 0.5-1.0 Volts p-p 75ohm
S-Video Y/C signal input: 0.5-1.0Volts p-p 75ohm
Audio (R/L): 0.5-3 Volts p-p (TTL)
Max working current: 600mA
Output cable length: ≤20m, use 26AWG HDMI cable
Power: 100-240VAC to 5vDC 1A
Working temperature range: (-15 to + 55ºC)
Working moisture range: 5 to 90% RH (no condensation)
Dimension (LxWxH): 134x89x22
Weight: 325g
Connects From :
Connects To :

Composite - RCA / AV (TV)
S-Video (TV)
Analog Stereo L/R Jacks
Converts From :
Converts To :

PAL B
NTSC M - NTSC 3.58
NTSC N - NTSC 4.43
PAL D
PAL N
PAL G
PAL H
PAL I
PAL K
PAL M
1 x Video to HDMI Converter
1 x Product Manual
1 x Power Supply 100-240vAC to 5vDC 2A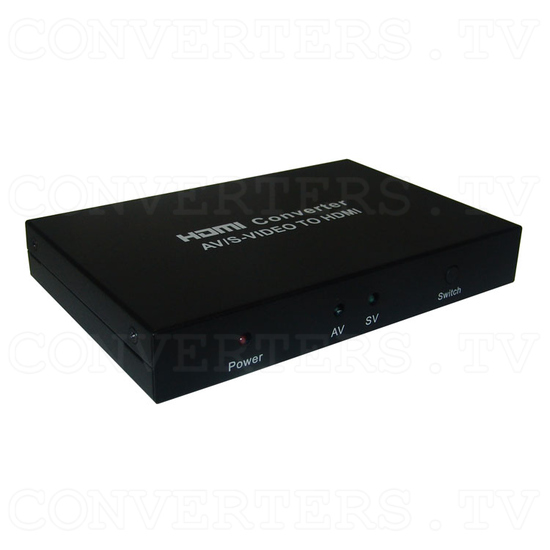 Video to HDMI Converter - Full View
Video to HDMI Converter - Front View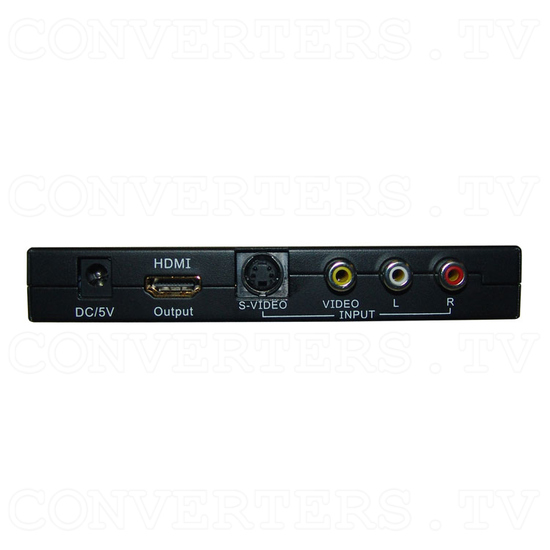 Video to HDMI Converter - Back View
Video to HDMI Converter - Power Supply 110v OR 240v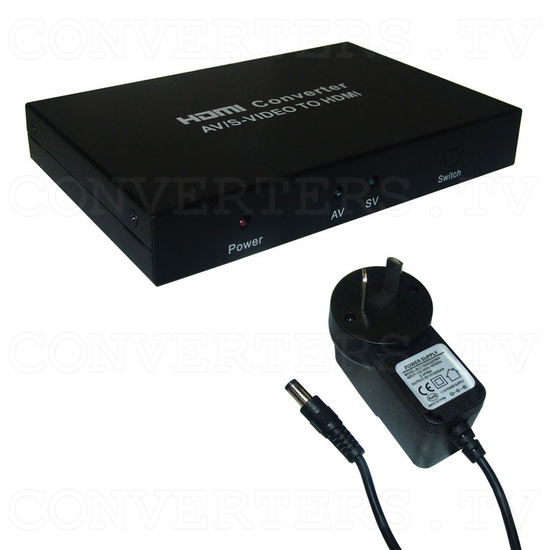 Video to HDMI Converter - Full Kit