| | |
| --- | --- |
| | Video / S-Video to HDMI Scaler Box |
| | |
| --- | --- |
| This product has been replaced by : | View other products in this category |
Video / S-Video to HDMI Scaler Box is designed to accept Pal and NTSC video signals and upscale to High Definition 720p resolution. The input Vertical rate of 50/60Hz is auto-detected and the output 720p Vertical rate is switch selectable for 50/60Hz working. Compact and sturdy, the Video / S-Video to HDMI Scaler Box is easy to install and operate.

The Video / S-Video to HDMI Scaler Box supports Standard Definition video upscale from 480i or 576i to High Definition 720p format. Video input connection is via Composite or S-Video cable and output is HDMI cable. The input is selected by a switch, with a coloured LED light to indicate which input is operating. The input auto-detects the signal as PAL or NTSC. The 720p HDMI output has a switch selector for 50Hz (PAL) or 60Hz (NTSC) to connect to the HDTV.

Audio is also input to the Video / S-Video to HDMI Scaler Box by an RCA socket (Analog Stereo L/R) and is combined with the HDMI output signal. The Audio is also passed-thru to an RCA (Analog Stereo L/R) socket output for connection to an external Amplifier/Sound System. Automatic Lipsync (audio delay) ensures Audio and Video synchronisation of the two input signals to the output.

Power for the Video / S-Video to HDMI Scaler Box is via a Switch Mode 100-240vAC to 5vDC 2.6A (centre +ve) supply. This allows the converter to be used with any Power Supply system in the World. The HDMI output of the Scaler Box can also be used for DVI connection by use of a suitable HDMI to DVI adaptor.

| | | | |
| --- | --- | --- | --- |
| Unit Dimensions: | 7.7 x 15.5 x 3.0 cm | Shipping Weight: | 0.73 kg |
| Location: | NSW, Australia | Item Type: | |
| Condition: | New | Warranty : | 12 Months |
| Certificates : | CE, CTick, UL | Manual : | User Manual (496.57 KB) |
Features:
Supports PAL and NTSC (3.58) Video input signals.
Supports CV or SV input, switch selectable.
Input Vertical rate 50Hz or 60Hz is auto-detected.
Output Vertical rate of 50Hz or 60Hz is switch selectable (works only with PAL@50Hz input).
Audio lipsync (audio delay) for synchronising Video and Audio input signals.
Audio output via HDMI and pass-through RCA socket.
DVI compatible with HDMI to DVI adaptor.
LED indicator: Green = Composite Video input; Red = S-Video input.
Specifications:
Input Systems:
Video Systems: NTSC 3.58, PAL, RGB50Hz, RGB60Hz - Auto Detected.
Audio System: Analog Stereo Left/Right
Analog Stereo Audio lipsync to Video signal.
Audio delay time is 112mS@48kHz sampling rate.
Input Connectors:
1 x Composite video
1 x S-Video
CV or SV input switch selector
1 x Audio RCA jack 3.5mm
Output Systems:
When input is NTSC 3.58 / RGB60Hz = output 720p 60Hz
When input is PAL / RGB50Hz = output is 50Hz or 60Hz switch selectable
Output Connectors:
1 x HDMI Type A
1 x Audio RCA jack 3.55mm
Power Supply: Switch Mode 100-240vAC to 5vDC 2.6A (centre +ve)
Dimensions (cm's): 7.7(w) x 15.5 (d) x 3.0 (h)
Weight (Kg): 0.295
Chassis: Black Metallic
Power Supplies:
Multi-Voltage Power Supply : 100 - 240VAC to 5V DC 2.6A Switch Mode Power Supply - Center Positive
Connects From :
Connects To :

Composite - RCA / AV (TV)
S-Video (TV)
Converts From :
Converts To :

PAL B
NTSC M - NTSC 3.58
PAL D
PAL N
PAL G
PAL H
PAL I
PAL K
PAL M
1 x Video / S-Video to HDMI scaler box
1 x Product Manual
1 x 100-240VAC to 5V DC 2.6A Switch Mode Power Supply (Center Positive)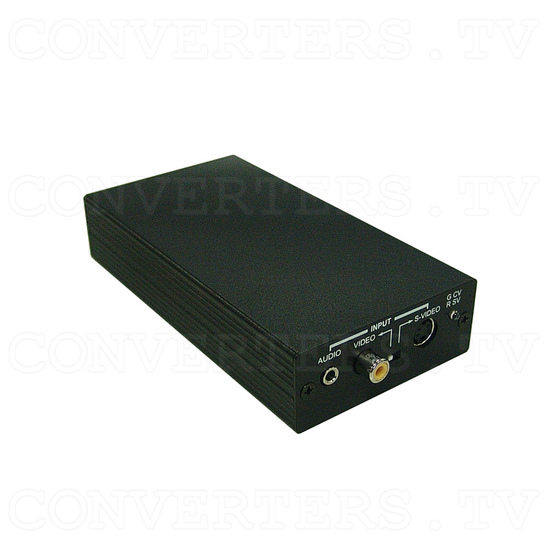 Video / S-Video to HDMI Scaler Box - Full View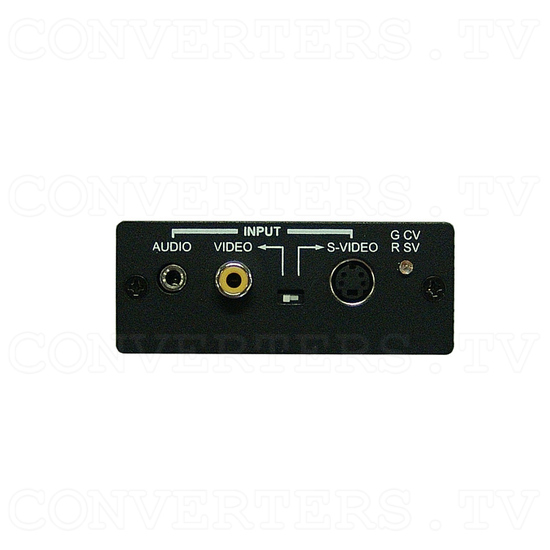 Video / S-Video to HDMI Scaler Box - Front View
Video / S-Video to HDMI Scaler Box - Back View
Video / S-Video to HDMI Scaler Box - Side view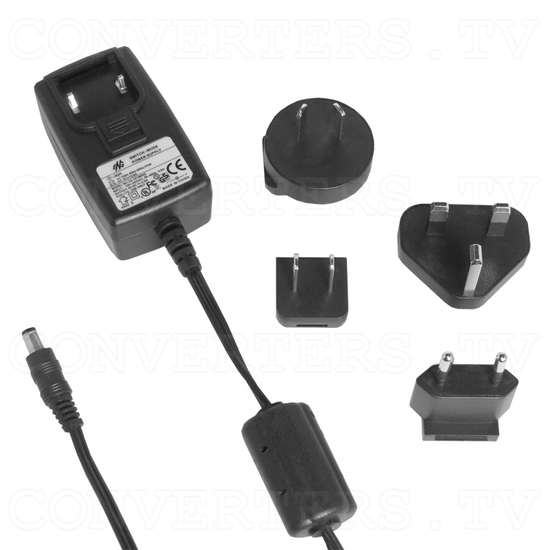 Video / S-Video to HDMI Scaler Box - Power Supply 110v OR 240v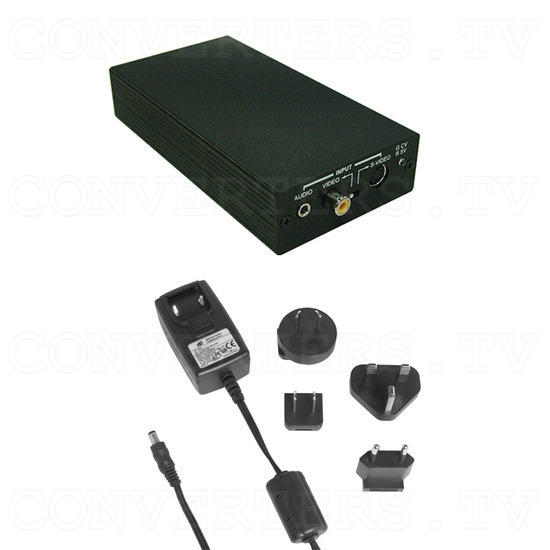 Video / S-Video to HDMI Scaler Box - Full Kit