| | |
| --- | --- |
| This product has been replaced by : | View other products in this category |
Scart to HDMI converter scales Scart RGB or Video up to HDTV 720p format. Audio is passed through the converter and timed for audio/video synchronisation. Ideal for using older style DVD and VCR players with your new High Definition TV. Auto detects NTSC/PAL/RGB. This is a very easy to use converter. Simply plug and play.

The Scart to HDMI converter accepts a Scart RGB or Video signal via its input Scart connector and outputs High Definition 720p using the HDMI connector. Audio is also able to be run from this converter to your HDTV audio inputs or to a separate Audio Hi-Fi system.

This Scart to HDMI converter enables older style Playback devices with Scart output connection to be used with the new age HDMI HDTV. Can also be used with DVI input TV's by using a HDMI/DVI adaptor cable or device. No changes are required to use this converter, it is a simple Plug and Play device.

| | | | |
| --- | --- | --- | --- |
| Unit Dimensions: | 15.0 x 7.5 x 3.0 cm | Shipping Weight: | 0.76 kg |
| Location: | NSW, Australia | Item Type: | HDMI Converters |
| Condition: | New | Warranty : | 12 Months |
| Certificates : | CE, UL | Manual : | User Manual (117.48 KB) |
Features:
Stylish, solid, black metal housing.
All connectors and LED are clearly labelled and accessible.
Auto detects NTSC3.58 / PAL / RGB 50Hz and 60Hz.
Output Vertical rate 50Hz or 60Hz follows input Vertical rate.
Scales Scart RGB or video to HDMI 720p (50Hz or 60Hz) format.
Input vertical rate 50Hz or 60Hz
Audio Pass-thru is "auto lipsync" to synchronise with the output HDMI video signal.
Audio is also incorporated with the HDMI signal.
Compatible for DVI using a HDMI/DVI adaptor cable.
Low power consumption.
Specifications:
Input Systems: NTSC3.58 / PAL / RGB 50Hz & 60Hz all auto-detected.
Scart RGB-control pin (pin16): auto-detects RGB or CVBS switching.
Scart Audio: Analog Left & Right.
Analog Audio lipsync (audio delay) to output video.
Audio delay time is 112mS for 48kHz sampling rate.
Input Connector: RGB Scart (RGB 0.7v p-p 75ohm; CV 1v p-p 75ohm.)
Output Systems: Input NTSC3.58 / RGB 60Hz = 720p 60Hz; Input PAL / RGB 50Hz = 720p 50Hz; Audio Input = pass-thru phone-jack output.
Output Connectors: 1 x HDMI Type A (female); 1 x Audio phone-jack.
Power: Universal Switch Mode 100-240vAC to 5vDC 2.6A
Dimensions (cm's): 15.0(w) x 7.5(d) x 3.0(h)
Weight: 292 grams
Power Supplies:
Multi-Voltage Power Supply : 100 - 240VAC to 5V DC 2.6A Switch Mode Power Supply - Center Positive
| Connects From : | Connects To : |
| --- | --- |
| | |
Converts From :
Converts To :

PAL B
NTSC M - NTSC 3.58
PAL D
PAL N
PAL G
PAL H
PAL I
PAL K
PAL M
RGB (15K Video)
RGB Sync on Green RGsB
RGB Combined Sync - RGBH+V
RGB Separate Sync - RGBHV
1 x SCART to HDMI Converter
1 x Operating Manual
1 x Product Manual
1 x 100-240VAC to 5V DC 2.6A Switch Mode Power Supply (Center Positive)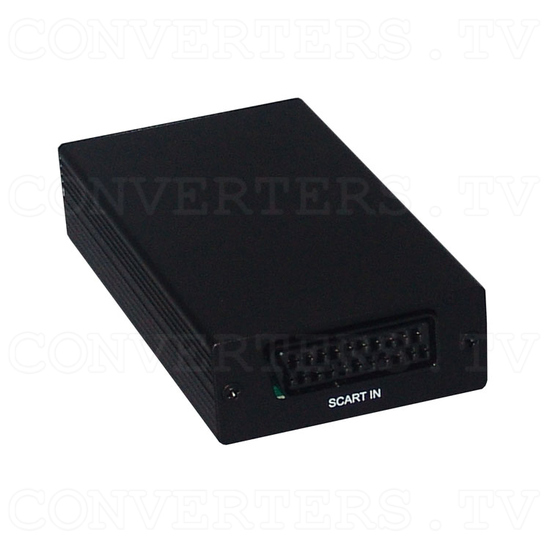 SCART to HDMI Converter - Full View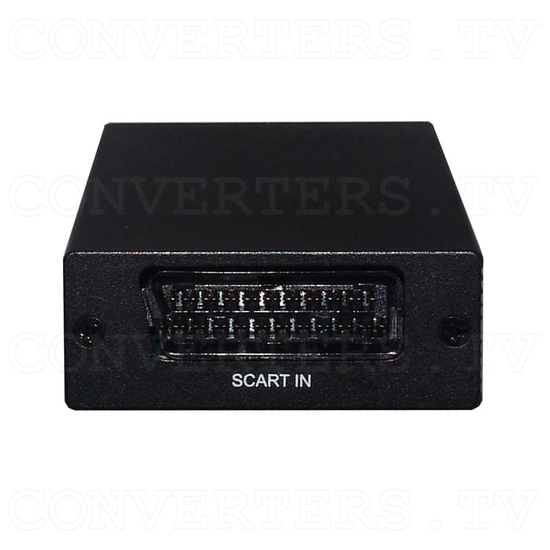 SCART to HDMI Converter - Front View
SCART to HDMI Converter - Back View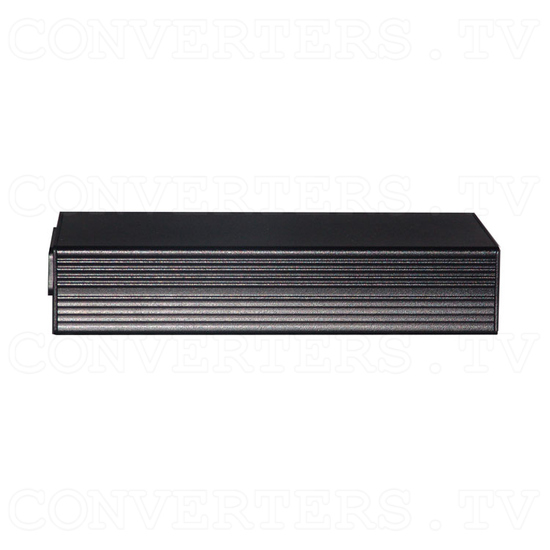 SCART to HDMI Converter - Side View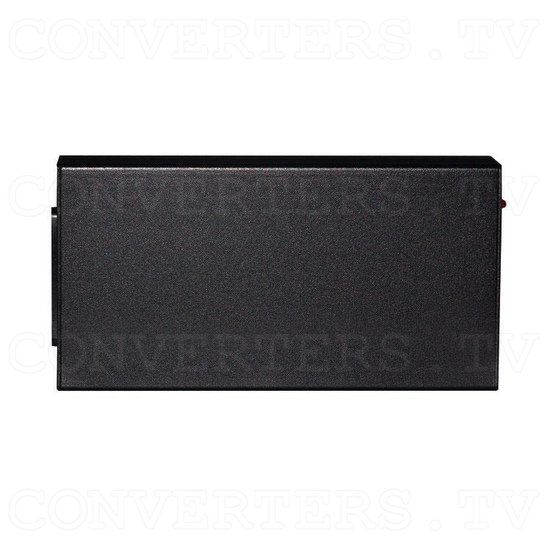 SCART to HDMI Converter - Top View
SCART to HDMI Converter - Power Supply 110v OR 240v
SCART to HDMI Converter - Full Kit