| | |
| --- | --- |
| | Video to USB 2.0 Adapter (USB201) |
The USB201 is a plug-n-play realtime video capture box with USB 2.0 interface to PC.

It can be used to preview, record, or playback videos from a VCR, camcorder, or DVD on your PC. Input can be captured in MPEG1 or MPEG2 format, which subsequently can be edited, titles added and burnt to a disc to create your own VCD, SVCD, or DVD titles. You can also snapshot a video to create a stil image in BMP of JPEG format. USB 2.0 interface provides a high-speed transmission rate so you can watch video programs at high resolution up to DVD quality. it offers a simple and easy way to get all of your old VHS tapes or movies onto VCD or DVD so you preserve your family treasures for a lifetime.

Comes with driver, application software and USB cable. No power adaptor needed.

| | | | |
| --- | --- | --- | --- |
| Unit Dimensions: | 10.0 x 6.0 x 2.0 cm | Shipping Weight: | 0.24 kg |
| Location: | NSW, Australia | Item Type: | Other Products |
| Condition: | New | Warranty : | 12 Months |
| Certificates : | CE | Manual : | User Manual (146.19 KB) |
Features:
External USB 2.0 plug-n-play video capture box, no power adaptor needed.
Composite Video or S-Video input; supports NTSC, PAL & SECAM input system.
Bundled with capture and edit software - USB 2.0 DVR for preview, record & playback AV signal on your PC, and InterVideo WinProducer 3 for video editing and burning video into VCD or DVD disc.
Snapshot to save still image as BMP or JPEG file.
Video captured in MPEG1 and MPEG2 format.
High video resolution up to DVD quality.
Supports resolutions up to 720x480(NTSC) / 720x576(PAL).
Preview on full screen and window size adjustable.
Playback captured video without any time delay - 29.2 fps.
Compatible OS: Windows 98/ME/2000/XP.
Specifications:
Input Signal: NTSC/PAL/SECAM Composite video or S-Video(Y/C) at 1 V p.p. 75ohm.
Output format: Snapshot still image - BMP or JPEG.
USB Interface: Fully compliant with USB Specification Revision 2.0.
Accessories: 1 x USB cable, 1 x Video cable, User Manual, 1 x Software Installation Disk (includes driver, AP software - USB DVR, InterVideo WinProducer, Directx 8.1), Serial number for InterVideo WinProducer software.
Captured Video Resolution: NTSC ?720x480(DVD), 640x640(MPEGII), 352x240(SIF/MPEGII/MPEGI), 29.97fps(Frame rate), PAL/SECAM 720x576(DVD), 640x480(MPEGII), 352x288(SIF/MPEGII/MPEGI), 25fps(Frame rate).
Data Transmitting Rate: Video (max) ?6Mbps(DVD), 6Mbps(MPEGII), 2Mbps(SIF/MPEGII/MPEGI), Audio (max) ?44.1kHZ/384kbps (DVD), 48kHZ/384kbps (SIF/MPEGII), 44.1kHZ/224kbps (MPEGI)
Connects From :
Connects To :

Composite - RCA / AV (TV)
S-Video (TV)

USB (PC) Type A Device Ports
| Converts From : | Converts To : |
| --- | --- |
| | |
1 x Video to USB 2.0 Adapter (USB201)
1 x Product Manual
1 x Composite - RCA Cable (Male to Male)
1 x USB to USB-D Plug
1 x Software
Video to USB 2.0 Adapter (USB201) - Full View
Video to USB 2.0 Adapter (USB201) - Front View
Video to USB 2.0 Adapter (USB201) - Back View
Video to USB 2.0 Adapter (USB201) - Top View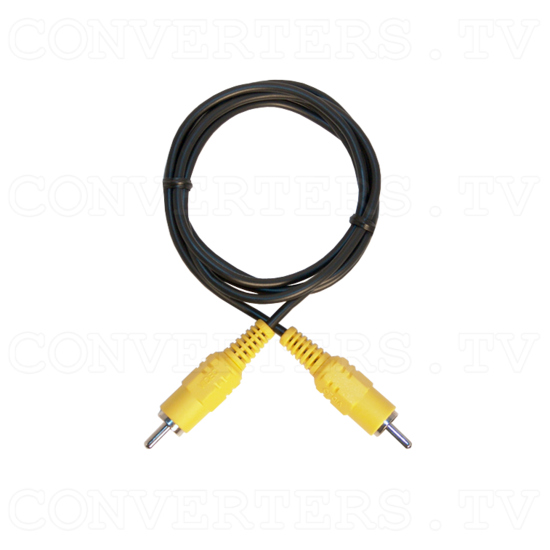 Video to USB 2.0 Adapter (USB201) - Composite - RCA Cable (Male to Male)
Video to USB 2.0 Adapter (USB201) - USB to USB-D Plug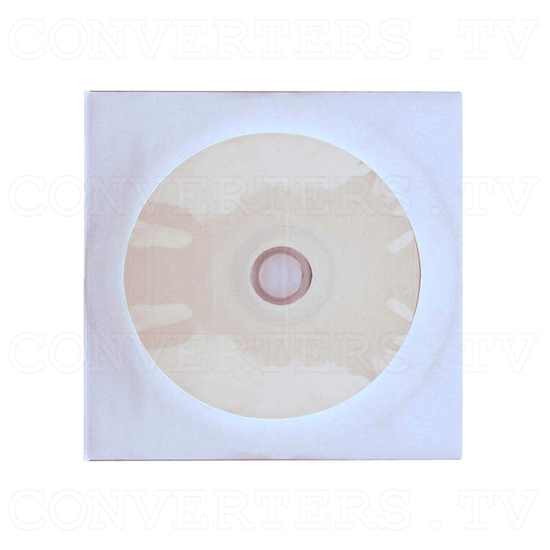 Video to USB 2.0 Adapter (USB201) - Software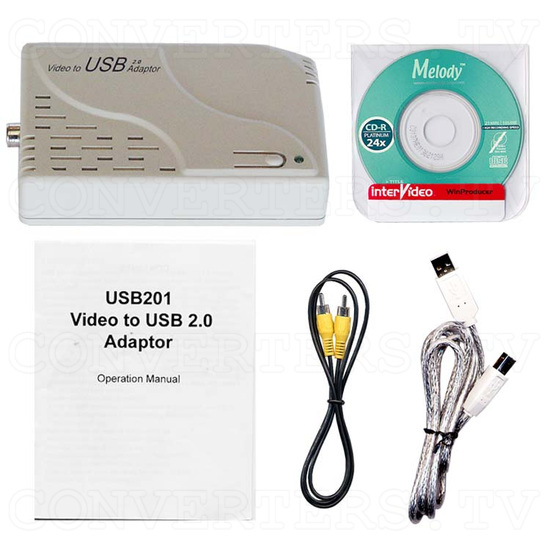 Video to USB 2.0 Adapter (USB201) - Full Kit