HDMI v1.3 4 In 4 Out Matrix Box

save 56%




The HDMI v1.3 4 In 4 Out Matrix Box provides an excellent solution for connecting multiple HDMI devices and displays together, connecting four HDMI sources to four High Definition displays in any combination, giving you up to 16 display scenarios. Ideal for use in Professional, Academic fields and Private Home theatres.

For example, you could connect a Blu-Ray player to the unit via a HDMI input, with the matrix box able to duplicate the HDMI signal received on up to four separate and identical High Definition signal outputs. This results in identical High Definition digital video and audio reproduction on all of the connected HDTV displays.

Other possibilities include using the Matrix Box as a switcher box, where you could connect multiple devices such as a Set-Top Box, a Game Console and a DVD Player to the one display device, allowing you to easily switch between the sources.

Or connect four devices and output each device to a separate display. You can use any combination of input to output, making this HDMI Matrix Box very versatile and adaptable.

The device can be controlled via buttons on the front of the unit or via the included remote control, making for easy and simple operation for display of your selected video devices. RS232 control is available for use when connected to your remote PC.

This Matrix unit can also be used with DVI products by use of a HDMI/DVI cable.

| | | | |
| --- | --- | --- | --- |
| Unit Dimensions: | 43.8 x 17.5 x 4.9 cm | Shipping Weight: | 4.00 kg |
| Location: | NSW, Australia | Item Type: | HDMI Video Matrix |
| Condition: | New | Warranty : | 12 Months |
| Certificates : | CE, CTick, UL | Manual : | User Manual (240.84 KB) |
Features:
HDMI 1.3, HDCP 1.1 and DVI 1.0 compliant
Supports digital video formats in Deep Color 12bit and new lossless compressed (Dolby TrueHD, Dolby Digital Plus and DTS-HD Master Audio) digital audio
The HDMI input is compensated, clock / phase adjusted, and jitter eliminated so the output is a brand new standard HDMI signal
Supports input source LED indicators on each output select
Compatible with all HDMI sources and displays
Compatible with DVI sources and displays
Supports a wide range of PC and HDTV resolutions from VGA to UXGA and 480i to 1080p
Supports RS-232 control
Supports IR remote control and IR extender
Dolby Digital, DTS digital audio transmission (32-192 kHz Fs sample rate)
Supports LPCM7.1 channels output from each independent HDMI ports
HDMI cable distance test with 1080p/8bit resolution, the Input/Output source can run up to 15/15 meters. with 1080p/12bit the Input/Output source can run up to 15/6 meters
Specifications:
Frequency Bandwidth: 2.25Gbps (single link)
Input Ports: 4 x HDMI female ports
Output Ports: 4 x HDMI female ports
EDID: Standard, TV/Moving Port 1
HDMI Audio Output: PCM2, PCM5.1, PCM7.1, Dolby5.1, DTS5.1, DD+, D-TrueHD, DTS-HD
HDMI Cable in: 1080p 8bit (15M), 1080p 12bit (15M)
HDMI Cable out: 1080p 8bit (15M), 1080p 12bit (6M)
Color Space: RGB_24/36,YCbCr 4:4:4_24/36, YCbCr 4:2:2,xvycc
IR: Yes
Deep Colour: 1080p 12bit
HDMI Resolution: 480I~1080p 50/60, 1080p 24, VGA~UXGA
DVI Resolution: 480I~1080p 50/60, 1080p 24, VGA~UXGA
Power Supply: 5VDC/5A (US/EU standards, CE/FCC/UL certified)
Dimensions (mm): 438(W) x 175(D) x 49(H)
Weight(g): 3100
Chassis Material: Metal
Silkscreen Colour: Black
Operating Temperature: 0°C ~ 40°C
Power Consumption: 16.5W(Max)
Connects From :
Connects To :

DVI - D (HDTV)
HDMI (HDTV)

DVI - D (HDTV)
HDMI (HDTV)
Converts From :
Converts To :

HDTV 480p
HDTV 576p
HDTV 720p
HDTV 1080p
HDTV 1080i
HDTV 480i
HDTV 576i

VGA (640 x 480 @ 4:3)
SVGA (800 x 600 @ 4:3)
XGA (1024 x 768 @ 4:3)
SXGA (1280 x 1024 @ 5:4)
UXGA (1600 x 1200 @ 4:3)
HDTV 480p
HDTV 576p
HDTV 720p
HDTV 1080p
HDTV 1080i
HDTV 480i
HDTV 576i
1 x 4 to 4 HDMI V1.3 Matrix Luxury Box
1 x Product Manual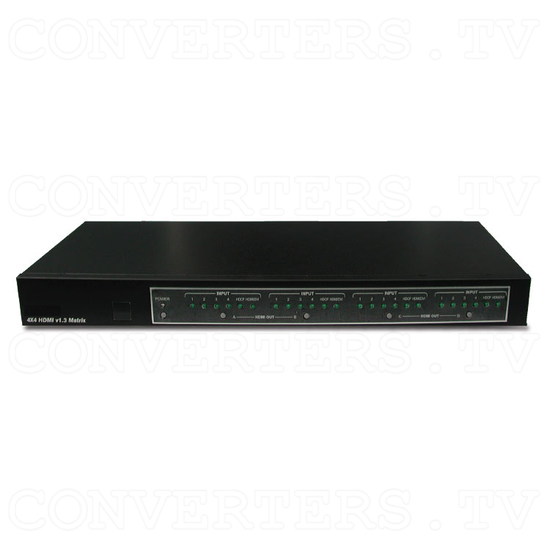 HDMI v1.3 4 In 4 Out Matrix Box - Full View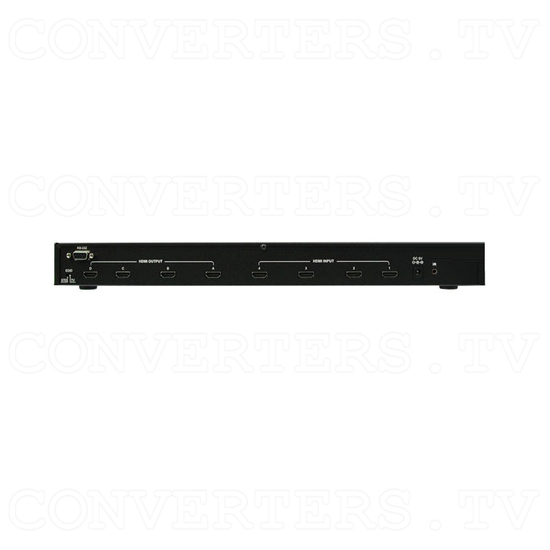 HDMI v1.3 4 In 4 Out Matrix Box - Back View