Component HD to Video Converter

save 37%




The Component HD to Video Converter (otherwise, known as Component HD YPbPr to Video Down Scaler with HD pass through) converts High Definition Progressive and Interlaced video @ 480i/p ~ 1080i/p@50/60Hz and 1080p@23/24/30Hz to selectable PAL or NTSC CV and SV format output. The High definition input is also passed through for connection to a HDTV. Video format of PAL or NTSC is switch selectable to output as Composite and S-Video for connection to Standard Definition TV's. With in-built Overscan / Underscan function, this converter is ideal for use in Business, Education and Private applications.

The Component HD to Video Converter is very easy to connect and operate as inter-connection from the signal source to the Standard or High Definition TV is straight forward and requires no special cabling or programming. Front and rear panel connection points are easy to access and clearly labeled. PAL or NTSC video output and Overscan/Underscan image is selected by a simple switch operation.

Conversions include:


HD Component to Composite Video/S-Video conversion
HD Component to NTSC/PAL frame rate conversion
Convert HD component signals for recording or distribution to SD systems
| | | | |
| --- | --- | --- | --- |
| Unit Dimensions: | 10.2 x 10.5 x 2.5 cm | Shipping Weight: | 0.47 kg |
| Location: | NSW, Australia | Item Type: | Digital Video System Converters |
| Condition: | New | Warranty : | 12 Months |
| Certificates : | CE, CTick, UL | Manual : | User Manual (201.98 KB) |
Practical Applications:
Lecture Halls and Auditoriums.
Educational Facilities such as Schools and Universities.
Shopping Malls and Large Retail Shops.
Sports Stadiums and Gymnasiums.
Recreational Resort and Accommodation Facilities.
Industrial Complexes.
Commercial Office Buildings.
Private Family Homes.
Component HD to Video Converter is ideal for use by:
Professional Advertisers.
Lecture Professors, Public and Private Teachers.
Industrial Manufacturers.
Commercial Shop owners.
Resort and Motel/Hotel Managers
Sports Organisers.
Concert, Stage and Theatre groups.
Private Home Owners.
Features:
Supports high resolution HD Progressive and Interlaced video input from 480i/p ~ 1080i/p@23/24/30/50/60Hz
Supports component (YPbPr) input and downscaling to Composite video and S-video output with HD bypass for simultaneous display output
Switch selectable NTSC or PAL format output
Switch selectable Overscan or Underscan function
Auto-phase adjustment to ensure better image display
Compact and sturdy silver aluminium casing.
LED power indicator.
All inputs, outputs and switches clearly labelled.
Easy to install and operate
Specifications:
Input: 1 x Component (YPbPr).
Supports: Progressive and Interlaced HD video
Outputs: 1 x Component (YPbPr), 1 x Composite, 1 x S-Video.
Switches: 1 x Overscan/Underscan, 1 x PAL/NTSC.
Power: US/EU standards CE/FCC/UL certification.
Power Supply: Universal Switch Mode Power Supply 100-240vAC to 5vDC 2.6A.
Power consumption: 5.5w
Dimensions: 10.2cm(w) x 10.5(d) x 2.5cm(h)
Weight: 230gms
Operating Temperature: 0°C to 40°C
Relatuive Humidity: 20 ~ 90% RH (non-condensing)
ESD protection: ±8kV (air-gap discahrge) ±4kV (contact discharge)
Accepted SD and HD Component Input resolutions:
720*480i@59/60Hz
720*480p@50/60Hz
720*576i@50/60Hz
720*576p@50/60Hz
1280*720p@50/59/60Hz
1920*1080i@50/59/60Hz
1920*1080p@23/24/30/50/60Hz
Power Supplies:
Multi-Voltage Power Supply : 100 - 240VAC to 5V DC 2.6A Switch Mode Power Supply - Center Positive
Connects From :
Connects To :

Composite - RCA / AV (TV)
S-Video (TV)
Component - Y/Pb/Pr
Converts From :
Converts To :

HDTV 480p
HDTV 576p
HDTV 720p
HDTV 1080p
HDTV 1080i
HDTV 480i
HDTV 576i

PAL B
NTSC M - NTSC 3.58
NTSC N - NTSC 4.43
PAL D
PAL N
PAL G
PAL H
PAL I
PAL K
PAL M
HDTV 480p
HDTV 576p
HDTV 720p
HDTV 1080p
HDTV 1080i
HDTV 480i
HDTV 576i
1 x Component HD to Video Converter
1 x User Manual
1 x Product Manual
1 x 100-240VAC to 5V DC 2.6A Switch Mode Power Supply (Center Positive)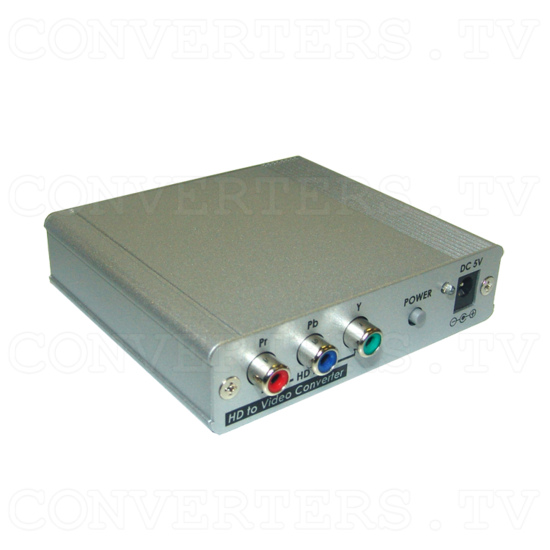 Component HD to Video Converter - Full View.png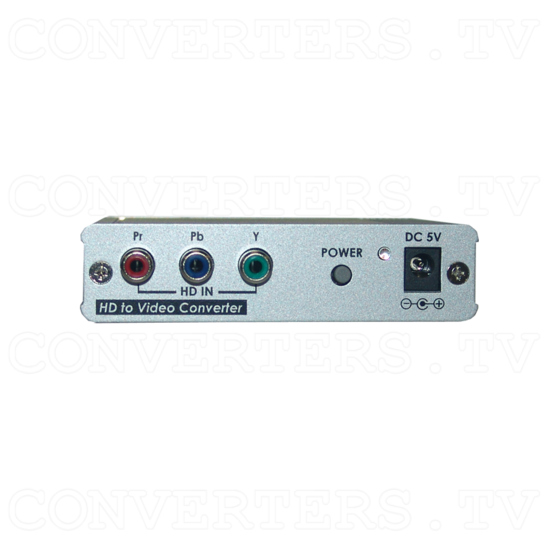 Component HD to Video Converter - Front View.png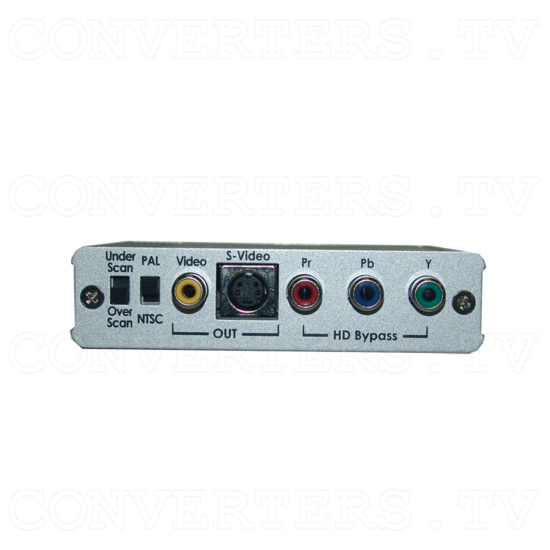 Component HD to Video Converter - Back View.png
Component HD to Video Converter - Power Supply 110v OR 240v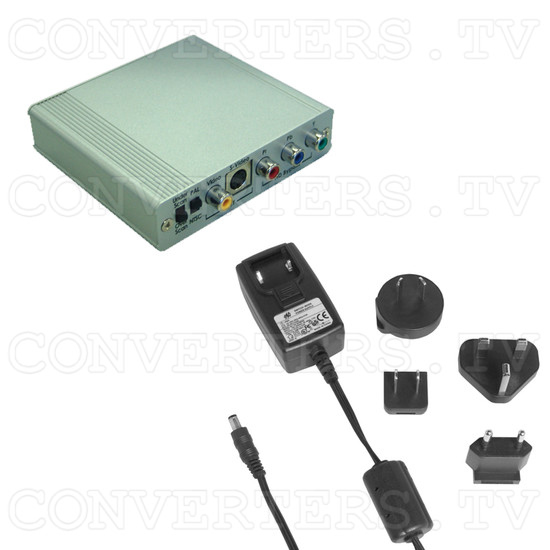 Component HD to Video Converter - Full Kit