| | |
| --- | --- |
| | Video Wall 1 x 4 HDMI 4K UHD Splitter |
The Video Wall 1 x 4 HDMI 4K UHD Splitter allows an HDMI 4K2K source video signal to be transmitted as four individual video displays onto four LCD/LED monitors. Alternately, you can make one big 'Video Wall' displaying a single video source by using all four monitors combined and operating as one big screen. An in-built "Bezel Correction" function allows the displayed image to be taken to the very edges of the four video monitors.

By combining more and more Video Wall 1 x 4 HDMI 4K UHD Splitters, you achieve up to 23 Video Wall scenarios, selectable from '1x1 Video Wall' (1 screen) up to a maximum of '6x6 Video Wall' (36 screens). The set up is easily controlled using PC based RS-232 commands or net based programs like TelNET, a session layer protocol used on the Internet or Local Area Networks (LAN) to provide a bidirectional, interactive, text-oriented communication facility using a virtual terminal connection.

The Video Wall 1 x 4 HDMI 4K UHD Splitter supports video timings up to WUXGA@60RB, HDMI HD 1080p@60Hz and UHD 4k2k. Support also for audio formats like LPCM up to 7.1CH at 192kHz sampling rate, AC3, DTS, Dolby Digital Plus, Dolby True HD and DTS-HD Master Audio, based on input source EDID.

| | | | |
| --- | --- | --- | --- |
| Unit Dimensions: | 43.8 x 27.8 x 5.0 cm | Shipping Weight: | 8.03 kg |
| Location: | NSW, Australia | Item Type: | |
| Condition: | New | Warranty : | 12 Months |
| Certificates : | CE, CTick, UL | Manual : | User Manual (781.38 KB) |
Features:
HDMI with 4K2K supported, HDCP and DVI compliant
Displays a source signal to 4 screens as one full image when in 'Video Wall' mode, with adjustable Bezel Correction
Displays a source signal to 4 screens as four individual displays when in 'Normal' mode
Display Scenarios: 1x1,2x2,3x3,4x4,5x5,6x6,2x3,3x2,3x4,4x2,4x3,4x5,1x2,2x1,1x3,3x1,1x4,4x1,2x4,3x5,5x4,5x3,6x2,6x3
Supports RS-232 and Telnet controls
Input PC resolutions support from VGA~WUXGA and HDTV from 480i~1080p and 4K2K@24/25/30Hz
Supports different input resolutions and output resolution selectable in Video Wall application
Supports audio pass-through LPCM 2/5.1/7.1CH, AC3/DTS/Dolby Digital Plus/Dolby TrueHD and DTS-HD Master Audio
Specifications:
Video Bandwidth: 300MHz / 9Gbps
Input Ports: 1 x HDMI, 1 x USB (Service only), 1 x RJ45 (Telnet control), 1 x RS-232 (PC control)
Output Ports: 4 x HDMI
Supported Resolutions: 4K2K@24/25/30Hz, VGA~WUXGA
Audio Sampling Rates: Up to 192kHz
Baud Rate: 115200bps
Power Supply: 100-240vC to +12vDC 3A (US/EU standards, CE/FCC/UL certified)
Dimensions (cm's): 43.8 (l) x 27.8 (w) x 5.0 (h)
Weight (kg): 2.970kg
Chassis Material: Aluminum
Silkscreen Color: Black
Operating Temperature: 0c ~ 40c / 32f ~ 104f
ESD Protection: Human Model: ±8Kv (air gap); ±4Kv (contact)
Accepted Input Resolutions:
PC:
640*480@60/72/75/85Hz VGA 4:3
1280*768@60/75Hz WXGA 5:3
1024*768@60/70/75/85Hz XGA 4:3
1280*1024@60/75Hz SXGA 5:4
800*600@56/60/72/75/85Hz SVGA 4:3
848*480@60Hz Plasma 16:9
852*480@60Hz Plasma 16:9
854*480@60Hz FWVGA 16:9
1024*1024@60Hz Plasma
1280*800@60Hz WXGA 16:10
1280*960@60Hz SXGA- 4:3
1360*768@60Hz HD 1080i 16:9
1366*768@60Hz FWXGA 16:9
1440*900@60Hz WXGA+ 16:9
1400*1050@60Hz SXGA+ 4:3
1360*1024@60Hz SXGA+ 5:4
1600*900@60Hz HD+ 16:9
1600*1200@60Hz UXGA 4:3
1680*1050@60Hz WSXGA+ 16:10
1920*1200@60Hz WUXGA 16:10
2048*1080@24Hz QWXGA 16:10
2048*1152@60Hz QWXGA 16:9
3840*2160@24/25/30Hz UHD(4K) 16:9
4096*2160@24Hz DCI HD 19:10
HD:
480p@60Hz
576p@50Hz
480i@60Hz
576i@50Hz
720p@50/60Hz
1080i@50/60Hz
1080p@24/50/60Hz
Output Resolutions:
PC:
640*480@60Hz VGA 4:3
800*600@60Hz SVGA 4:3
848*480@60Hz Plasma 16:9
1024*768@60Hz XGA 4:3
1280*768@60Hz WXGA 5:3
1280*800@60Hz WXGA 16:10
1280*960@60Hz SXGA- 4:3
1280*1024@60Hz SXGA 5:4
1360*768@60Hz HD 1080i 16:9
1366*768@60Hz FWXGA 16:9
1400*1050@60Hz SXGA+ 4:3
1440*900@60Hz WXGA+ 16:10
1600*900(RB)@60Hz HD+ 16:9
1600*1200@60Hz UXGA 4:3
1680*1050@60Hz WSXGA+ 16:10
1920*1200(RB)@60Hz WUXGA 16:10
2048*1152(RB)@60Hz QWXGA 16:9
HD:
480p@60Hz (720*480)
576P@50Hz (720*576)
720p@50Hz (1280*720)
720p@60Hz (1280*720)
1080i@50/60Hz (1920*1080)
1080p@24/25/30/50/60Hz (1920*1080)
Connects From :
Connects To :

HDMI (HDTV)
RJ-45 Control Telnet/WebGUI
RS-232 (9 pin D-Sub)
USB (Service)
| Converts From : | Converts To : |
| --- | --- |
| | |
1 x Video Wall 1 x 4 HDMI 4K UHD Splitter
1 x Product Manual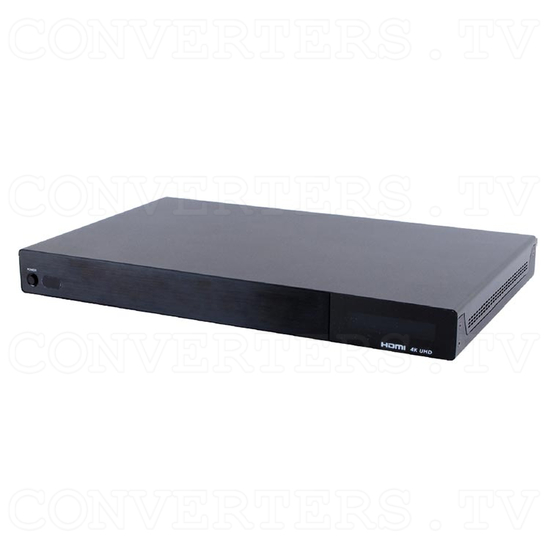 Video Wall 1 x 4 HDMI 4K UHD Splitter - Full View
Video Wall 1 x 4 HDMI 4K UHD Splitter - Front View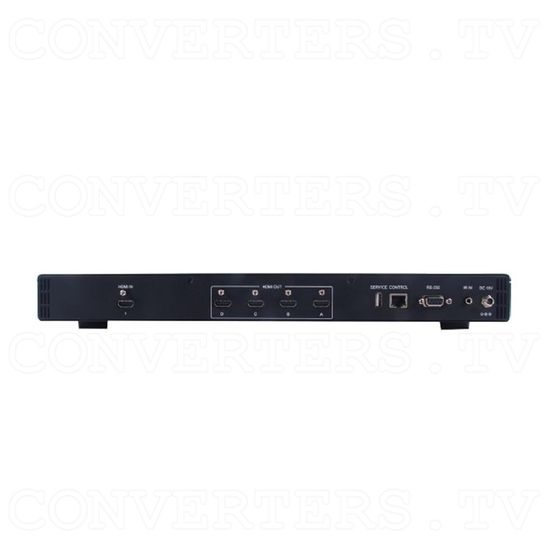 Video Wall 1 x 4 HDMI 4K UHD Splitter - Back View
Video Wall 1 x 4 HDMI 4K UHD Splitter - 2x3 Display
Video Wall 1 x 4 HDMI 4K UHD Splitter - 2x2 Display