| | |
| --- | --- |
| | Ultra HDMI (4K-60) over Optical Fibre Transmitter |
The Ultra HDMI (4K-60) over Optical Fibre Transmitter and Receiver set is designed for high-quality, IP routable extension of 4K audio/video streams (HDMI or DisplayPort) and data over Optical Fibre.

By using a sophisticated ultra-light compression scheme (lossless for most content) it is possible for A/V extension up to a distance of 30km's, with minimum latency. Advanced HDMI content such as HDR (High Dynamic Range), 10-bit color and multi-channel HD Bitstream audio can be transmitted in pass-through mode.

Interchangeable, field replaceable, SFP+ modules allows for up to 30km transmission distance, with transmission distance dependant on the type of SFP+ module used. Combined with an optional "Control Center" (or control software), the functionality of the extenders expands expotentially. A 10 Gigabit fiber Ethernet network switch with jumbo frame and IGMP snooping support is required for distributed video systems.

Multiple Transmitters and Receivers may be combined with one or more 10Gb fibre Ethernet switch and the units can be used together to form a Distributed Video Matrix, a Multi-Viewer System, or a Video Wall System, adding greater flexibility in large event installations. Control and Data signals, including IR, RS-232, USB (for KVM) and Ethernet is also transmitted along with the audio and video.





| | | | |
| --- | --- | --- | --- |
| Unit Dimensions: | 21.5 x 15.3 x 4.7 cm | Shipping Weight: | 1.20 kg |
| Location: | NSW, Australia | Item Type: | |
| Condition: | New | Warranty : | 12 Months |
| Certificates : | CE, CTick, UL | | |
Features:
HDMI 2.0 and DVI 1.0 compatible
HDCP 2.2 and HDCP 1.x compliant
IP switchable with minimum latency (requires optional control center/software)
Ultra-light compression, lossless for most content
Extension up to 30km (depending on the fiber module used)
Independent breakaway A/V matrix switching (requires optional control center/software)
Video wall generation (requires optional control center/software)
Multi-view compositing (requires optional control center/software)
Supports pass-through of 10/12-bit HDR sources (Point-to-Point and Genlock mode only)
Supports pass-through of audio formats including LPCM 2.0/5.1/7.1, Bitstream and HD Bitstream from HDMI or DisplayPort sources
Analog stereo audio extension, insertion and extraction (insertion and extraction requires optional control center/software)
Bi-directional RS-232, IR, & USB 2.0 extension
Data Transmission interfaces with 10 gigabit Ethernet via XFI, IEEE 802.3ae, compatible SFP+ fiber modules
Supports the use of an external control center or control software to provide expanded functionality
Specifications:
Video Bandwidth: 600MHz/18Gbps
Input Ports: 1×HDMI; 1×DisplayPort; 1×3.5mm (Stereo Audio)
Output Port: 1×Optical Fibre
Pass-through Ports: 1×IR Extender (3.5mm); 1×IR Blaster (3.5mm); 1×RS-232 (9-pin D-sub); 1×LAN (RJ45); 1×USB Type-B
Supported Resolutions: 480i/p@60Hz - 4K@60Hz (4:4:4, 8-bit); VGA@60Hz - WUXGA@60Hz (RB)
HDMI Cable Length: 10m @1080p@60Hz, 12-bit; 5m @4K@60Hz, 4:4:4, 8-bit
DisplayPort Cable Length: 10m @1080p@60Hz, 12-bit; 2m @4K@60Hz, 4:4:4, 8-bit
Fiber Optical Cable Length: 300m with multi-mode OM3 fiber; 550m with multi-mode OM4 fiber; 30km with single-mode fiber
IR Frequency: 30 - 50kHz (30 - 60kHz under ideal conditions)
Baud Rate: Up to 115200bps
Power Supply: 100-240vAC to 12v 3A DC (US/EU standards, CE/FCC/UL certified)
Power Consumption (watts): 12W
ESD Protection: Human Body Model: ±8kV (Air Discharge); ±4kV (Contact Discharge)
Dimensions (cm's): 21.35 (w) x 15.8 (d) x 4.4 (h) [Case Only]; 21.5 (w) x 15.3 (d) x 4.7 (h) [All Inclusive]
Weight (grams): 968g
Chassis: Black Metal
Operating Temperature: 0˚C - 40˚C/32˚F - 104˚F
Storage Temperature: −20˚C - 60˚C/−4˚F - 140˚F
Relative Humidity: 20% - 90% RH (Non-condensing)
Connects From :
Connects To :

HDMI (HDTV)
DisplayPort
3.5mm Headphone Jack
RS-232 (9 pin D-Sub)
LAN
IR Extender (Rx)
USB (Service)

Optical TOSlink S/PDIF
IR Blaster (Tx)
Converts From :
Converts To :

HDTV 480p
HDTV 576p
HDTV 720p
HDTV 1080p
HDTV 1080i
HDTV 480i
HDTV 576i
Mini DisplayPort
4K x 2K
3D
1 x Ultra HDMI (4K-60) over Optical Fiber Transmitter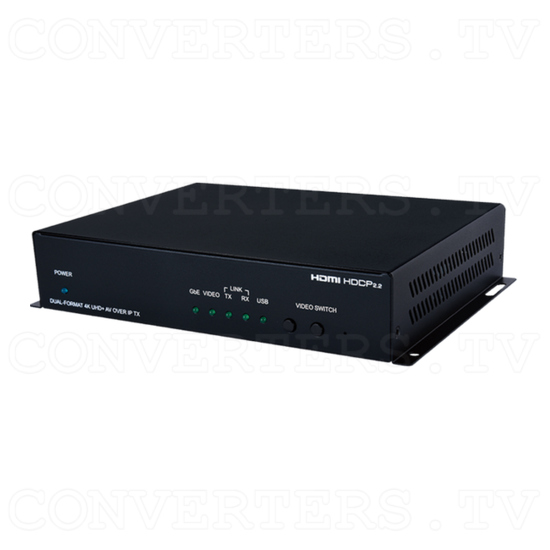 Ultra HDMI (4K-60) over Optical Fibre Transmitter - ID#15473 Full View.png
Ultra HDMI (4K-60) over Optical Fibre Transmitter - ID#15473 Front View.png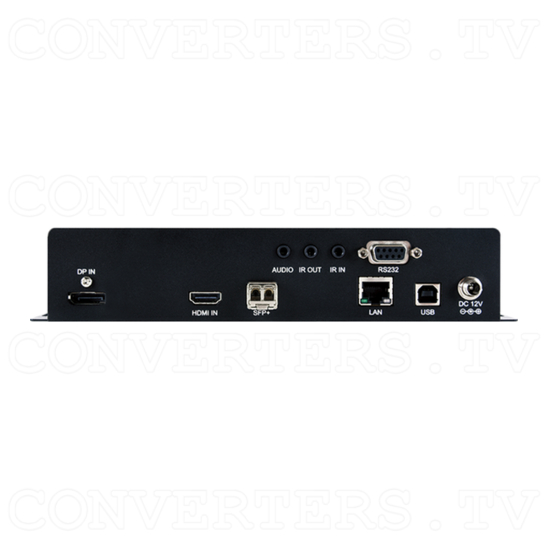 Ultra HDMI (4K-60) over Optical Fibre Transmitter - ID#15473 Back View.png