| | |
| --- | --- |
| | Multi Video over CAT 6/7 HDBaseT UHD+ Scaler Transmitter |
New release Multi Video over CAT6/7 HDBaseT UHD+ Scaler Transmitter is used with its Receiver, ID#15517 to transmit Ultra High Definition+ HDMI, DisplayPort and PC VGA video and audio signals up to a distance of 70m over one single pair of a CAT6/7 cable.

Supports selected input resolutions up to 4K@60Hz (4:4:4, 8-bit) and 1920*1200p@60Hz (RB) via HDMI, DisplayPort and VGA interfaces. The output (of the Receiver) is UHD+ HDMI and can be a scaled maximum up to 3840*2160p@60Hz (4:2:0), or a Bypass maximum up to 4096*2160p@60Hz (4:2:0). Supports Digital Bitstream, HD Bitstream and LPCM 2.0/5.1/7.1 audio formats pass-through and also allows for external analog audio embedding and de-embedding.

The HDBaseT transmission medium supports HD video & audio, 100BaseT Ethernet for LAN network, 48v PoH (Power over HDBaseT) and Bi-directional Infra-Red pass-thru for control from either the transmitter or receiver end. IR code learning and and IR broadcasting is also supported, along with advanced EDID management options including Internal, External and User configurations. Extra support provided by on-board front panel buttons for OSD display, RS-232, WebGUI and Telnet.

The Multi Video over CAT6/7 HDBaseT UHD+ Scaler Transmitter is the perfect solution for selecting and extending video and audio signals around a conference room, a class room or a private home. Select and control up to sixteen separate devices such as media players, projectors and screens, HDTV's etc using Ethernet, RS-232, IR or Relay control. Facility for Macro command activation in-built for timed system control and response.


| | | | |
| --- | --- | --- | --- |
| Unit Dimensions: | 23.2 x 12.0 x 2.5 cm | Shipping Weight: | 1.20 kg |
| Location: | NSW, Australia | Item Type: | HDMI Converters |
| Condition: | New | Warranty : | 12 Months |
| Certificates : | CE, CTick, UL | | |
Features:
HDMI, DisplayPort, and VGA input support
Input resolution support up to 4K@60Hz (4:4:4, 8-bit) via HDMI and DisplayPort
HDBaseT feature support: High-Definition (HD) Video and Audio, 100BaseT Ethernet, 48V PoH, and Bi-directional IR pass-through
Receiver's scaled output supports resolutions up to 4K@60Hz (4:4:4, 8-bit) via HDMI
Support pass-through of LPCM 2.0/5.1/7.1, Bitstream & HD Bitstream audio formats
External analog stereo audio embedding/de-embedding support
Support for automatic input detection and automatic switching on source loss
Supports controlling a wide variety of conference room equipment such as media players, projectors, projection screens, curtains, etc via Ethernet, RS-232, IR, or relay (method is device dependent)
Support for IR code learning as well as IR broadcasting
Supports Telnet for both client and server functionality
Control system supports defining up to 16 devices to simplify control and management of controlled devices within the system
Integrated macro command lists support activating multiple events from a single button press (up to 16 actions per macro)
Battery backed up RTC (Real Time Clock) to control scheduled macro execution and program event activation
Supports extended keypad (trigger) control for easy, single button, macro activation (optional equipment)
Compatible with the wall plate control system, allowing for full control of devices within the same Ethernet network (optional equipment)
Advanced EDID management options including Internal, External, and User configurations
Easy firmware updates in the field via USB thumb drive or WebGUI
Controllable via top-panel buttons (with OSD), WebGUI, Telnet, and RS-232
Specifications:
Video Bandwidth HDMI: 600MHz/18Gbps
HDBaseT: 340MHz/10.2Gbps
Input Ports: 1×HDMI; 1×DisplayPort; 1×VGA; 1×3.5mm (Stereo Audio)
Output Ports: 1×HDMI; 1×Cat.5e/6/7
Control Interfaces: 1×IR Blaster (3.5mm); 1×IR Extender (3.5mm); 1×RS-232 (9-pin D-sub); 1×LAN (RJ45)
HDMI Cable Length: 10m (1080p@60Hz, 12-bit); 3m (4K@60Hz, 4:4:4, 8-bit)
CAT5e/6 Cable Length: 100m (1080p@60Hz, 12-bit); 70m (4K@60Hz, 4:2:0, 8-bit)
IR Frequency: 30 - 50kHz (30 - 60kHz under ideal conditions)
Baud Rate: 115200bps
Power Supply: 48V PoH (Power over HDBaseT)
Power Consumption: 12W
ESD Protection: Human Body Model: ±8kV (Air Discharge); ±4kV (Contact Discharge)
Dimensions (cm's): 23.15 (w) x 10.8 (d) x 2.5 (h) [Case Only]; 23.15 (w) x 12.0 (d) x 2.5 (h) [All Inclusive]
Weight (grams): 420g
Chassis: Black Metal
Operating Temperature: 0˚C - 40˚C/32˚F - 104˚F
Storage Temperature: −20˚C - 60˚C/−4˚F - 140˚F
Relative Humidity: 20% - 90% RH (Non-condensing)
Connects From :
Connects To :

HDMI (HDTV)
RS-232 (9 pin D-Sub)
LAN
IR Blaster (Tx)
IR Extender (Rx)
USB (Service)
Analog Stereo L/R terminal block

HDMI (HDTV)
CAT5 / CAT6 Cable RJ-45
Relay (Terminal Block)
Converts From :
Converts To :

HDTV 480p
HDTV 576p
HDTV 720p
HDTV 1080p
HDTV 1080i
HDTV 480i
HDTV 576i
Displayport
4K x 2K
3D
1 x Multi Video over HDBaseT UHD+ Scaler Transmitter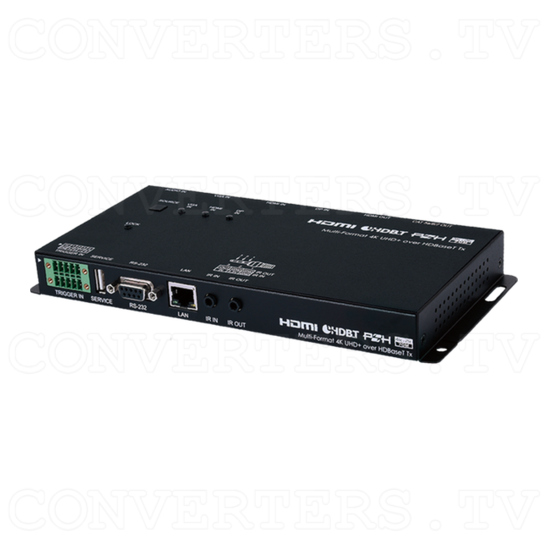 Multi Video over CAT 6/7 HDBaseT UHD+ Scaler Transmitter - ID#15516 Full View.png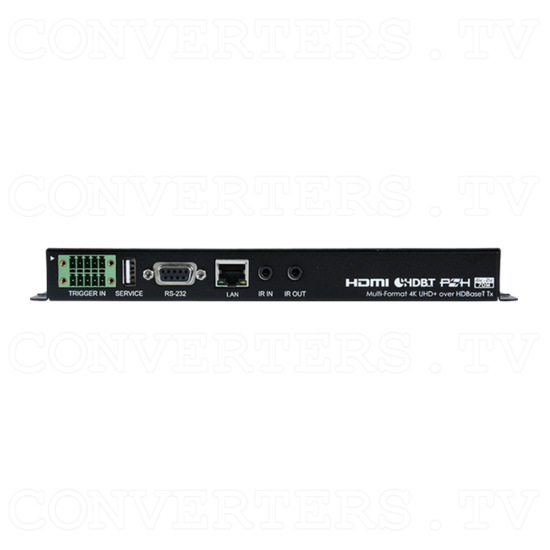 Multi Video over CAT 6/7 HDBaseT UHD+ Scaler Transmitter - ID#15516 Front View.png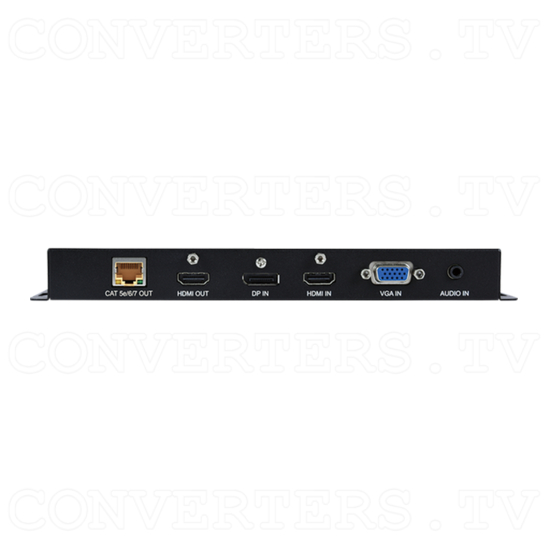 Multi Video over CAT 6/7 HDBaseT UHD+ Scaler Transmitter - ID#15516 Back View.png