HDMI v1.4 Over Single CAT5e/CAT6

save 24%




The HDMI v1.4 Over Single CAT5e/CAT6 is a convenient way to extend a HDMI signal over a long distance. Instead of using expensive HDMI cables, this unit distributes the HDMI signal over a Cat5e/Cat6 cable. This high performance device supports HDMI v1.4 signals, including 3D content and 4k x 2k signal resolution, as well as 7.1CH, Dolby TrueHD, and DTS-HD audio support.

Unlike similar products which distribute the CAT6 Video and DDC data along two separate connections, this unit distributes the Video and DDC Data along a single CAT5e/CAT6 connection. A wide range of Input/Output video resolutions are supported, including uncompressed 1080p @60Hz, 48bits.

The HDMI v1.4 Over Single CAT5e/CAT6 can transmit and receive uncompressed audio and video up to 100m, with additional control through the built in RS-232 and IR ports. Further, with its HDMI bypass design it allows an instant display at the control point.

Please note that the signal distance may be influenced by the source and display used, as well as cable specifications. For example a 1080p 8 bit signal is able to be extended further than a 1080p 12 bit signal.

| | | | |
| --- | --- | --- | --- |
| Unit Dimensions: | 10.0 x 10.0 x 10.0 cm | Shipping Weight: | 1.50 kg |
| Location: | NSW, Australia | Item Type: | |
| Condition: | New | Warranty : | 12 Months |
| Certificates : | CE, CTick, UL | Manual : | User Manual (453.4 KB) |
Features:
HDMI 1.4 with 3D, 4k x 2k support, HDCP & DVI Compliant
Supports HDCP repeater and CEC function
Simultaneously uncompressed data sending over a single 100M/328ft withCAT6 cable or 80M/262ft with CAT5e cable
Uncompressed video 1080p, 60Hz, 48bits
Audio support up to 7.1CH & Dolby TrueHD, DTS-HD
Various controls over HDMI CEC, RS232 & IR
3Play convergence: HDMI & Control (IR & RS232)
Easy to install and operate
Specifications:
Transmitter: Input: 1 x HDMI , 1 x HDMI Bypass, 1 x RS-232, 1 x IR Extender, 1 x IR Blaster; Output: 1 x CAT5e/6
Receiver: Input: 1 x CAT5e/6, 1 x IR Extender, 1 x IR Blaster; Output 1 x HDMI, 1 x RS-232
ESD Protection Human Body Model: ± 8kV (air-gap discharge), ± 4kV (contact discharge)
Operating Temperature: 0°C ~ 40°C/ 32° ~104°
Storage Temperature: -20°C ~ 60°C/ -4° ~140°
Relative Humidity: 20~90% RH (non-condensing)
Input PC - HDMI / DVI Resolutions:
640*480@60/72/75Hz
800*600@56/60/72/75Hz
1024*768@60/70/75Hz
1280*960@60Hz
1280*1024@60/75Hz
1600*1200@60Hz
1920*1200@60Hz
Input HD - HDMI / DVI Resolutions:
720*480i@59/60Hz (not DVI)
720*480p@59/60Hz
1280*720p@59/60Hz
1920*1080i@59/60Hz
1920*1080p@59/60Hz
720*576i@50Hz (not DVI)
720*576p@50Hz
1280*720p@50Hz
1920*1080i@50Hz
1920*1080p@50Hz
1920*1080p@23/24Hz (not DVI)
1366*768@50/60Hz
Power Supplies:
Multi-Voltage Power Supply : 100 - 240VAC to 5V DC 2.6A Switch Mode Power Supply - Center Positive
Connects From :
Connects To :

HDMI (HDTV)
RJ-45 Control Telnet/WebGUI
CAT5 / CAT6 Cable RJ-45
VGA 9 pin D-sub

HDMI (HDTV)
RJ-45 Control Telnet/WebGUI
CAT5 / CAT6 Cable RJ-45
VGA 9 pin D-sub
Converts From :
Converts To :

HDTV 480p
HDTV 576p
HDTV 720p
HDTV 1080p
HDTV 1080i
HDTV 480i
HDTV 576i

HDTV 480p
HDTV 576p
HDTV 720p
HDTV 1080p
HDTV 1080i
HDTV 480i
HDTV 576i
1 x HDMI Over Single CAT5e/CAT6
1 x Product Manual
1 x Infrared sensor
1 x Infrared Reciever
1 x 100-240VAC to 5V DC 2.6A Switch Mode Power Supply (Center Positive)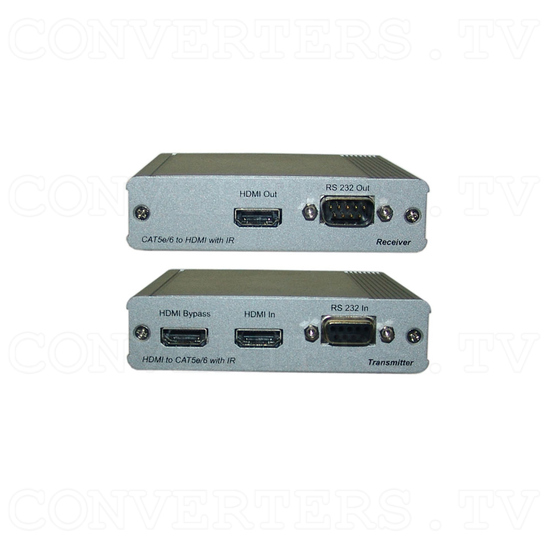 HDMI v1.4 Over Single CAT5e/CAT6 - Transmitter and Reciever
HDMI v1.4 Over Single CAT5e/CAT6 - Transmitter - Full View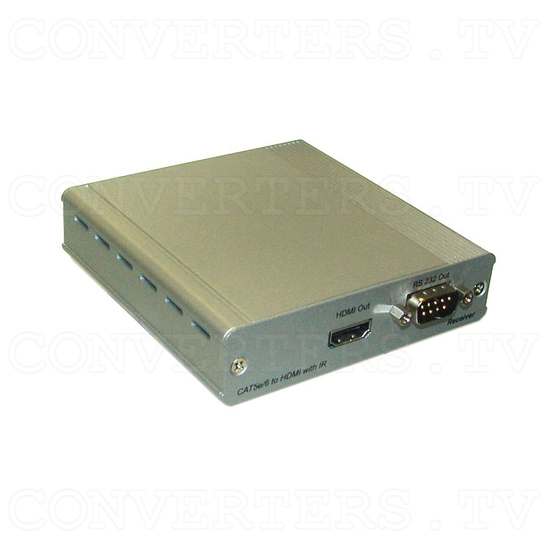 HDMI v1.4 Over Single CAT5e/CAT6 - Receiver - Full View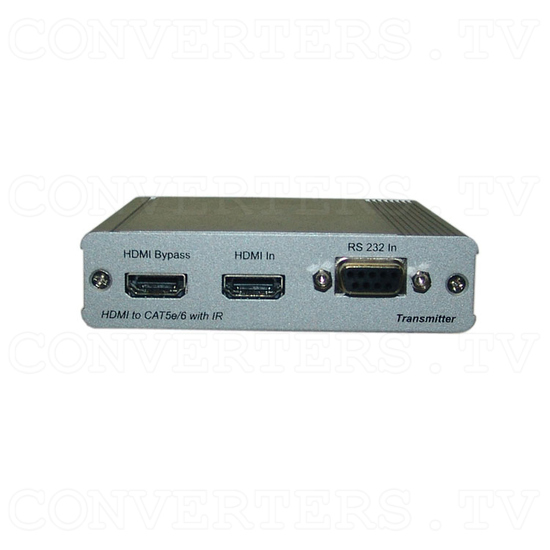 HDMI v1.4 Over Single CAT5e/CAT6 - Transmitter - Front
HDMI v1.4 Over Single CAT5e/CAT6 - Receiver - Front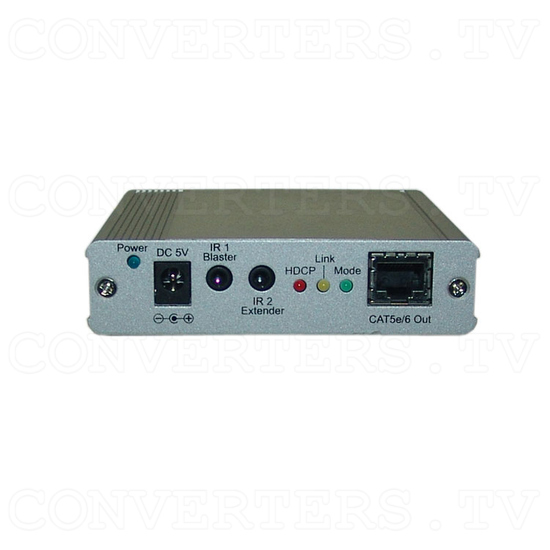 HDMI v1.4 Over Single CAT5e/CAT6 - Transmitter - Back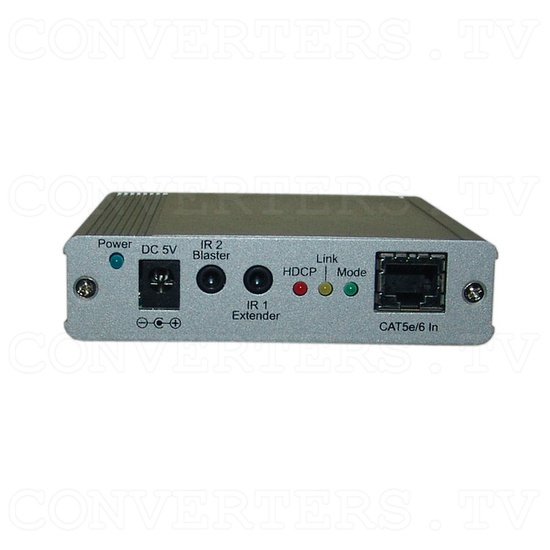 HDMI v1.4 Over Single CAT5e/CAT6 - Receiver - Back
HDMI v1.4 Over Single CAT5e/CAT6 - Infrared sensor
HDMI v1.4 Over Single CAT5e/CAT6 - Infrared Reciever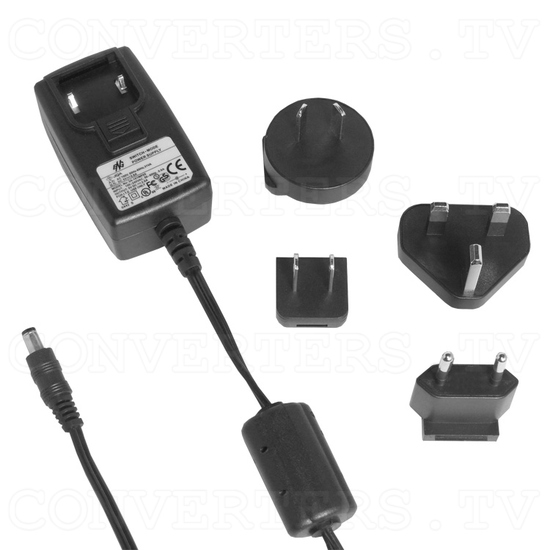 HDMI v1.4 Over Single CAT5e/CAT6 - Power Supply 110v OR 240v
HDMI v1.4 Over Single CAT5e/CAT6 - Full Kit