HDMI v1.4 4x2 Matrix 4k2k

save 6%




The HDMI v1.4 4x2 Matrix 4k2k allows an HDMI signal from any one of its four sources to be displayed on any one of its two connected HDMI monitors. Display one source HDMI signal to one or both connected HDMI monitors. With 'fast-switching' technology, the HDMI v1.4 4x4 Matrix 4k2k supports HD 1080p@50/60Hz, UHD 4k2k, all 3D formats, Deep Colour and HD lossless audio formats.

The HDMI v1.4 4x2 Matrix 4k2k supports PAL and NTSC video timings up to HD 1080p, Ultra HD 4k2k (UHD) and all 3D formats. Supports HD lossless digital audio formats such as LPCM 2CH, 5.1CH, 7.1Ch, Dolby TrueHD and DTS-HD Master Audio. HDMI standards such as 'Deep Colour' 1080p/36bit video and Internal/External EDID settings are supported.

Separate control scenarios make the setting-up and operation of the HDMI v1.4 4x4 Matrix 4k2k very easy. To select inputs to outputs, simply use the front-panel buttons, the IR hand-held remote control, PC based RS-232 commands or WEB GUI control. Simply plug-n-play to connect source video from Blu-Ray DVD players, Game Consoles or any HDMI enabled device and connect any size HDMI HDTV's for the displays.

| | | | |
| --- | --- | --- | --- |
| Unit Dimensions: | 24.0 x 11.2 x 4.5 cm | Shipping Weight: | 1.28 kg |
| Location: | NSW, Australia | Item Type: | HDMI Converters |
| Condition: | New | Warranty : | 12 Months |
| Certificates : | CE, CTick, UL | Manual : | User Manual (282.55 KB) |
Features:
Supports standard and High Definition video up to 4k2k (Ultra High Def)
Supports lossless digital audio LPCM 2CH, 5.1CH, 7.1CH, Dolby TrueHD and DTS-HD Master Audio
Supports Deep Colour video up to 1080p/36-bit
Supports Internal and External EDID settings (Extended Display Identification Data)
Supports control by on-board buttons, IR remote, RS-232 and WebGUI
Note:
Unit Does Not Support HDMI/DVI conversion
4k2k playback requires a 4k2k capable display and high speed HDMI cables
Specifications:
Video Bandwidth: 340Mbps / 10.2Gbps
Input Ports: 4 x HDMI (Type A female); 1 x IR Extender(3.5mm mini-jack); 1 x RS-232 (D-sub 9 pin); 1 x Control (RJ45 / LAN); 1 x Mini USB (Service Only)
Output Ports: 4 x HDMI (Type A female)
Output Resolution: PC VGA ~ WUXGA; HD 480i/p ~ 1080i/p@50/60Hz; 4k2k@24/25/30Hz
HDMI Cable Distance: 15m@8-bit; 10m@12-bit; 5m@4k2k
Power Supply: 100-240vAC to 5vDC 3.6A (US/EU standards, CE/FCC/UL certified)
Power Consumption (watts): 10.8w
Dimensions (cm's): 24.0(l) x 11.2(w) x 4.5(h)
Weight (kg's): 1.280kg
Chassis: Black Metal
ESD Protection: Human Body Model: ±8kV(air-gap discharge); ±4kV(contact discharge)
Operating Temperature: 0c ~ 40c / 32f ~ 104f
Relative Humidity: 20% ~ 90% RH (non-condensing)
Supported Input / Output Resolutions:
640*480@60/72/75Hz
720*480@60Hz
800*600@60/72/75Hz
1024*768@60/70/75Hz
1280*720@50/60Hz
1280*768@60Hz
1280*800@60Hz
1280*1024@60Hz
1360*768@60Hz
1600*1200@60H
1920*1200@60Hz(RB)
3840*2160@24/25/30Hz
4096*2160@24Hz
720*576p@50Hz
1280*720p@60Hz
1920*1080i@50/60Hz
1920*1080p@24/25/30/50/60Hz
| Connects From : | Connects To : |
| --- | --- |
| | |
Converts From :
Converts To :

HDTV 480p
HDTV 576p
HDTV 720p
HDTV 1080p
HDTV 1080i
HDTV 480i
HDTV 576i
4K x 2K

HDTV 480p
HDTV 576p
HDTV 720p
HDTV 1080p
HDTV 1080i
HDTV 480i
HDTV 576i
4K x 2K
1 x HDMI v1.4 4x2 Matrix 4k2k
1 x Product Manual
HDMI v1.4 4x2 Matrix 4k2k - Full View
HDMI v1.4 4x2 Matrix 4k2k - Front View
HDMI v1.4 4x2 Matrix 4k2k - Back View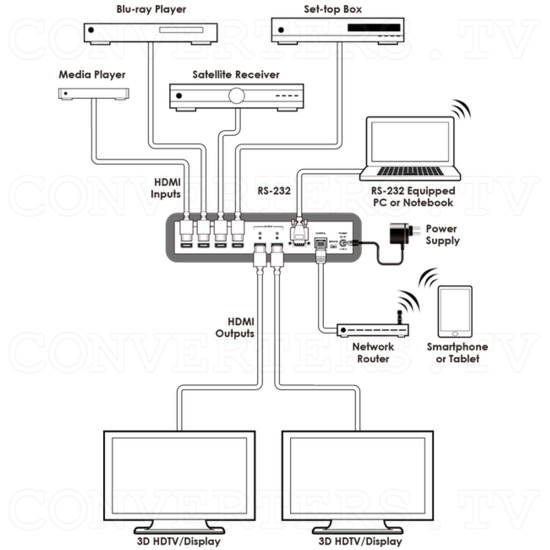 HDMI v1.4 4x2 Matrix 4k2k - Connection Diagram