| | |
| --- | --- |
| | HDMI v1.4 4 In 2 Out Switch |
The HDMI v1.4 4 In 2 Out Switch is a high performance device with 3D support. It allows up to four HDMI sources to be displayed on two HDMI display panels. Supports HDCP repeater functions and all standard 3D TV formats in addition to all HDTV formats up to 1080p 12-bit Deep Color. Supports PAL and NTSC video formats and includes remote control for easy operation.

With this Switch any one of the four HDMI video sources can be directed to the connected HDMI display panels. Ideal for use with HDMI devices such as DVD players, Set-top boxes, Game consoles and Multimedia centres in Advertising, Education and private home theatres.

For example you could connect a Blu-Ray player to the unit via HDMI, and display the received HDMI signal and duplicate it into two separate and identical High Definition signal outputs. This results in identical High Definition digital video and audio reproduction on both of the connected HDTV displays.

The unit is HDMI v1.4 compliant, meaning it will accept 3D content, as well Audio Return Channel (ARC) and HDMI Ethernet Channel (HEC) features for integration with other external video/audio equipment. The HDMI v1.4 4in:2out Switch can also be used by DVI devices - simply connect your DVI source or display by using a HDMI/DVI converter cable.

| | | | |
| --- | --- | --- | --- |
| Unit Dimensions: | 24.0 x 11.5 x 5.0 cm | Shipping Weight: | 1.25 kg |
| Location: | NSW, Australia | Item Type: | |
| Condition: | New | Warranty : | 12 Months |
| Certificates : | CE, CTick, UL | Manual : | User Manual (570.7 KB) |
Features:
Supports multiplexed 4 HDMI Inputs and 2 Outputs
Two output ports support Ethernet Channel (HEC) and Audio Return Channel (ARC)
HDMI 1.4 with: Audio Return Channel (ARC), 3D, CEC1.4, HDMI Ethernet Channel (HEC)
Supports HDCP repeater function
Deep Colour supports 36/30/24-bit, 1080p@60Hz
EDID can be selected Standard, TV or lock EDID feature
Audio supports: HDMI 1.4 compatible audio interface, Dedicated, flexible audio input/output port, Dolby TrueHD, DTS-HD Master Audio, Full audio input and output support
Specifications:
Frequency Bandwidth: 2.25Gbps (single link)
Input Ports: 4 x HDMI
Output Ports: 2 x HDMI, 2 x Ethernet, 2 x Audio Return Channel
Output Resolution: 480i - 1080p 50/60, 1080p 24, VGA - UXGA
ESD Protection: Human body model ±8kV (air-gap discharge), ±4kV (contact discharge)
Chassis Material: Metal
Silkscreen colour: Black
Operating Temperature: 0C - 40C / 32F - 104F
Storage Temperature: -20C - 60C / -4F - 140F
Relative Humidity: 20-90% RH (non condensing)
Power Consumption: 4.1W
Accepted PC/HD Input Resolutions:
PC VGA/DVI:
640*480@60Hz
800*600@60Hz
1024*768@60Hz
1280*1024@60Hz
HD HDMI/DVI:
720*480i@59Hz
720*480i@60Hz
720*480p@59Hz
720*480p@60Hz
1280*720p@59Hz
1280*720p@60Hz
1920*1080i@59Hz
1920*1080i@60Hz
1920*1080p@59Hz
1920*1080p@60Hz
720*576i@50Hz
720*576p@50Hz
1280*720p@50Hz
1920*1080i@50Hz
1920*1080p@50Hz
Power Supplies:
Multi-Voltage Power Supply : 100 - 240VAC to 5V DC 2.6A Switch Mode Power Supply - Center Positive
Connects From :
Connects To :

HDMI (HDTV)
RJ-45 Ethernet
Analog Stereo L/R Jacks

HDMI (HDTV)
RJ-45 Ethernet
Converts From :
Converts To :

HDTV 480p
HDTV 576p
HDTV 720p
HDTV 1080p
HDTV 1080i
HDTV 480i
HDTV 576i

HDTV 480p
HDTV 576p
HDTV 720p
HDTV 1080p
HDTV 1080i
HDTV 480i
HDTV 576i
1 x HDMI v1.4 4in:2out Switch
1 x Product Manual
1 x 100-240VAC to 5V DC 2.6A Switch Mode Power Supply (Center Positive)
HDMI v1.4 4 In 2 Out Switch - Full View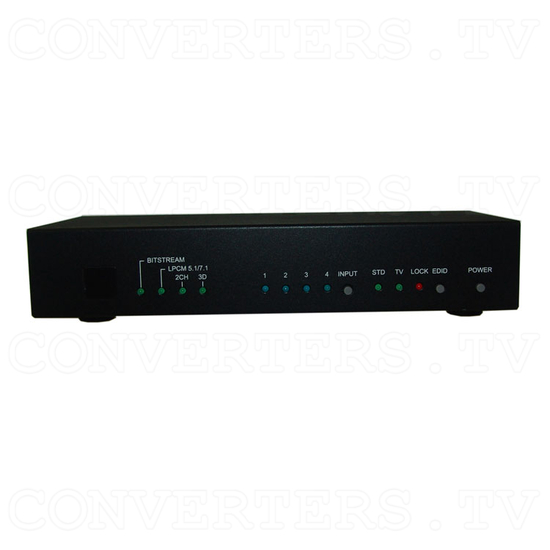 HDMI v1.4 4 In 2 Out Switch - Front View
HDMI v1.4 4 In 2 Out Switch - Back View
HDMI v1.4 4 In 2 Out Switch - Remote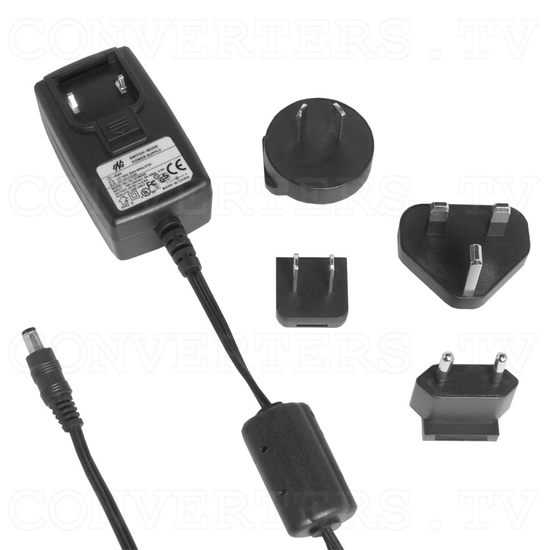 HDMI v1.4 4 In 2 Out Switch - Power Supply 110v OR 240v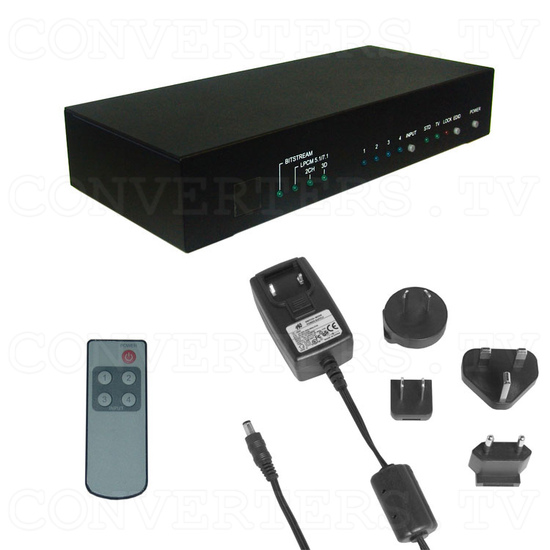 HDMI v1.4 4 In 2 Out Switch - Full Kit