HDMI v1.4 4 In 1 Out Switch with Coaxial Audio Out

save 34%




The HDMI v1.4 4 In 1 Out Switch with Coaxial Audio Out is designed for optimum use with HDMI v1.4 video and audio equipment. Full support for HDMI v1.4 features such as all 3D TV video formats, Audio Return Channel (ARC), Consumer Electronic Control (CEC 1.4) and all HDTV formats up to 1080p 12-bit Deep Colour. The device comes with EDID and HDCP Repeater functions in-built and digital audio formats supported for LPCM and Dolby with a separate coaxial audio output port for external sound systems.

The device will support input and output transmission distances of up to 10 metres (in) and 15 metres (out) @1080p 12-bit Deep Colour. Fast switching between HDMI inputs ensures minimal delay time to display the selected source. The HDMI video format supports 480i/p up to Full HD 1080p, and standard 3D video formats are also supported, such as 'Side-by-Side', 'Top-and-Bottom' and 'Frame Packing'.

A separate digital co-axial audio output from the device allows for connection to an external amplifier. The digital audio component of the HDMI video stream can also be used by utilising the ARC feature for connection of the TV sound track to an external amp. Audio formats supported include LPCM 2ch/5.1/7.1; Dolby 5.1; DTS5.1; DD+; D-TrueHD; DTS-HD.

It has a small, compact and modern design and allows for easy integration into any video/audio setup. Input HDMI port selection is easily done by front panel button selection or by hand held Remote Control. LED's indicate power status and the selected input port. All connectors and controls are clearly marked and accessible. Simple OSD display readout indicates input/output signal specifications and timings.

Can also be used with DVI applications by using a HDMI to DVI adapter cable.

| | | | |
| --- | --- | --- | --- |
| Unit Dimensions: | 9.0 x 8.5 x 3.5 cm | Shipping Weight: | 0.57 kg |
| Location: | NSW, Australia | Item Type: | |
| Condition: | New | Warranty : | 12 Months |
| Certificates : | CE, CTick, UL | Manual : | User Manual (499.97 KB) |
Features:
Supports multiplexed HDMI 4 inputs and 1 output
HDMI 1.4, HDCP 1.4 and CEC1.4 compliant
HDMI 1.4 support: - Audio Return Channel (ARC) - 3D TV support - CEC1.4
Fast switching on all HDMI input ports
Character and icon based On-Screen Display (OSD)
System information for Software version
Sink EDID
Source info frame OSD
HDMI input Audio & Audio Return selection
HDCP repeater support
Deep Color support 36/30/24-bit, 1080p@60Hz
HDMI cable distance tested with 1080p 8/12 bits resolution, the input & output distance can be up to 10 &15 meters
Audio support: - HDMI 1.4 compatible audio interface - Dedicated, flexible audio input/output port - Dolby TrueHD - DTS-HD Master Audio 7.1CH - Full audio input and output support
Specifications:
Frequency Bandwidth: 2.25Gbps
Input Ports: 4 x HDMI Female ports
Output port: 1 x HDMI Female port
HDMI Audio Output: PCM2, 5.1, 7.1CH, Dolby 5.1, DTS5.1, DD+, D-TrueHD, DTS-HD
HDMI Cable In: 1080p 8-bit (10M), 12-bit (10M)
HDMI Cable Out: 1080p 8-bit (15M), 12-bit (15M)
Coaxial Audio Output: PCM2CH
Power Supply: 5V/1A DC (US/EU standards, CE/FCC/UL certified)
ESD Protection: Human Body Model: ± 8kV (air-gap discharge), ± 4kV (contact discharge)
Dimensions (mm): 100 (W) x 70 (D) x 20 (H)
Weight (g): 90
Chassis Material: Plastic
Silkscreen Colour: White
Power Consumption: 4W
Operating Temperature: 0˚C ~ 40˚C / 32˚F ~ 104˚F
Storage Temperature: -20˚C ~ 60˚C / -4˚F ~ 140˚F
Relative Humidity: 20~60% RH (non-condensing)
Accepted HDMI/DVI PC Resolutions:
640*480@60,72,75,85Hz
800*600@56,60,72,75,85Hz
1024*768@60,70,75,85Hz
1280*960@60,85Hz
1280*1024@60,75,85Hz
1366*768@60,50Hz
1600*1200@60Hz
1920*1200@60Hz
Accepted HDMI/DVI HD Resolutions:
720*480i@59,60Hz (Not DVI)
720*480p@59,60Hz
720*576i@50Hz (Not DVI)
720*576p@50Hz
1280*720p@59,60Hz
1280*720p@50Hz
1920*1080i@59/60Hz
1920*1080i@50Hz
1920*1080p@50,59,60Hz
1920*1080p@23,24Hz (Not DVI)
Converts From :
Converts To :

HDTV 480p
HDTV 576p
HDTV 720p
HDTV 1080p
HDTV 1080i
HDTV 480i
HDTV 576i

HDTV 480p
HDTV 576p
HDTV 720p
HDTV 1080p
HDTV 1080i
HDTV 480i
HDTV 576i
Coaxial S/PDIF
1 x HDMI v1.4 4in:1out Switch
1 x Product Manual
1 x Switch mode Power Supply 100-240v 50-60Hz 0.3A, DC 5V - 1.2A
HDMI v1.4 4 In 1 Out Switch with Coaxial Audio Out - Full View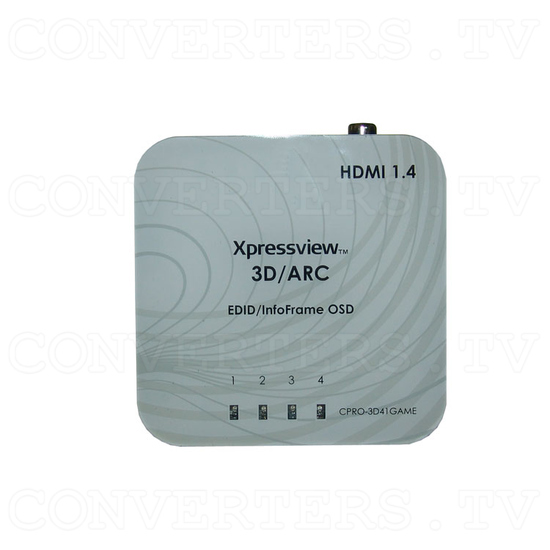 HDMI v1.4 4 In 1 Out Switch with Coaxial Audio Out - Top View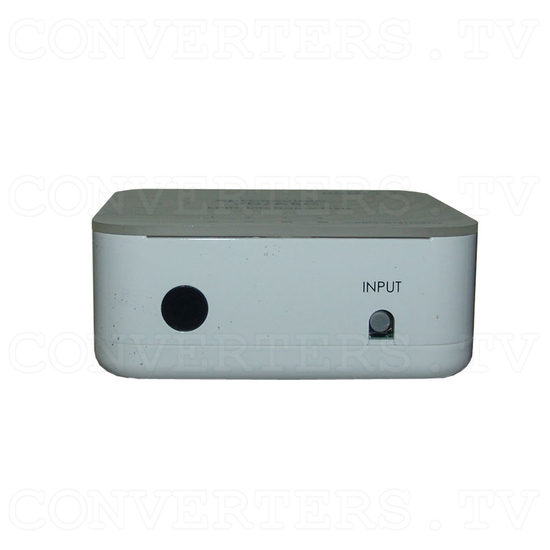 HDMI v1.4 4 In 1 Out Switch with Coaxial Audio Out - Front View
HDMI v1.4 4 In 1 Out Switch with Coaxial Audio Out - Left View
HDMI v1.4 4 In 1 Out Switch with Coaxial Audio Out - Right View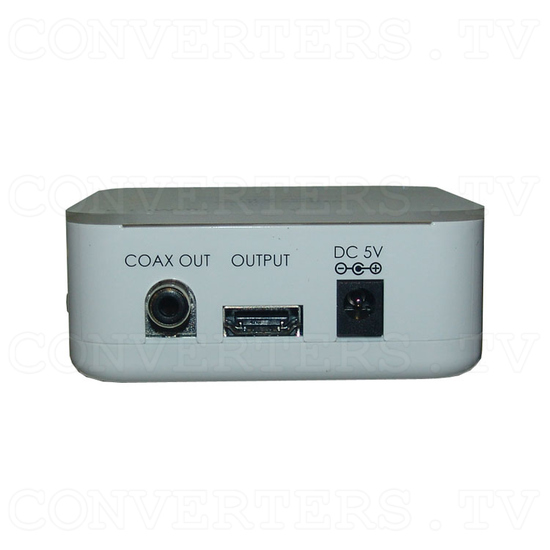 HDMI v1.4 4 In 1 Out Switch with Coaxial Audio Out - Back View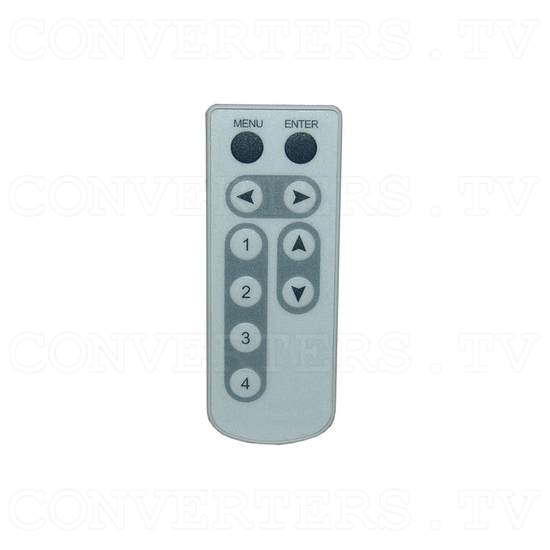 HDMI v1.4 4 In 1 Out Switch with Coaxial Audio Out - Remote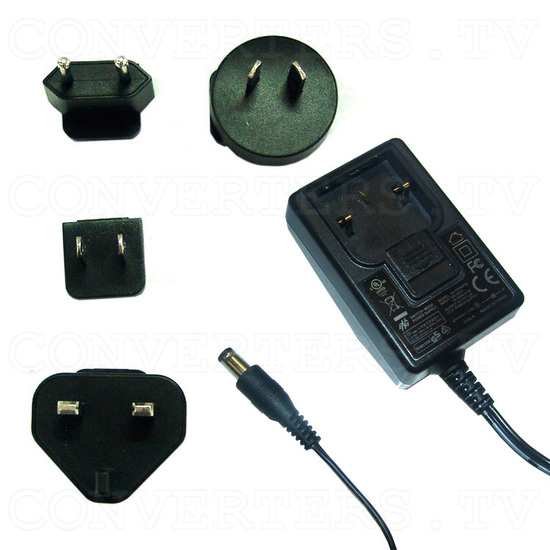 HDMI v1.4 4 In 1 Out Switch with Coaxial Audio Out - Power Supply 110v OR 240v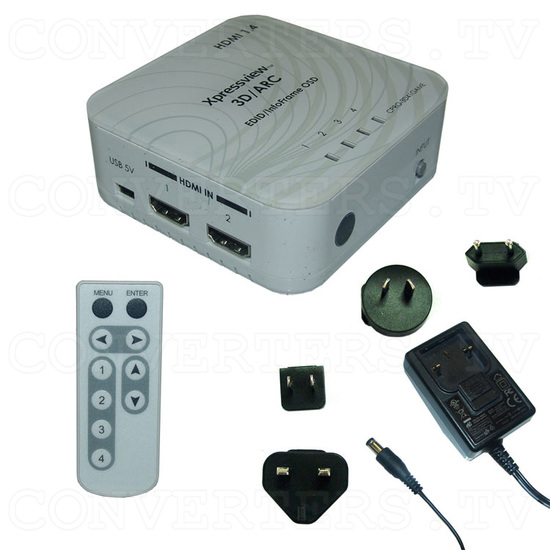 HDMI v1.4 4 In 1 Out Switch with Coaxial Audio Out - Full Kit