HDMI v1.4 1 Input 8 Output 4Kx2K Splitter

save 28%





The HDMI v1.4 1 Input 8 Output 4Kx2K Splitter is a high performance splitter that supports 4K×2K (3840*2160), 3D, 3 Gbps bandwidth, 12-bit Deep Color, as well as High Definition Audio. It allows you to connect a single HDMI input source, such as a Bluray Player or PS3, and split this signal to display on up to eight HDMI panels, such as a HDTV, projector or 3DTV, with no loss in signal quality.

The content can be split between one to eight displays, and can be set to work independently, each displaying the source signal separately. This device is versatile and useful for a number of applications, including home entertainment, lecture displays, retail promotions, commercial advertising displays, showrooms displays, business/educational presentations.

| | | | |
| --- | --- | --- | --- |
| Unit Dimensions: | 24.0 x 11.0 x 3.0 cm | Shipping Weight: | 1.13 kg |
| Location: | NSW, Australia | Item Type: | |
| Condition: | New | Warranty : | 12 Months |
| Certificates : | CE, CTick, UL | Manual : | User Manual (233.61 KB) |
Features:
Supports HDTV resolutions 480i/p up to 4K×2K@30Hz
HDMI v1.4 and DVI compatible
Supports 1080p@60 Hz, Deep Color 12-bit
Supports LPCM 7.1CH, Dolby TrueHD, and DTS-HD Master Audio
Supports 3D
Specifications:
Video Bandwidth: 3 Gbps
Input Port: 1 x HDMI (Female Type), 1x USB (Service only)
Output Port: 8 x HDMI (Female type)
Output Resolution: 480i~1080p@50/60Hz, 1080p@24/50/60Hz, VGA~UXGA, 4Kx2K@30Hz
Power Supply: 100-240vAC to +5vDC 2.6A
Power Consumption: 9.8w
Dimensions (cm's): 24.0(l) x 11.0(w) x 3.0(h)
Weight (grams): 712g
ESD Protection: Human Body Model
+-8kV (air-gap discharge)
+-4kV (contact discharge)
Chassis Material and Silkscreen color: Metal; Black
Operating Temperature: 0 C~40 C/ 32 F~104 F
Storage Temperature: -20 C~60 C/ -4 F~140 F
Relative Humidity: 20~90% RH (non-condensing)
| Connects From : | Connects To : |
| --- | --- |
| | |
Converts From :
Converts To :

HDTV 480p
HDTV 576p
HDTV 720p
HDTV 1080p
HDTV 1080i
HDTV 480i
HDTV 576i
4K x 2K
3D

HDTV 480p
HDTV 576p
HDTV 720p
HDTV 1080p
HDTV 1080i
HDTV 480i
HDTV 576i
4K x 2K
3D
1 x HDMI v1.4 1 input 8 output 4Kx2K Splitter
1 x Product Manual
1 x 100-240VAC to 5V DC 3.0A Switch Mode Power Supply (Center Positive) Screw Connector
HDMI v1.4 1 Input 8 Output 4Kx2K Splitter - Full View
HDMI v1.4 1 Input 8 Output 4Kx2K Splitter - Front View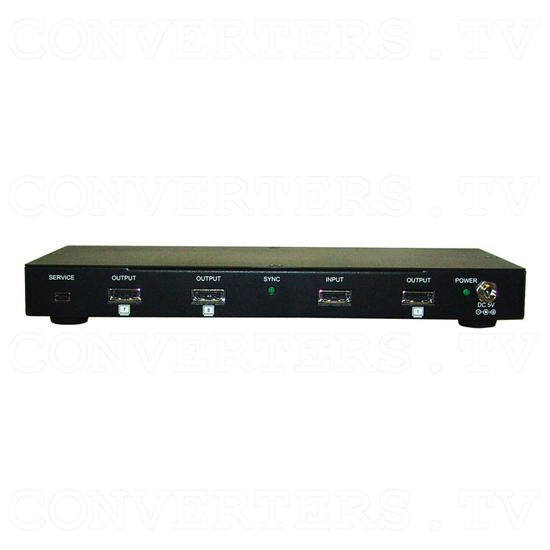 HDMI v1.4 1 Input 8 Output 4Kx2K Splitter - Back View
HDMI v1.4 1 Input 8 Output 4Kx2K Splitter - Power Supply 110v OR 240v
HDMI v1.4 1 Input 8 Output 4Kx2K Splitter - Full Kit