HDMI v1.3 to Twin CAT6 Receiver

save 13%




The HDMI v1.3 to Twin CAT6 Receiver Receiver takes a CAT6 Source and outputs to your connected display via HDMI. It is intended to be used with a HDMI to CAT6 Transmitter unit (eg ID#788), and allows you to extend a HDMI signal over a great distance. One benefit of using a CAT6 cable instead of other cables for long cable runs is its inexpensive price, making long cable runs more cost effective than ever before.

The receiver equalizes and recovers the incoming signal, before re-transmitting with optimal quality regardless of the incoming signal quality. Supports high definition resolution up to 1080p, and with a 1080p/8 bits colour resolution the signal can transmit up to 45/15 meters. With a 1080p/12bits colour resolution signal, the Input/Output source can transmit up to 15/15 meters.

The unit is HDMIv1.3 compliant, and supports digital video formats in Deep Colour Mode at up to 36 bits (12bits/colour) and new lossless compressed (Dolby TrueHD, Dolby Digital Plus and DTS-HD Master Audio) Digital audio.

| | | | |
| --- | --- | --- | --- |
| Unit Dimensions: | 7.5 x 5.0 x 2.3 cm | Shipping Weight: | 0.38 kg |
| Location: | NSW, Australia | Item Type: | |
| Condition: | New | Warranty : | 12 Months |
| Certificates : | CE, CTick, UL | Manual : | User Manual (183.47 KB) |
Features:
HDMI 1.3, HDCP 1.1 and DVI1.1 Compliant
Supports digital video formats in Deep Color Mode at up to 36 bits (12bits/color) and new lossless compressed (Dolby TrueHD, Dolby Digital Plus and DTS-HD Master Audio) Digital audio
Supports CAT-6 cables of variable types
Supports equalize and recover incoming TMDS data before re-transmitting them with optimal quality regardless of the incoming signal quality
Supports high definition resolution, the cable distance test with 1080p/8bits resolution the Input/Output source can run up to 45/15 meters. If 1080p/12bits resolution the Input/Output source can run up to 15/15 meters
Supports CEC bypass
Supports xvYCC
Specifications:
Input Ports: 1 x CAT-6 input for Video, 1 x CAT6 input for DDC
Output Port: 1 x HDMI
Power Supply: 5V/2.6A DC (US/EU standards, CE/FCC/UL certified)
Dimensions (mm): 50(W) x 62(D) x 23(H)
Weight (g): 96
Chassis Material: Aluminium
Colour: Black
Operating Temperature: 0°C ~ 40°C
Power Supplies:
Multi-Voltage Power Supply : 100 - 240VAC to 5V DC 2.6A Switch Mode Power Supply - Center Positive
Connects From :
Connects To :

RJ-45 Control Telnet/WebGUI
CAT5 / CAT6 Cable RJ-45

DVI - D (HDTV)
HDMI (HDTV)
Converts From :
Converts To :

HDTV 480p
HDTV 576p
HDTV 720p
HDTV 1080p
HDTV 1080i
HDTV 480i
HDTV 576i
1 x HDMI v1.3 to Twin CAT6 Receiver
1 x Product Manual
1 x 100-240VAC to 5V DC 2.6A Switch Mode Power Supply (Center Positive)
HDMI v1.3 to Twin CAT6 Receiver - Full View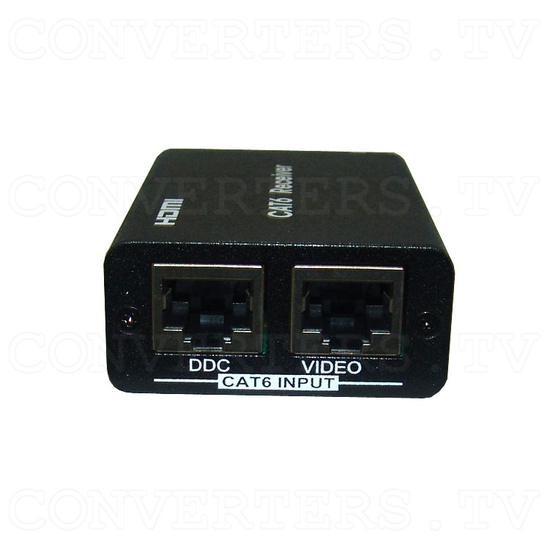 HDMI v1.3 to Twin CAT6 Receiver - Front View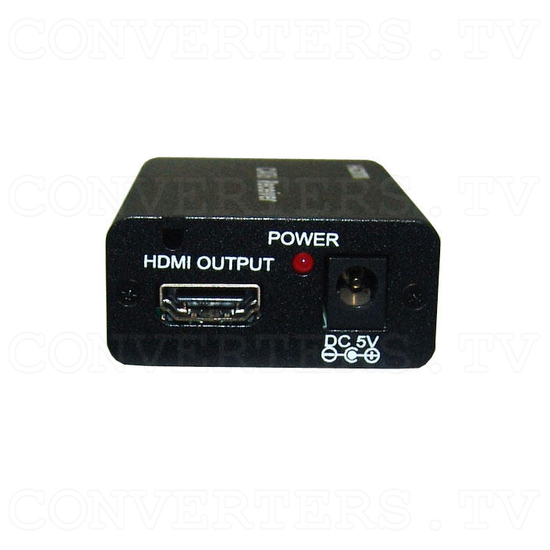 HDMI v1.3 to Twin CAT6 Receiver - Back View
HDMI v1.3 to Twin CAT6 Receiver - Power Supply 110v OR 240v